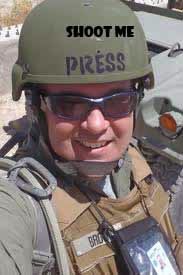 I haven't a thing to wear for the Election, er, season. I certainly don't want one of those green armbands which will identify me as foreign media.


The last thing I want to happen is to be called to debate Thai politics with anyone on any stage anywhere, whether its with a gay rights activist or a farmer.
But now it looks like I am going to have to discard my yellow, red, and white shirts for the next few months. I am certainly not donning Kevlar or an FCCT (Foreign Correspondents Club of Thailand) recommended helmet that should really carry the message 'Shoot me please I'm foreign press!'
Historically yet to be convicted elements like to shoot at the media on occasions of civil disturbance in Bangkok. A helmet is not only an 'I am a journalist's statement' It is almost a challenge. Hey Sergeant Somchai can you take an es out of Press?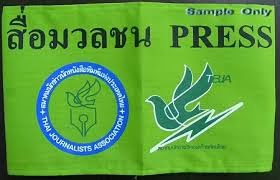 Press arm band – 'Sample only' just in case
somebody is stupid enough to copy it.
With the anti-government protest leader Suthep now wearing red for the Chinese New Year and the red shirts now wearing white, depending on their mood, it looks like I am going to have to drag out those blue elastic waist banded trousers which I thought were the height of chic when I came to Thailand twenty odd years ago.
But hang on, isn't blue associated with a nasty element which caused havoc back in 2010.
Oh god. I guess it's back to the 'I'm a Euro-tourist' attire so you may catch me in Red Bull T-shirt and knee length denim shorts carrying carrying a water bottle (European) or bottle of Chang/Leo (Australian and British) , perhaps sporting arm glove tattoos or tattoo transfers, with studs in my tongue, and nose.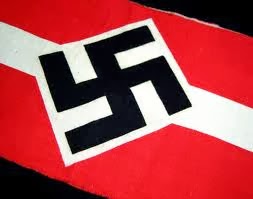 I'll carry my 'Skype' shirt in my petit backpack.
The 'Skype' shirt is the one I put on for international broadcasters, who do not want to pay for a crew but who double the rate if you are in vision. It does not matter if I do not wear trousers, which I frequently do not if I am at home' – I'm in control of the camera. They can put my head talking or otherwise above wire-service live-action.
Luckily I won't have to sleep out in Lumpini with the visiting foreign hacks, whom according to 'Private Eye' now have to travel by 'Easy Jet' and carry tents.
I'll also be carrying in my Tesco bag yellow, white and red Skype shirts, which interviewees will have to wear – if they want to be on television – to identify themselves so they are correctly identified in the proper categories into which the foreign media have placed them and are now perceived by Britain's Foreign Minister Hugo Swire and everybody at Camp David.
I have also got an extra bunch of SS and Hitler Youth Arm bands for PDRC members, and a little toothbrush moustache and/or a fairy wand, tutu, red lip gloss, Hollywood tears, and a halo for Yingluck – just in case Jonathan's around.
Funnily enough I was driving around the eastern seaboard the other day and had a woman in my car, not biblically of course, and she asked: 'If you are press,why don't you have a press sticker on your windshield?' Uh? 'And if you are an ngo why don't you have it tattooed on your forehead?'