IS THIS HER WALKING HAND IN HAND WITH HER RAPIST?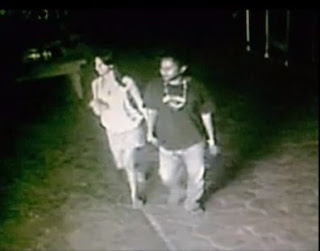 Police in Krabi today issued a picture of the Dutch girl who reported that she was raped in Krabi last July which appears to show her walking hand in hand with her attacker.

And they showed a further picture of the 19-year-old birthday girl, her eyes apparently blackened, accepting a gift of flowers from police together with her Dutch boyfriend.
The video was put on you tube earlier today to counter a music video put on the internet by the girl's father entitled 'Evil Man in Krabi'
The Thai video called 'The Truth From Krabi' is unlikely to do the Royal Thai Police any favours abroad. But it is in Thai and was clearly not made for a foreign audience.
In most countries, including Thailand, it it illegal to identify victims of rape. Further the still from a CCTV camera will of course sow doubt in peoples minds about the relationship.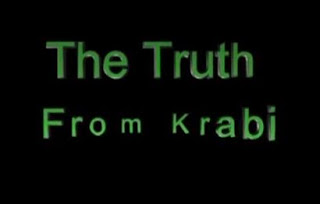 The picture of the tour guide Chumpol Khaonung, 26, is also shown. But it was a picture issued while he was 'on the run'.
Most rapes in Thailand are of woman who have known their attackers… and that includes tourists.
Before the latest row there had been no suggestion from the Thai Police that the young Dutch woman had made a malicious report.
But the video showing her walking hand in hand with her attacker, which she was aware of, appears to foreigners to be used in a way to show that she was a willing participant to sex, and will certainly be used in evidence against her in court by the defence.
But that's just the appearance. The commentary however is factual. It describes what processes the police went through and the procedures for trial.
The CCTV clip is actually evidence for the prosecution and police have also hospital medical reports and pictures of the woman's injuries.
Contrary to reports in the Thai media the father had not complained about police. His song was about the alleged rapist getting bail.
The commentary on today's video says the father probably does not understand Thai law which is not the same as Dutch law.
Video Link: http://www.youtube.com/watch?v=x3p9PN8DLtI
I cannot embed the video here because of the identification problems. The picture used above does not identify the victim.