WHAT HAPPENED TO EXTORTION CASE? – ASK POLICE
A planned scoop by Drew Noyes to discredit the 'Flying Sporran' backfired on him yesterday when he ended up facing criminal libel charges from a Thai national.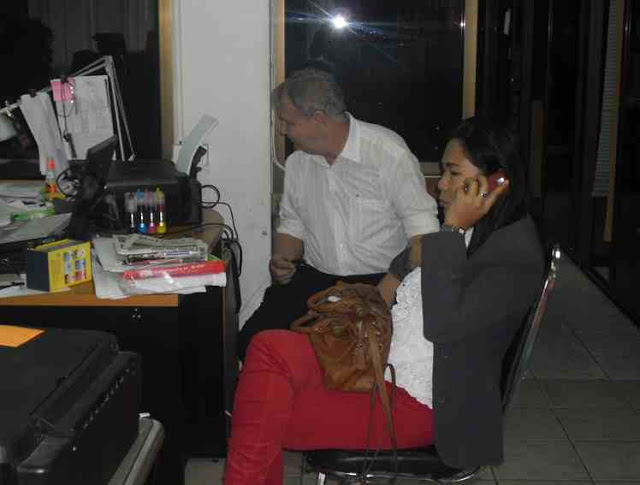 Drew Noyes exclusive picture of Kanokrat and myself at Pattaya Police Station yesterday. Please share! He said. Happy to oblige
The incident happened after I turned up at Pattaya Police station in answer to what I thought was a new charge of libel by American businessman Drew Noyes, who has re-invented himself in Thailand.
As it turned out the charge related to a case which Noyes, a man exposed by the Wilmington Morning Star in North Carolina long before he came to Thailand as a man of 'myriad lies', had told Pattaya Criminal Court he had actually withdrawn and had been ordered to withdraw according to a court agreement.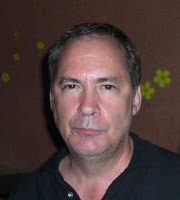 Drew Noyes
Police appeared at first flustered but after we went to Pattaya Court and got the judgment we were on our way.
I was with Kanokrat Nimsamut Booth, President of the Federation of Thai And Foreign Spouses Network who happened to be in Pattaya arranging a seminar there. She agreed to act as translator.
During the police interview Ms Kanokrat called both Drew Noyes and Wanrapa Boonsu to inform them of what was happening and to ask why they were in breach of the court order.
Wanrapa Boonsu replied: "It's a new case" – which it was not.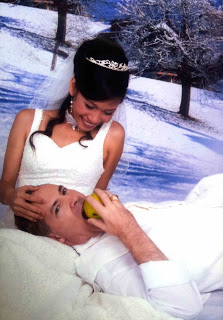 Wanrapa and Drew
Curiously it seems Wanrapa Boonsu rushed to see police while we were at Pattaya Court. However local police were stumped.
Shortly afterwards two photographers arrived at the police station, representing the Pattaya People and Pattaya Times. An explanation was given to the photographers as to what was going on.
An hour later David Hanks, one of Drew Noyes' henchmen whose name is linked to the ownership Masquerades Brothel in Melbourne, started sending me emails referring to a story on the internet about myself facing criminal charges.
My problems were just beginning, he said. This is the same David Hanks who was present at Drew Noyes'arrest for extortion, who was recently spotted at the Thonglor Clinic again seeking presumably some sort of beauty treatment. Hanks had been to the Thonglor Clinic a week before Noyes' arrest.
I cannot say what the treatment was. Australian co-owner Michel Goulet said that was a matter of client confidentiality. But he clearly did not get treated. In fact he was sent on his way this time by the resident policeman.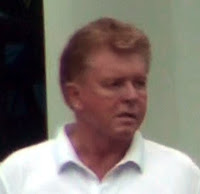 David Hanks – seeking treatment
Meanwhile Drew Noyes was furiously emailing people on his contacts list saying Andrew Drummond was facing six criminal libel charges with more to come – and he captioned one picture as Drummond with 'lady who threatened suicide outside the UK Embassy'.
As the evening progressed along came the inevitable emails from Niels Colov, the convicted pimp publisher of the Pattaya People, to inform me his news editor had a story about me.
He personally had nothing to do with the news content of the Pattaya People (pull the other one) but obviously wanted to check for accuracy.
I suggested his news editor call me. The news editor did not. However I did tell Mr.Colov about Noyes'error.
Earlier this year Niels Colov predicted that Drew Noyes would escape the extortion charges.
VIDEO "And now he is in trouble I am trying to help him as much as I can… He will be out of this case. This is my opinion" – Niels Colov
Drew Noyes'emails and a story on www.andrew-drummond-watch.blogspot.com a piss poor attempt to discredit were last night the subject of discussion at Pattaya Police station.

Email from Hanks – I am not sure suggesting he is the boss of an Australian brothel'specialising in hot Asian totty is 'liable'
Incidentally the police now handling the case are also handling the case of Drew Noyes and Wanrapa Boonsu, who earlier this year were charged with attempting to extort the Thonglor Clinic Jomtien out of 7 million baht on pain of bad publicity in their newspaper.
Police were asked what was happening to the extortion case. Answer: "We'd like to know too. The completed file has been sent to the court but we have heard nothing."
It seems Drew Noyes can get his libel cases out quicker than Pattaya Police can get a criminal extortion case going. But they always end in the can.
VIDEO: Thai police explain how Drew Noyes tried to extort the Thonglor clinic, Jomtien
Officials at the Ministry of Justice would be entitled to ask why an American who fled charges against him in the United States and who claims 14 years of service to the King of Thailand, while operating beer bars and posing as lawyer, is getting such an easy ride.
==================================================
Right and below – How the Wilmington Morning Star reported the problems with Drew Noyes in the United States.
According to the Morning Star, formerly part of the New York Times group, Drew Noyes was a man known for share fraud, property fraud, sexual assaults on women, being a total stranger to the truth and being a total fantasist in relation to his CV's.
Drew Noyes in a series of failed actions has tried to get the Star article blocked in Thailand. He first tried to block this website. Then he sued for libel. All his cases have come to nothing.
Scott Gold, the reporter of the Morning Star article now works as a journalist on the LA Times – the US's No 2 newspaper.
According to sources he of course stands by his story and says Drew did not sue. He just left.
Noyes arrived in Thailand and opened up beer bars in Pattaya. Then he suddenly became a lawyer – in fact the only American lawyer to legally practice in Thailand, but he had to withdraw this claim and others after he was exposed here.
More recently has has opened his One-Stop-Legal-Services Center in Pattaya – seeking to make cash out of foreigners' problems in the city.
He had to do some rethinking though after using a video from the Thai Government BOI's One Start One Stop Service Centres starring former Premier Abhisit Vejjajiva to promote his own company.
While the Mayor and Chanyut Hetrakul did not attend his opening this time, he still managed to pull in the Deputy Mayor and a local MP. Nobody quite gets it down on the eastern seaboard.
One-Stop-Legal-Services-Center. 'Sorry all our lawyers are busy on cases against Andrew Drummond"
And finally this is Drew Noyes on his new site andrew-drummond-watch.blogpsot
Comment: Now where have we heard that one before? No cases are being investigated. No cases have been accepted for trial. If Noyes has indeed filed cases then I shall attend if I get any summonses. Needless I have not received.any. But that maybe because he seems to have an address given to him by 'Dirty Dog'of Teakdoor.com.
And then we will probably find that his translations are again mistranslations.
BREAKING NEWS: The trial of Drew Noyes and Wanrapa Boonsu is due to start on February 5th 2013
Disclaimer: The following is posted by request of a reader and purely for the purposes of him keeping away from a bawdy house.