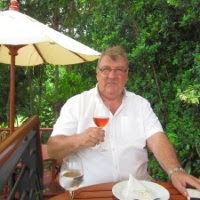 If you ever wondered where Richard Haughton – the businessman who sold condos at Emerald Palace in Pattaya and then hawked them to the bank – , is then keep checking this site.

Currently however he is now promoting himself as managing director of Snowden Holdings and claims to be adept at bank repossessions.
#RichardHaughton is of course a man of multiple companies but now believed to be settling in Koh Chang in Trat Province, far enough away from Pattaya not to be bothered, but also a tourist and property boom area.
His victims of the companies TPME, Thai Property Media and Exhibitions, Harlequin (Thailand) Maintenance, and Headland Holdings are still fighting for their units at Emerald Palace scam through the courts and winning.

And an investigation by the CSD is ongoing but at a snail's pace apparently. However it does now look like British television wants to have a look at Haughton more closely.

Meanwhile Limcharoen, the British Embassy recommended lawyers., who now own Headland Holdings, are fighting of course to ensure British citizens cough up to the fullest.