From Andrew Drummond, Koh Phangan, Samui Archipelago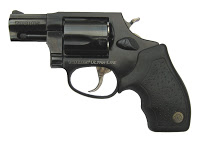 Thailand's holiday islands will be made a 'gun free zone within
a year the region' Governor Chatpong Chataraputi declared today.
Following the fatal shooting of 22-year-old Stephen Ashton at a New Year's beach party on
the island of Koh Phangan all gun licenses will be checked, gun dealers will be
warned, and people will be searched on arrival on the islands.
The measures will be taken in Koh Samui, and Koh Phangan –
known as the Samui archipelago – and other tourist spots said the Governor of
Surat Thani Province.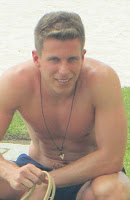 Stephen Ashton
But the Vice President of the Thai Hotels Association wants
the 'gun free' campaign extended to all resorts in Thailand.
Prakit Chinamourphong said: "The country's image is being
destroyed because many tourists have been killed, robbed or raped in key tourist
destinations like Pattaya, Phuket and Krabi."
He referred to a recent incident on December 26, when two
Russian women were robbed and raped after being kidnapped from a street in
Pattaya and taken to a local reservoir area."
The latest news is being viewed by many as a 'jerk' reaction
to the publicity surrounding the death of Stephen Ashton, who worked as a clerk
in the City of London.
Guns are almost impossible to control in Thailand which has
the highest number of them per capita in Asia.
Local provinces in Thailand appear to operate as fiefdoms
outside the control of Bangkok and more often than not police defer to the 'nak
raeng' – local mafia.
They buy their guns from the same people.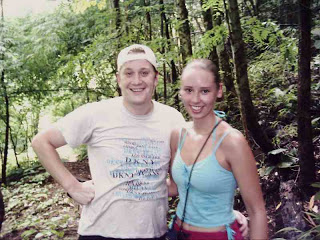 Vanessa and Adam
In Chonburi Province for instance, in which is situated the
sun, sea and sex resort of Pattaya, the local 'nak raeng' boss Kamnan Poh has
been found guilty of murder but not spent a day in jail.
And more than once it has been the police themselves who have
turned their guns on tourists.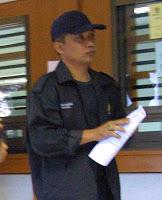 Wisetsingh
On September 9th 2004 Vanessa Arscott, 23, and
Adam Lloyd, 24 were murdered by Police Sergeant Somchai Wisetsingh in
Kanchanaburi by the River Kwai.
Adam was shot first
then he ran over Vanessa in his car but shooting her three times in the head,
neck and chest, as she clung onto an electrical pylon by the site of the road.
Wisetsingh had been named as 'Outstanding Officer of the Year' three times
running.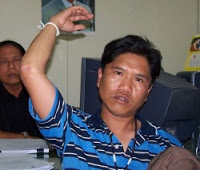 Uthai
On January 6th 2008 Sergeant Uthai Dechachawit
gunned down Canadians Leo Del Pinto and Carly Reisig in the northern Thai
village of Pai, Mae Hong Son Province. Leo Del Pinto died immediately.
Sergeant Uthai was arrested but given bail and later, while
on bail, he beat to death his eighteen year old Thai wife of two weeks.
He has
been convicted of that offence and given life. But he has not yet been
convicted of the murder of Leo Del Pinto, of Calgary, Alberta.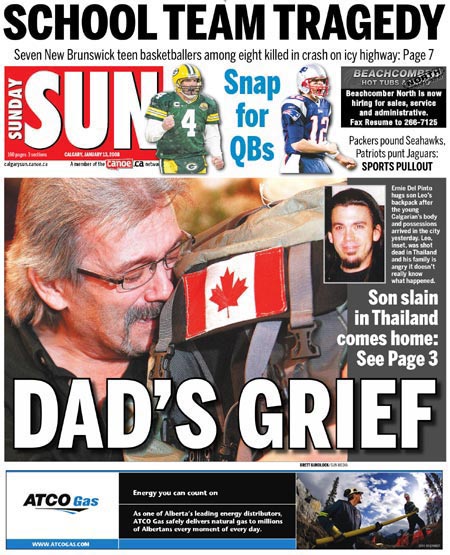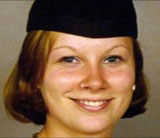 Nobody has been arrested for the murder and rape of Kirsty
Jones, 23, from Brecon, in Chiang Mai in 2000.
Other British victims include Joanne Masheder, who was
murdered by a monk in Kanchanaburi , Thailand in December 1995 and Katherine
Horton, 21, from Cardiff who was raped, beaten and drowned by three Thai fishermen
in Koh Samui in January 2007.
Father's grief after Katherine Horton was raped and murdered
The fisherman had come ashore after for some fun
after watching porn movies and drinking on their fishing boat. They were later
sentenced to death, which was commuted to life.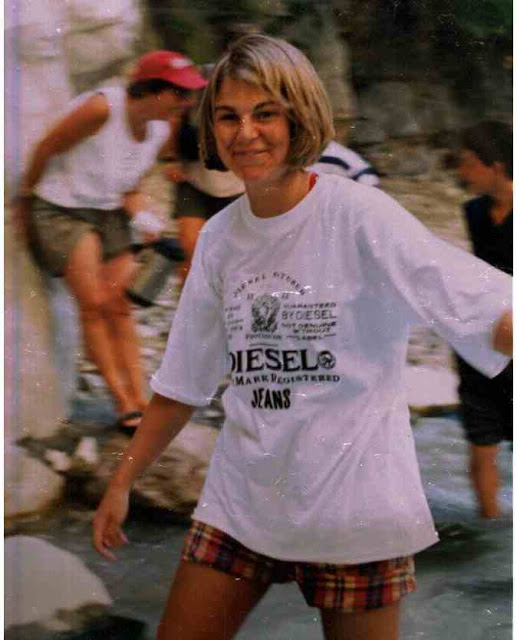 Joanne Masheder