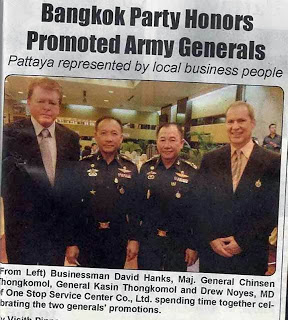 A British journalist told a libel court yesterday that the public interest was the most important factor when publishing stories about foreigners cheating other foreigners in Thailand.

Andrew Drummond, correspondent for the London Evening Standard, said he had set up a website and one of the main purposes of that website was to warn foreigners of the traps they could fall into in Thailand, and to cover news which while important did not always make the newspapers in the United Kingdom.
"There are a lot of foreigners cheating other foreigners in Pattaya," he said.
Drummond, is being sued for criminal libel and also under the Computer Crime Act by Drew Water Noyes, 57, an American and David Hanks, 65, a Scotsman, over comments posted on the website www.andrew-drummond.com by posters going under the names Elisha Saunders, and Tony.
The posters referred to referred to Niels Colov, David Hanks, and Drew Noyes as 'pimps'. Drummond said that Niels Colov of the Pattaya People had a conviction in Denmark for pimping, David Hanks, had been a pimp in Australia, where he was the registered state license holder for the 'Masquerades' brothel in Keysborough, Victoria, a suburb of Melbourne, and Drew Noyes had listed among his businesses as being a night club owner in Pattaya and the poster had not specified that he lived off the earnings of prostitutes.
I did not take the meaning of Noyes being a pimp as that literally he ran a brothel, said Drummond, but that the poster thought he was not a very nice man. All these three people played together. The word pimp in slang can mean many things. In Australia for instance it is used as 'police informer', but generally of course the word is not good.
Drummond said that in relation to the story which was published above the comments it was 'fair comment'.
Drummond had accused Noyes among other things of being a fake lawyer who had been exposed in an American newspaper for his 'myriad lies', bogus share dealing, and alleged harassment of women.
Did you not realise what you wrote could hurt people? asked Hanks's lawyer. Drummond replied: "Sometimes the truth hurts".
Did you not realise that you hurt Mr. Hanks: "Mr. Hanks was a pimp. Documents from the Australian Securities and Investment Commission show he was a pimp. It is in the public interest that people know this in Thailand. My concern is the public interest. I am sure he did not like it."
At an earlier hearing Hanks had denied he was a pimp. But after being confronted the documents he admitted the truth, but said his woman were well looked after.
Asked whether the PRD had shown him a document on journalistic ethics, Drummond said he followed the laws and ethics of the countries to which he sent stories. He was not controlled by the PRD. He was responsible to the Ministry of Foreign Affairs.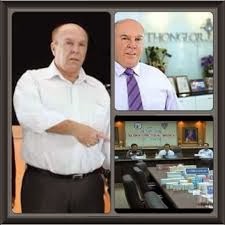 Dr. Goulet – Pattaya Times picture
Asked to explain a story showing a picture of Hanks under the headline 'Hanks – a Cross between Michael Jackson and a Gay Doll' Drummond replied that this story referred to an occasion on which a witness told a court that Hanks had checked into the Thonglor Clinic in Jomtien, asked to speak to the owner and announced that he ran a sex business in Melbourne and knew the Chinese mafia…"
At this point the judge intervened and suggested the lawyer not pursue this line of questioning. Asked whether he had worked at the News of the World, Drummond replied: 'Yes. 27 years ago"..up until he point when he went on strike against Rupert Murdoch.
He did not make money on the website but advertising softened the costs.
"You mean do not have a website to make money". – No.
"People do not pay you to write stories?" – No.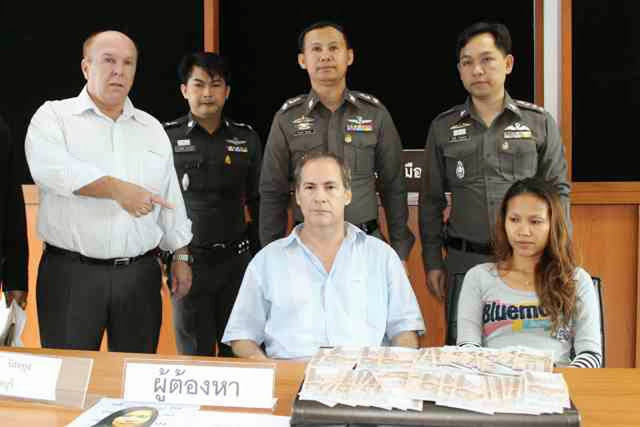 The unedited picture Dr. Goulet points to Drew Noyes and Wanrapa Boonsu after their arrest for extortion.
On re-examination Drummond said he did not read the posts immediately as he was away from his computer when they came in. Two other people had access to his site Andrew and John. But in any case when he saw the posts he thought they were fair comment. The plaintiffs are foreigners, I am a foreigner, the readers are foreigners, and the website is registered abroad, he said.
Drew Noyes and Wanrapa Boonsu are currently on trial for the alleged extortion of the Thonglor Clinic, Pattaya, when they were running the now defunct Pattaya Times newspaper. The case was adjourned for judgment on February 3 2014.
Noyes was ordered to return the video "Influential People and Men in Suits' to the court by December 20th. He had asked for the video which has been accepted in evidence to scrutinise so he could comment. He can however no longer comment as the case is now finished.