AN INCREDIBLE TALE OF LIES, DECEIT, FRAUD, AND FANTASY IN THAILAND
Former Ulster godfather Jimmy 'Doc' Halliday, perhaps one of the meanest drugs traffickers Northern Ireland has produced, managed to get some of his ill-gotten gains to Thailand, despite a British court order seizing his assets as the proceeds of crime.


But Halliday could not live the quiet life in Pattaya. He was loud, aggressive, brutal to his Thai mistress, and prone to getting into fights. One of those in Lucifer's Disco in the resort of Pattaya, where he settled, landed him a spell in Nong Plalai Prison nearby.
While it was only a short sentence of nine months, it turned out to be a death sentence. It also led him to also being the deathbed victim of a man labelled by a Scottish newspaper as the 'Devils Advocate'.
Long before his sentence was up Halliday, a man described by the Irish Sunday Mail, as one who not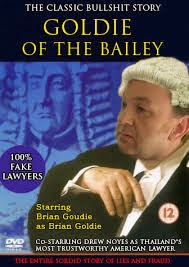 Goudie – pretended to be a barrister
working out of the Old Bailey and
High Courts in London and
Edinburgh
even the IRA could kill – because they tried to – was dying of 'necrositing fasciitis' – a flesh eating disease which was doing the rounds of the jail – and he was in the clutches Brian Gerald Goldie, now known as Brian Goudie, who had introduced himself to Halliday as his 'saviour'.
Goldie was a former bank clerk who had turned to a life of crime. He told a girlfriend that people who were honest were just stupid, a tribunal in Australia was told. He had left Scotland in the mid 90's just as an investigation into a fraud of the Royal Bank of Scotland was just about to start.
He arrived in Australia with an impeccable, but phony, CV and then set about finding a woman he could marry to give him right of residence, while refusing to return to Scotland to face what was now a warrant for his arrest.
To cut a long story short his relationships with women were not successful – although he did marry for while – nor was his history with the Australian Immigration authorities – although he did manage to at one time get AUS$21,000 out of them for 'wrongful arrest'.
His relationship with Australia came to an end not after the Australian Appeals Tribunal judgment described him as 'not man of good character' when it should have, but when he was arrested for stealing AUS$400,000 plus from his employers – a Perth mining company – and jailed for six years.
It was time to move on. After a short spell pretending to have a US Navy contract to supply a device for cleaning the fleets' guns, he discovered the merits of Thailand. It was full of 'victims' waiting to be fleeced.
The Thai Police did not understand foreign crime, or if they did it seemed too complicated for them to get involved in anything more than the most obvious cases. Foreign fraud was not their forte.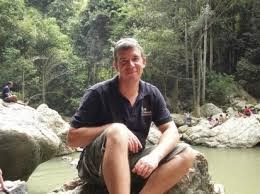 John Jepson
Goldie re-invented himself as Goudie. He was now, he told everyone, a barrister with a degree from Edinburgh University, and a former officer in the Royal Marines.
He set up a trading company Ramidin Holdings, Thailand, and a law company Alba Laws. Now, with a bit of PR, he found easy victims in pubs and restaurants, foreign gatherings and the local jail.
He even read up Thai law (He had read up on British and Australian law in Hakea Prison, West Australia). Any problem he could solve, he boasted.
'Been swindled on a property? I'll sue for you!' was one of his favourite promises and charging £1000 a day he offered a rate considerably lower than a British QC, but a lot more than a convicted former bank clerk, who went on the run would normally earn.
Scores of people fell for his patter and the Thai courts, where he turned up frequently with clients and a 5000 baht a day lawyer, were none the wiser. John Jepson, a British property owner, hired him to get properties back from him from an Australian swindler….Jepson is now suing him for acting under false pretenses and fighting to get repossession of a condo in Bangkok.
Two Brits P and A asked him to sue a British property developer who had cheated them. It appeared to be a very clear case. Goudie sued, again hiring a cheap Thai lawyer. Legal bills rose with endless delays and a court ordered the developer to return the cash.
When the developer eventually started paying Goudie just kept it, they claim. And they have taken him to court too. After three years with Goudie they had gained nothing and wasted a fortune.
Goudie also acquired land on Koh Samui from a client. He has put this in various dormant company names.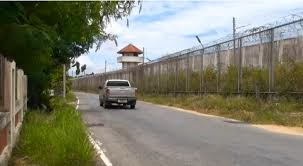 Nong Plalai
But it was at Nong Plalai jail on Thailand's eastern seaboard, that Goudie hit the jackpot.
First he was engaged by Briton Steven Attwood, a career criminal who had moved to Pattaya from the Costa del Crime in Southern Spain where he was wanted for attempted murder.
He too had been banged up in Nong Plalai and wanted out.
Goudie promised his release and in the absence of cash demanded Attwood's apartment in View Talay 2 in Pattaya.
Attwood had too contracted necrotising fasciitis but it was still in a treatable condiction. Goudie dropped the case quickly in a fury when he discovered that the apartment was only partially paid for, demanding Atwood's friends pay for his legal opinion! Attwood has since been returned to Spain to face charges there.
Goudie however struck lucky when he came across Jimmy 'Doc' Halliday in Nong Plalai. Jimmy was himself at an advanced stage of necrotising fasciitis and desperately needed to get out for treatment or he would die.
Goudie told associates in bars: "I am going to do everything to save Jimmy's life". But time dragged on before he was able to grease the wheels of inaction associated with getting prisoners in Thai jails in for hospital treatment.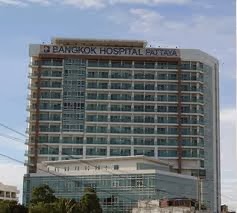 Bangkok Pattaya Hospital
Jimmy was admitted to the Pattaya-Bangkok Hospital, but bills had to be paid and here Goudie put into operation his next scam. He put up 1 million baht for Jimmy's hospital bill and demanded surety for payment.
On May 18th 2011, while under police guard in the Bangkok-Pattaya Hospital a meeting of shareholders was allegedly convened of the company Jimmy International Limited.
It was supposedly attended by Jimmy Halliday, who held 9,000 of the 20,000 shares, and seven shareholders, all Thais, who held 11,000.
Records state the shareholders handed over all their shares to Ramidin Holding Company (Brian Goudie) and Halliday and Goudie also were allocated 100 shares each in their own names.
Of course that meeting could not have taken place. Graphic pictures of the condition of Halliday at the time clearly illustrate that. No shareholders would have been admitted. Halliday had remained in custody.
Two days later on May 20th Brian Goudie's name replaced Halliday as the managing director of Jimmy International records at the Department of Business Development show.
Two weeks later on June 4th Halliday died with hardly a friend in the world and a 'lawyer' who was only interested in his property.
Later the same month Brian Goudie applied to Pattaya Court to be confirmed as the beneficiary of Jimmy Halliday's will.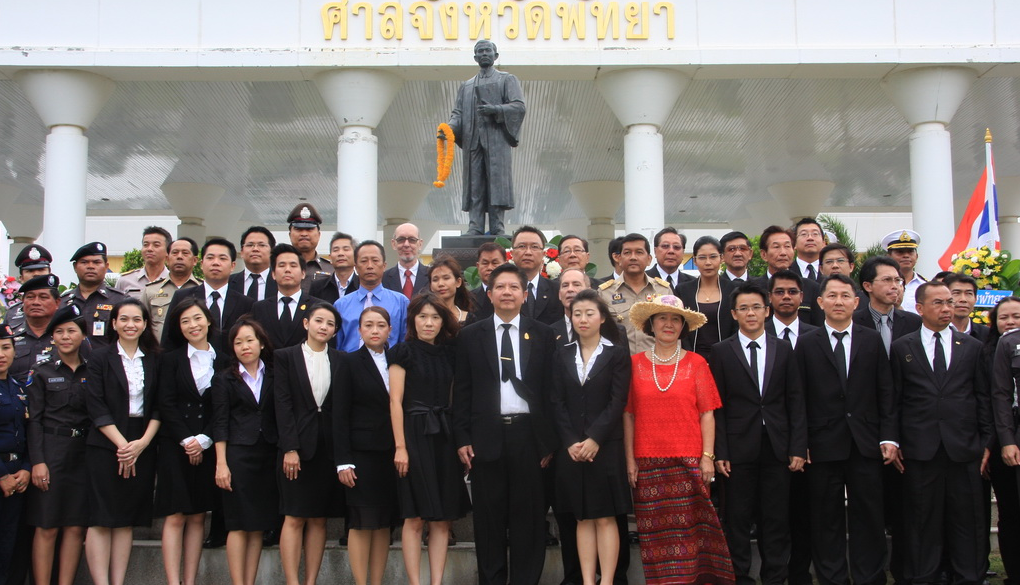 Prince Rapee Day at Pattaya Provincial Court. Drew Noyes, who was charged with extortion, can be seen in the
second row to the left as you look of the woman in red.
On February 20th 2012 a Pattaya judge confirmed the decision that Brian Goudie should get all the property of Mr. Halliday. He had now a bar called the 'Blarney Stone', an apartment and an Isuzu DMAX car. Fait accomplit. The court was not shown a will made out to Jimmy's son and daughter.
Goudie set about converting the 'Blarney Stone' in Jomtien Plaza, south of Pattaya, to the 'Jaggy Thistle' with two others, John Macdonald, a Pattaya Police volunteer who formerly ran a pub called the 'Eastenders' in Glasgow, a taxi company and a cafe, and Andy Mathews, a local estate agent from the British Midlands, who now lived in the area.
But although he had assets, Goudie had little cash. So he turned to Mathews for a short term loan. Mathews willingly lent him 400,000 baht (then between £8000 and £9000) which, he said later, was pretty much all his savings.
When Goudie missed payments Mathews became anxious. It was then that John McDonald told him: 'Brian, he's not a barrister you know, nor a former officer in the Royal Marines, nor a martial arts expert.
"He's a former convict."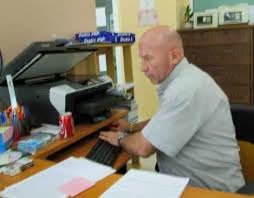 Andy Mathews
Mathews, an amateur boxer, checked the internet under 'Goldie'. What he found made him furious. He went ballistic and rushed to the 'Jaggie Thistle' and demanded his money back calling Goudie, well pretty much every expletive under the sun.
Mathews never got his money back. For his behavior Goudie sued him and in his defence he had a lawyer, who neither spoke English or even seemed to be remotely interested in anything apart from his fee. Mathews was given a suspended sentence.
Goudie was on a high. Pretending to be a lawyer directing Thai litigators in the Pattaya Courts was working well for him. He had had everybody fooled. And soon he struck another lucrative source of income.
Greg Miller
A prison visitor for a local charity whom he had met during the Halliday fiasco had come to him with the case of another prisoner, in which, he believed at least, some of the evidence had been fabricated.
Ian Tracey, from Godalming, Surrey, a former marketing man, got Goudie to take up the case of Greg Miller, aged 47, an American teaching at an international school on the eastern seaboard who had been arrested for the sexual abuse of a young boy.
Goudie's spiel went into overdrive. Within a few months he had managed to squeeze some US$300,000 out of Miller's elderly mother, Barbara Fannelli Miller,75, from Madison, Wisconsin. He had promised he could get her son out of jail and back home.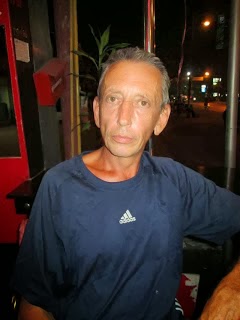 Ian Tracey
Ian Tracey was so impressed that he himself picked up Mrs. Miller from Suvarnabhumi airport, after confiding in Goudie that he had been acquitted himself of child sexual abuse – but unknown to him he had been convicted in his absence and in the absence of his lawyer, after the prosecutor appealed.
Goudie had said he would take up Tracey's case too.
"I'll sue the police for millions," said Goudie, Tracey reported later.
Needless to say most the cash Mrs. Miller was providing to get her son home was going nowhere other than Goudie's pocket.
But Tracey had become suspicious, especially after Goudie had announced 'I'm going to make a lot of money on this one. And I'll make sure you get a couple of million'.
Tracey sealed his own fate when he warned Mrs. Miller to be careful with her cash. Goudie later boasted on video that he shopped Tracey to police.
Tracey was duly arrested outside the 'Jaggy Thistle' where Goudie had told him to stay for his own safety. Another problem solved.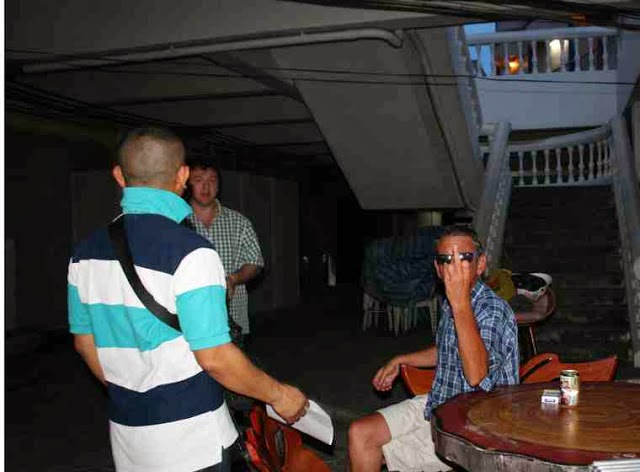 Tracey gives the finger to a photographer at the time of his arrest, while Goudie lurks in the background
outside his newly acquired 'Jaggie Thistle'. He thinks Goudie is supporting him
(Ian Tracey has since been released in what appears to be a clear case of mistaken identity with a real British paedophile and questions are being asked about other cases of foreigners, who, having been acquitted, are subsequently convicted without their knowledge by the Appeal Court.)
Cash rich Goudie was on a high until British journalist Andrew Drummond began digging into his background. The result was a three page story in Scotland's Sunday Mail and on this website exposing him as a fraud.
Subsequent stories also highlighted Goudie's activities in Hua Hin, where Goudie was fighting cases for a dodgy Scots property developer, and Koh Samui, where Goudie was an associate of Walter 'Whacky' Douglas, a figure whose name often came up in organised crime circles and who was deported from Thailand last month.
Even a British magistrate and victim of fraud came to Drummond for help – although in that case the magistrate had managed to avoid the inevitable Goudie sting.
Despite the setback Goudie decided to continue in his role as a pseudo lawyer – although he could no longer call himself one – and he found allies in others whose activities had been exposed on this website.
Drew Noyes
He got together with American Drew Walter Noyes,60, who was exposed as a fraud in the Morning Star in Wilmington, North Carolina, long before he arrived in Pattaya, posing as a respectable businessman and lawyer and groveling around local police and city officials and even judges after starting a newspaper called the Pattaya Times.


Noyes had been described in the American press as a man of myriad lies, had a major fraud judgment against him, and had a list of complaints of assaults on women.
The two set about two courses of actions. Firstly they set up a series of anonymous blogger websites with the intention of discrediting Andrew Drummond as a liar, and also writing malicious letters to authorities.
He was reported frequently as being hunted by police for telling lies about respectable businessmen, or connected with the investigation into the News of the World (a paper he left 25 years ago).
Andrew Drummond also found sites being put up in his name attacking the Thai Royal Family – an offence punishable with many years in jail under the country's strict lese majeste laws.
In Drew Noyes' own newspaper the 'Pattaya Times' Noyes described how he came to Thailand by Royal Appointment and then reportedly falsely that Andrew Drummond's journalist accreditation in Thailand with the London Evening Standard had been withdrawn.
Continually blogging to discredit Drummond and trying to hide negative stories about themselves on 'Google' searches, they then began a series of legal actions brought up under Thailand's libel laws and were then joined by Scots born Australian David Hanks, 65, who had set up office with Drew Noyes at his quasi legal company ' One Stop Services' in Pattaya's Thepprasit Road.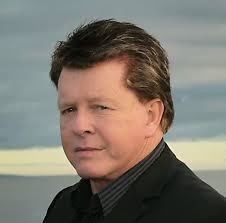 David Hanks
Hanks, had been exposed by Andrew Drummond as being the owner of Masquerades Brothel in Melbourne.
The cases have been going on for almost two years. Andrew Drummond has so far won all but one of ten cases brought against him and he is appealing the case he lost with exceedingly strong grounds – and now Drew Noyes, Brian Goudie and David Hanks are being prosecuted by Drummond in the criminal court in Bangkok.
*Drew Noyes is currently on trial in Pattaya with Wanrapa Boonsu charged with the extortion of the Thonglor Clinic, Jomtien, and both are on bail of 200,000 baht each. The case resumes on February 27th.
Noyes and Boonsu at their arrest for extortion
Both have also been taken to the civil court for cheating Dutchman Theo van der schaff out of 2.5 million baht. The case resumes on March 12th.
There is no record of their companies, PAPPA Co. Ltd., the Pattaya Times Media Corporation, One Stop Service Center, of having paid any tax in Thailand.
* Brian Goudie: On January 29th an arrest warrant was issued for Brian Goudie, aka Goldie, and also for the Managing Director of his company Alba Laws, Supanya Worakam, for defrauding Mrs. Miller out of US$300,000. Supanya surrendered to the court last week and was finally released on bail of 400,000 baht last Friday.
There is no record of Goudie's companies Alba Laws, Ramidin Holdings, TBS Holdings, Bang Khao Bay Holdings, of ever paying tax in Thailand
David Hanks is being sued along with Goudie for libel in connection to false allegations made against Ally Cooper, a supporter of this website. Hanks is in turn is also suing Andrew Drummond over a court report in the Scottish SUN (left).
Hanks claims to have a Pattaya furniture renovation company called VPL Enterprises together with Wanrapa Boonsu and Narin Noyes, Drew Noyes, 17-year-old daughter. He has supplied no evidence of such but has assisted in directing the construction of a bar called 'Cupid's'.
Drew Noyes, Brian Goudie, and Wanrapa Boonsu are currently being sued by Andrew Drummond for printing false allegations of Drummond's status as a journalist in Thailand and refusing to publish a letter sent to them by the Public Relations Department of the Royal Thai Government. Their newspaper The Pattaya Times has closed. He is due to appear in court in Bangkok on Saturday.
Brian Goudie is due in court in Koh Samui tomorrow February 17th to bring a case against Andrew Drummond for using a photo shopped picture of him in a gay parade. Goudie has lodged other cases relating to other photo-shopped satirical pictures showing him in the gown of a British barrister, a Royal Marine officer etc.
Meanwhile in Bangkok lawyers representing Barbara Miller have been granted a special injunction against Goudie's properties in Thailand. And tomorrow Monday they will apply to the court to have Goudie's opportunity for bail rescinded on the grounds of his past behaviour.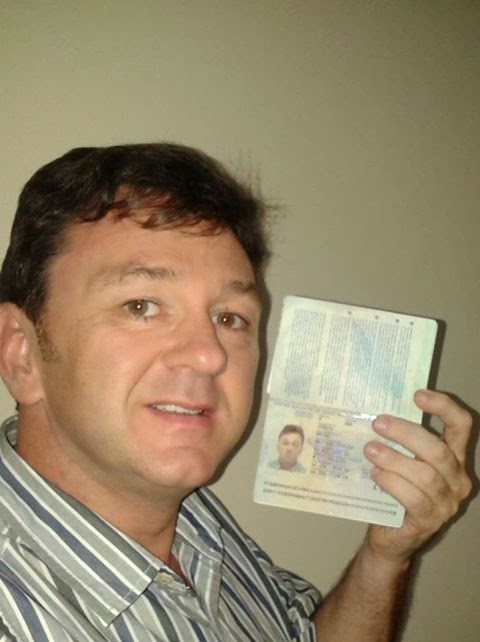 Goudie showing he still has passport
Goudie is also due to surrender to bail in Pattaya Provincial Court the day after February 18th on charges brought by John Jepson. If he does not, a further warrant will be issued for his arrest.
A warrant has also been issued for the arrest of Goudie in relation to his pocketing of client funds, relating to two Britons in Pattaya.
Goudie was last seen in the Dairy Queen at Tesco Lotus Onnut, Bangkok, in the company of a female law student at Khon Kaen University, who has been assisting in his cases. It is a notable start to her career. She is due to graduate in November.
The woman Phagaphan Mauklek, 27, claims to have known
'Brian' for seven years. Last week she appeared at a court in
Koh Samui as an assistant to David Hank's lawyer. After the case she slipped into a pink dress and headed in Hanks' car to the bus station at Nathon.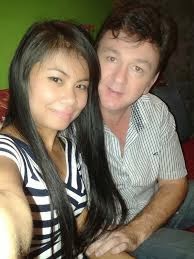 Phagaphan – under Goudie's
tutelage at Natuwat Law
Actions against Goudie, Hanks, Noyes and Boonsu are scheduled for Bangkok in March.
FOOTNOTE: Funds are really low again and if there are any supporters out there who can still dig into their pockets so we can deal with these people once and for all it would be much appreciated. But even if you cannot, thank you for your support in the past. Andrew Drummond would have been jailed if only for the fact that he did not have the cash for bail which came from supporters here. Thanks again. You can click on paypal above right or contact this site for a local donation.