– BUT SCOTTISH NATIONAL PARTY IS 'INNOCENT'.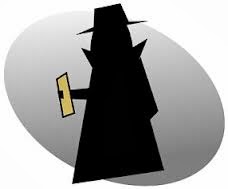 Alarming reports from Pattaya detail how a prominent Polish formerly working as a medical doctor in Scotland has been blackmailed out of the best part of 1 million Thai baht in Pattaya after accepting supposed under-aged girls from an American businessman and his wife.
The Polish man, a physician by profession, was closely allied to the Scottish National Party, and coincidentally also a couple of former die-hard East European communists.
(There are so many Poles in the United Kingdom at the moment that actually the Polish vote is not insignificant and quite a number of them have attached themselves to the Scottish National Party under the banner 'Poles for Scottish Independence'. Perhaps it is their answer to the London based UK government dumping them at the end of the Second World War.)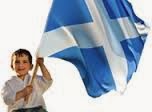 It seems quite clear that the doctor was targeted. He was hosted on several occasions by the ' American and his Thai wife, and in his cups I understand, on prompting he confessed he would not mind something a little bit younger. (It seems the doctor might have been suspended from the General Medical Council Register, as a result of his drinking which may account for him not being alert.)
To his regret two very lyoung looking girls were subsequently served up to him. The naive Pole was of course caught in the act because the 'young girls', who acted seemingly quite professional, were provided by the blackmailer.
In fact they were both 18 years old. Too young to be in the sex trade, but too old for the doctor to be done for child sexual abuse. But he would not have known that . In stepped the American's friendly policemen. The doctor needed a friend urgently calling his new American buddy to help out.
So in stepped the American to negotiate terms to save him from a long jail sentence. Game over for the doctor, who was as terrified of the publicity as he was of a possible jail sentence.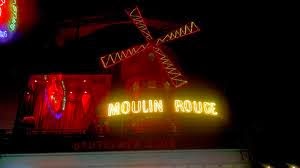 The doctor feverishly rang around collegues in Scotland to make up the shortfall.
I cannot of course name the American but I can say that I have had complaints about the same man relating to a club called the 'Moulin Rouge' in Pattaya's Walking Street.
It is here at the 'Moulin Rouge' that, to the wonderment of expatriates Russian, Belarus; Ukrainian prostitutes have been able to ply their trade for years under control of one group of other.
The boss of course must have one of those 'Monopoly' 'Get Out Of Jail Free' cards because police reports will show this is not a commercial sex establishment and of course the girls are not prostitutes.
This is of course a great relief to me. But I can confirm they are excellent drinkers as your bar bill will quickly show.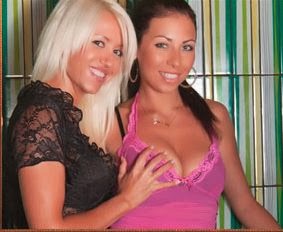 'No sex here!' – Picture – Moulin Rouge – Pattaya
Police regular round-up Russian and East European prostitutes and the women appear to be contemptuous of both Thai police and their bosses at the club.
Every few weeks the local police wake and discover there are Russian and east European hookers in their midst and then go and arrest the usual suspects – fine them and go back to sleep again.
The girls from the Moulin Rouge have been known to get away with a 100 baht fine.
There's a price to pay for all this. The girls' visas and passports need updating. They have problems when they fall out with their Russian bosses as they inevitably do.
Unfortunately some went to the American for visa advice. They got fleeced too.
Now while I have the details of the blackmail here I cannot provide them publicly as I have a reluctant victim with a major problem. He does not want publicity. Its something he wants dealt with another way.
I gather the East Europeans and Russians have cottoned on to the American now, otherwise they would not be telling me. But if you are Russian or East European and please put the warning out anyway. It's never too often.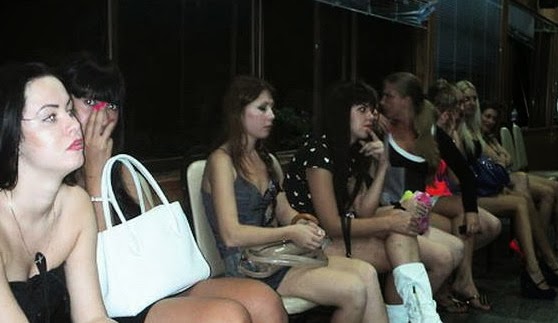 Moulin Rouge girls under arrest. Round up all the usual suspects