DREW NOYES FAILS TO APPEAR
THOUGH COMMON LAW WIFE PROMISES RETURN
Drew Walter Noyes, 60, the fake Pattaya lawyer and professional con man who published the Pattaya Times newspaper in Thailand, has failed to turn up at Pattaya Court to surrender his passport having oddly been given bail after being convicted and jailed for two years for extortion.

Noyes was reported to be back in Knoxville, Tennessee, after taking a flight to the United States on August 4th. He had told Pattaya court he would return on August 18th.

He left four or five young children behind, three by Wanrapa Boonsu, one by a former employee at his 'law firm' and a disputed fifth one by his wife's 14-year-old niece.

His last tweet message said:
" I was recently asked' Why do you work so hard, Drew?"
Here are 3 reasons why! My children are my life and I work…"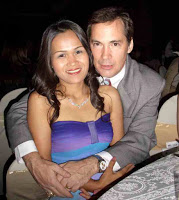 Drew & Nittaya Noyes
#DrewNoyes has four children by his first wife in Thailand,. Nittaya Chaisit Noyes, through whom he has been holding property in North Carolina; possibly to avoid it being subject to judgments in the United Sates, and possible to also avoid tax duties. He has taken these children to the US.
It is understood he used his other children by his second and common-law wife Wanrapa Boonsu as collateral to demonstrate his reason to return.
Both wives have travelled to the United States. On the last occasion Noyes and Wanrapa were given a military escort to the airport.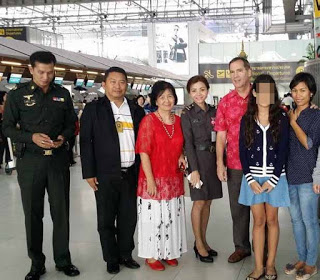 Military – Noyes and Boonsu far right
In the United States before fleeing in the late nineties, he was the subject of a US$12,000 (now updated to US$72,000) court order brought by Tom Flanagan at the court in San Jose, California, for selling duff shares in his duff company New England Trading Company Ltd.
In 1995 DREW NOYES was exposed by the Wilmington Morning Star (now The Star) in North Carolina in an article by Scott Gold (now with the LA Times) as a man of 'myriad lies' with a history of share and property fraud and even sexual harassment. He had allegedly demanded oral sex from a junior employee to increase her hours.
He turned up in Thailand claiming he had arrived by royal proclamation and set about courting court, police, and city officials in Pattaya describing himself as the Mayor's international advisor.
He initially ran beer bars called the Lollipop and Zebra but he found that being a lawyer was a much more lucrative business.
He set up a website and called himself the 'only American lawyer licensed to practice on Thailand's eastern seaboard and waited for the business to role in and he touted himself on the net as the ''most credible and reassuring person to make Thailand his home'
He was first exposed on this site while representing or seeking to represent American pornographers who had been arrested by police in Pattaya attempting to join in in the customary shake down for cash.
The pornographers however made their own private deals with Pattaya police and none went to court.
He established his credentials by setting up the 'Pattaya City Expats Club' and starting a newspaper called the 'Pattaya Times'. The newspaper carried mainly PR handouts, lifted copy widely from the internet, and was used to promote him and attack his enemies.

His own write-up in the Pattaya Times
It also published some bizarre stories announcing he had the equipment to dissolve the Gulf of Mexico oil spill and that he had the cure for AIDS. He got away with it by each week writing complimentary stories about the Pattaya Mayor Ittiphol Khunpluem – son of Godfather Kamnan Poh – Somchai Khunpleum.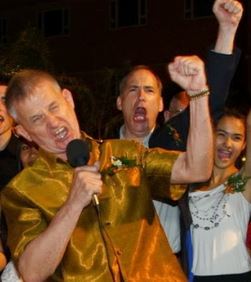 Colov and Noyes
He failed in his battle to destroy Niels Colov, the former Copenhagen pimp and gangster who ran the Pattaya People Media Group, had become a Rotary Club President, and also the leader of the Pattaya Police Foreign Assistants and they instead became allies.
He was taken to court several times in civil and criminal cases by clients who claimed they had been defrauded but each settled out of court accepting cash with a 'secrecy clause'.
His frauds included selling units in a Thai National Authority Condominium to tourists and colleagues at the Pattaya City Ex Pat Club for grossly inflated prices. These units were built with government subsidies for poor Thais.. As a result when it came to a club election – he was out.
DREW NOYES also encouraged property buyers to put their property in the name of his second Thai wife Wanrapa Boonsu's ('as she will be more reliable than yours' and he warned foreign house buyers in his Pattaya Times that their houses would be seized by the government if they were in dormant company names – and his company only could save them.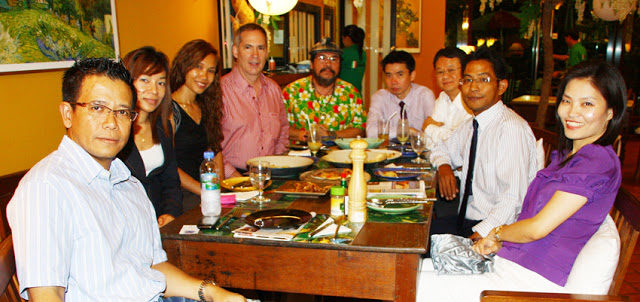 Dining with the Pattaya judges
He spent considerable cash sending bouquets to the Mayor and police and immigration bosses, also wining and dining them as well as Pattaya Court officals, warming them with his 'I love Thailand and the Thai people' rhetoric.
He also started a Pattaya Branch of the children's support organization Optimists International of which the founding members included a now convicted paedophile, a pornographer, and three boiler room fraudsters.
When we started exposing his activities on this site he began a series of what the 'Reporters without Borders describe as SLAPP cases against the author of this site.
(A strategic lawsuit against public participation (SLAPP) is a lawsuit that is intended to censor, intimidate, and silence critics by burdening them with the cost of a legal defense until they abandon their criticism or opposition. The typical SLAPP plaintiff does not normally expect to win the lawsuit.
Typical claims underlying a SLAPP suit are libel, slander or restraint of business. Many states have adopted anti-SLAPP statutes in the interest of protecting free speech that provide for speedy hearings of the claims and the possibility of the defendant recovering legal fees and punitive damages).
He initially sued on stories relating to the Housing Authority scam, bringing in Filipinas on tourist visa to work for him, then not paying the promised amount, and of course being a fake lawyer with an unregistered law office. Those cases were withdrawn. There was no order to remove the allegations.
He and his wife then sued and lost over a picture was published on this site after Noyes' and Wanrapa's arrest with the caption 'Going to Jail' – both lost their cases.
Pattaya Police had refused to take cases brought by foreigners against either Niels Colov of the Pattaya People or Drew Noyes – but it looked like Noyes was scuppered in March 2012 when he was arrested by police after the Thai partner of Dr. Michel Goulet of the Thonglor Clinic in Jomtien reported Noyes attempts at extortion and demands for 7 million baht and police set up a sting operation – and it is the judgment on that one for which he was given bail to go to the US,
Noyes also joined up with Scotsmen David Hanks, from Girvan and Brian Goudie, aka Goldie, from Falkirk who were also given attention on this site.

Hanks, crouched third from left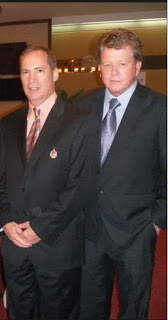 Noyes and Hanks
Hanks worked out of Noyes' One-Stop-Legal-Service offices in Jomtien – or at least Noyes claimed he was on his legal team, and Hanks formed a furniture restoration company with Wanrapa Boonsu as MD.
Hanks was an integral figure in the attempted extortion of the Thonglor Clinic, though never charged, and all three were initially in on the plan to milk 7 million baht from American businessman Bill Monson.
(Last week Hanks was acquitted by the Pattaya Criminal court of being involved in a scam to lend money to Russians at 60 per cent per month. His Russian co-defendant and witnesses had returned to Russia.
Noyes had to bow of the Monson scam as Monson had researched him in the United States.
Goudie sued Andrew Drummond for libel and criminal libel and lost over a story in the Scottish Sunday Mail and on this website outlining his criminal past and his convictions warning people to beware of his Alba Law office.
Goudie did not of course sue the Scottish Sunday Mail. In any event the case by Goudie was thrown out by the Pattaya court.
Hanks and Goudie – Samui
But there has been nothing consistent in the court's performance, due perhaps to a mixture of court procedure, the court's lack of English, and it's total failure to understand that these men in suits are simply foreign con men.
Noyes and Hanks sued for libel over the 'pimp' allegations – a poster had written to this site saying both were pimps which was considered very fair comment. But the court ruled against Andrew Drummond. From that moment on some 20 websites were created to describe Andrew Drummond as a convicted criminal.
Hanks was of course a former pimp, something he cannot delete from Australian and Government records. Noyes of course was one too when he was running bars in Pattaya. But the city does not accept officially that its sex trade exists – because it would be against the law.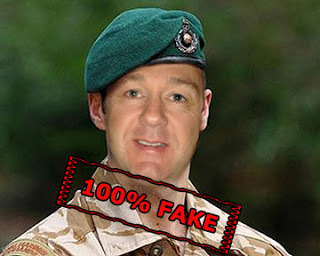 Photo lampooning Brian Goudie, who posed as an officer
in the Royal Marines
All in all there have been some 23 cases lodged for criminal libel involving Noyes, Goudie, Hanks and Andrew Drummond. and which hyave also involved Kanokrat Nimsamooth Booth who sued Noyes girlfriend from the Buffalo Bar, Ally Cooper, a supporter who is suing and being sued by Drew Noyes and who is also suing Goudie, Goudie's former partner Boonrod Baikratok who is suing Goudie in a 'Revenge Porn' case.
Convicted fraudster Goudie is also suing the author of this site – not for any words printed – but for photo-shopped pictures published lampooning him as a barrister and officer in the Royal Marines – both claims he had made frequently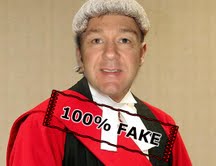 And as both a Scottish Advocate or
English barrister who claims he didpro
bono cass in the High Court.
As these pictures were described as exactly what they were and as the offences is not against the law in the UK and the United States the courts have received no response.
Noyes's failure to return to Thailand highlights the failure of the Thai justice system and particularly the notorious state of affairs in Pattaya where judges have even committed innocent foreigners to jail without even seeing them in court as has been demonstrated on this site.
Laws elevating judges to Royal status forbid further comment.
Noyes could still return to Thailand before October 22nd to face the result of his appeal. According to Ally Cooper who is has been internet dialogue with Goudie. 'Goudie has boasted that Noyes has already fixed his case." – In Thailand that would not come as a total surprise.
According to a spokesman for former employee who has a daughter by him –and of whom he insists on having joint custody :


"We were informed that an arrest warrant has been issued by the court and should he return to Thailand he will be arrested at Bangkok Airport and taken to Pattaya Criminal Court. When he is returned to Pattaya Criminal Court he will be required to explain why he broke his bail conditions. The Court have three options. They can accept his excuse, they can issue a fine or they can send him to jail. His wife has stated that Noyes will return on 30 August if you believe that."

Noyes had put off two other hearings including another libel case and child custody case to go to the US. He still could return before Oct 22nd. No arrest warrant was issued, as was earlier stated, but lawyers for Michael Goulet may insist.