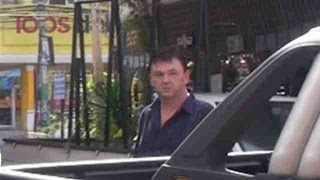 -A BONNIE DAY FOR THAI JUSTICE-






Scottish fraudster Brian Goudie failed in his bid today to get a creditor sent to jail for trespass and alleged libel.


Goudie, formerly known as Goldie, a man with three convictions and a six year sentence for fraud in Australia, had brought a case against Briton Andy Matthews at Pattaya Provincial Court.
He had alleged that Mathews had libelled him and trespassed on his premises 'The Jaggie Thistle' bar and guest house in the Jomtien Complex, when Mathews called on him to settle his debt of 420,000 baht.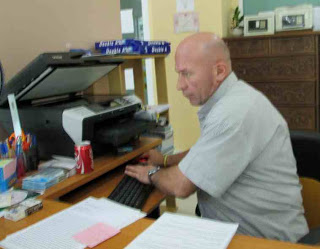 Andy Mathews
Goudie has a colourful history. Formerly known as Brian Goldie from Falkirk he left Briton in the 90's just before a warrant of arrest was issued for him for defrauding the Royal Bank of Scotland.
He moved to Australia, married briefly, his wife suspects to get Australian citizenship, and then swindled an American mining company out of nearly AU$500,000 plus while forging cheques in their accounts department.
In Thailand he re-invented himself as a barrister and former officer in the Royal Marines and created a law company called Alba Laws.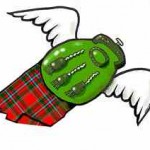 But he was exposed by the 'Flying Sporran' and his income for advising foreigners at 50,000 baht a day has somewhat diminished.
And today the Pattaya Court dismissed his case.
Andy Mathews, a real estate agent, from the West Midlands, thanked the Flying Sporran today for the use of his files and said he was now able to pursue charges against Goudie.
Gaudie's acquisition of the 'Blarney Stone' now the 'Jaggie Thistle' bar from Ulster drugs dealer Jimmy Halliday is the subject of an inquiry.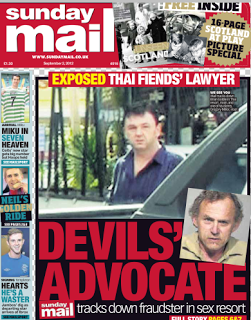 How the Sporran exposed Goudie
Halliday allegedly signed it over when he was dying from necrotising fasciitis, a flesh eating disease he contracted while in Nong Plalai Prison.
Halliday had previsouly written a will leaving the property to a son and daughter. His assets in Ulster had been seized as the profits from his drugs empire.
Exposed a convicted Scottish fraudster, child sexual abusers, and a flesh eating disease
Urgent Warning – this guy almost fooled an Australian judge
Goudie insists 'I'm a member of the Bar'