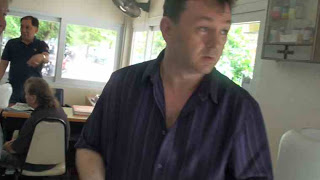 -BUT GOUDIE SOOTHES THE PAIN OF HIS SHRAPNEL WOUND WITH A BUCKETFUL OF BAHT-


Angry condo owners in Pattaya have fired Brian Goudie, their phoney barrister, after a three year battle with a British developer and seemingly their 'lawyer' too.
But Goudie, who also falsely claims to have been a Captain of the Royal Marines in Iraq, is quids in. He has pocketed the 400,000 baht developer Gordon Gillen paid over to Goudie's ramshackle legal company Alba Laws which should have been returned to his remaining clients, and of course all their fees have entered the elephant's mouth like the proverbial sugar cane..
At a conservative estimate he has made some £25,000. Not a bad return for a former bank clerk posing as a lawyer. But he won't get his 20 per cent success fee!
For that however he has had to do a little work recently. Following the departure of his last remaining real lawyer, who at one time was grateful for the poorly paid work (Goudi charges 50,000 baht a day if he can get away with it – about 5000 goes to the actual lawyer) he has been turned up at court himself to represent his clients.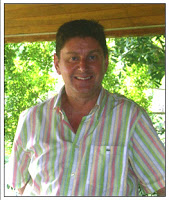 Gordon Gillen
Meanwhile Gordon Gillen, who has been unable to fulfil a court order to him to pay cash back to three remaining litigants over a year period, has said he is now in a position to give them completed units in Jomtien Park, together with chanotes (title deeds).
The three buyers, two Britons and a German, have yet to say whether the offer is suitable. This maybe because they have not been able to study it, says Gillen. But the units will certainly not be the ones they put 50 per cent deposits down on. They were sold a long time ago.
"These are the last three of 20 people I have settled with," claimed Mr. Gillen.
"Mr. Goudie had as far as I can tell instructed them not to talk to my lawyers about any offers. So I do not think they are fully aware of what is on the table. I do not think it was to Mr. Goudie's advantage for them to come to the table."
New financing has been put in place he says too in a second development, Suwan Sawarn.
While it is early days to see if troubles at Jomtien Park and Suan Sawarn are coming to an end, Gillen says his seemingly overstretched projects have had a recent infusion.
The story about Jomtien Park was billed by Goudie on a blogspot site he operates with American Drew Noyes, as the story 'Andrew Drummond didn't write'.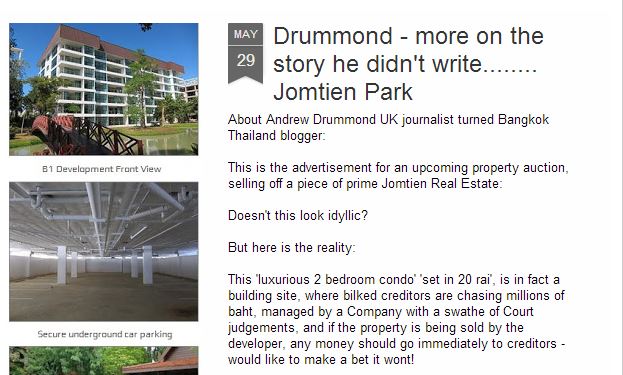 Jomtien Park – but at least its been built not like the Bang Kao Bay resort on Koh Samui
There is no significance to this but of course I have been watching developments there for some time and indeed have communicated with both sides in the dispute.
The story has never quite fitted into the category of deliberate fraud or at least I did not have the information to make such a claim, at least not until now. (Of course there have been major management issues.) Now the fraud relates to Goudie.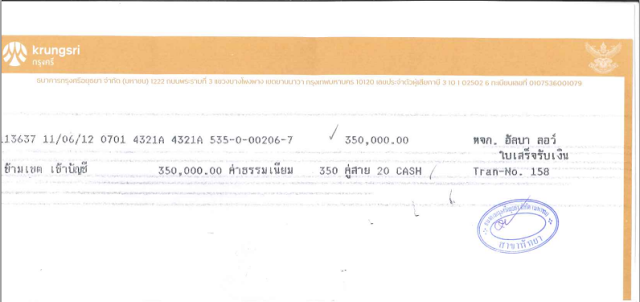 First payment to Ala Laws
Goudie took deposits of 100,000 baht each from seven buyers, who never got their condos at Jomtien Park, and another 130,000 baht from the last three of the seven towards an asset seizure case. Then of course there is the 400,000 baht that Gillen paid back to Alba Laws.
Four of the seven clients later pulled out. Now the last three have cut their ties.
They did not know of Goudie's background until they read it here. Having invested so much money in Goudie they were intially reluctant to pull out. Now it seems they do not want more good money to follow the bad money.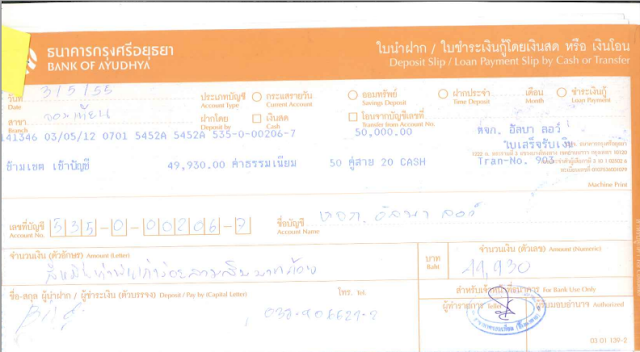 Second payment to Alba Laws
This possibly may be a story he will not be writing about himself.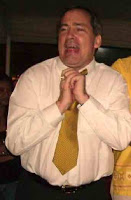 Drew Noyes-additional
fees.
If Goudie repays the money – I will be happy to withdraw my claim of fraud. But as you can see these payments were made LAST YEAR. If he takes a leaf out of Drew Noyes' book he will put that down to 'additional fees'.
But I will not of course remove the accusation that he is a phoney lawyer and was taking money under false pretences in the first place.
So forget about the above.
And I cannot get out of my mind the words of Christina Spence, an Australian girlfriend of Goudie, formerly known as Brian Goldie. She told the Australian Appeals Tribunal that he told her: ' Honest people are stupid'.
The AAT ruled that Goudie/Goldie was not a person of good character, and duly refused his appeal to stay in Australia. His convictions for fraud in Australia under the name Goldie rather helped him on his way.
A strange encounter
The following conversation or encounter as witnessed and written by Brian Goudie just did not happen. Of course Goudie hides behind anonymity on his andrew-drummond-watch-blogspot spot so Mr. Gillen would have trouble taking the matter further.
The investor if he were angry would have been angry, I suspect, because he spent another wasted day at court, but he was quite polite to me.


No longer any in house staff. The only permanent office is the Jaggy Thistle pub in Pattaya. For
details of Goudie's capabilities read the judges comments after his trial for fraud at Perth District
Court Q.A.
Actually the very short conversation went more like this:
Is Goudie representing you? Good God! Haven't you Googled him?
Answer: Yes.
Interruption from Goudie: You should Google Andrew Drummond!
AD: Good luck!