We thank our clients for their continuing support!
From Andrew Drummond, September 12 2012
Scots con man and fraudster Brian Goudie, who was exposed on this site last week running a law firm out of a pub in Pattaya, has written to all his clients to claim he has been libelled and is a genuine member of the International Bar Association.
The 45-yr-old cheat from Falkirk in Scotland Brian Goldie, who fled the UK just before an investigation began into the defrauding of the Bank of Scotland -and then turned up in Australia, where he defrauded a mining company of AUS$400,000 plus, appears outraged as he reels out the qualifications of his company Alba Law.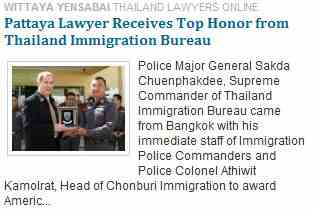 And he makes open threats of vigorous pursuit involving influential judges and the CSD in an almost carbon copy of actions attempted against this site by Drew Noyes, of the Pattaya Times, who also falsely claimed he was a lawyer.
In fact he has copied libels straight from the Pattaya Times which are no longer there, because Noyes was forced to remove them, alleging that this site was being sued by all sorts of people, and that I was a convict.
Over the last two weeks Drew Noyes has removed at least half a dozen libellous stories. In the letter, again written in the third person just as Drew Noyes likes to do, he says:
"Mr. Brian Goudie (Partner – International Legal Practice) is a member in good standing of the International Bar Association, membership number 1035774 (valid until December 2012)."
This has to be the biggest joke of all. The International Bar Association is based in Fleet Street, London, my old stomping ground. I could become a full member tomorrow for £235.00 – no questions asked. There is no requirement of proof of whom you are – just your credit card number. You can even join as a student. Check it out!
A member of good standing? Nobody at the IBA will even know who he is unless they check their computers and then they will just have to believe what is written. The only bad standing member is one who has not paid his annual dues. Where have I seen this all before?
But we know Goudie and Noyes got together after Noyes posted a very tame video taken by Goudie on the internet on Goudie's behalf.
The IBA is only an information gathering and lobbying association in the legal profession. Being a member is no proof of anything. What is most staggering of all is how do his genuine Thai legal partners put up with it. Or have they just been rail roaded? Let's find out – watch this site.
Below is the Goudie press release, but I doubt it's gone to any press. It was sent from his email press@albalaws.com and he also sent it to himself briang@albalaws.com. I don't think he has a press office though. He also sent this to his lawyers, but to their addresses at Alba Laws, perhaps not their proper email addresses, as these guys have their own company(ies). So he may have just been sending to himself.
PRESS RELEASE – ANDREW DRUMMOND
"It has come to our attention that there is an article circulating on the internet in relation to this Firm and it's Partners.
"Alba Laws LLP is a properly registered Limited Liability Partnership, registered pursuant to the provisions of the Civil and Commercial Code. We understand the article makes several misleading and incorrect factual assertions regarding this Firm and our Partners, our standing as a Firm, and the qualifications of our Partners and Consultants.
No assertions have been made about Goudie's Thai partners. It is clear they did not know who he was. AD
"For the record, the two partners mentioned in the article, Mr. Sanya Namnaphon (Partner – Litigation) who is a member in good standing of the Lawyers Council of Thailand, licence number 631/2535 (valid until February 2018) , and Mr. Brian Goudie (Partner – International Legal Practice) who is a member in good standing of the International Bar Association, membership number 1035774 (valid until December 2012).
Mr. Sanya Namnaphon was not mentioned in the article. Nor do I know him Nor am I interested in him. I do not know what International Legal Practice means after Goudie's name, unless it means, he's practising or some authorities have been practising law on him internationally, which is true?
"This firm has a senior staff consultant, Mr. Somkiat Vata (Consultant – Litigation), who is a retired judge of the Criminal Courts of Thailand, and consults on major cases.
"As with all busy legal practices, this Firm will bring in specialist external counsel for specific cases, who must be qualified to practice in the Kingdom of Thailand.
"All cases accepted by this Firm are managed in accordance with the Code of Ethics of the Lawyers Council of Thailand.
Again no assertions have been made about Goudie's Thai partners. AD
"We understand that Drummond asserts that this Firm acts for 'pervert clients' and this Firm is 'in partnership with a paedophile' and this Firm takes on cases that are mainly for 'sex offences'.
Jaggy Thistle

Nowhere on my website do I claim that Alba Law dealt mainly with sex offences or that he was a partner with a paedophile. This may be an issue Alba wishes to address to the Sunday Mail in Scotland but I suspect he will be given short shrift there.

What I did report was that police arrested a Briton, Ian Tracy, for child sexual abuse, who was found in rooms above and belonging to 'The Jaggy Thistle' and that this man had been on the run for a year during which time he was used to find clients for Alba Law. While visiting Nong Plalai Prison Pattaya, ostensibly on behalf of the Mercy Foundation, he found clients for Goudie.

The Jaggy Thistle is the registered address of Alba Law. AD
"For the record, this Firm currently has live cases in the Provincial Courts of Chonburi, Pattaya, Nong Bua Lamphu, Koh Samui, Rayong, Phuket, Krabi, Bangkok Southern, Samut Prakan, Surat Thani and Prachuap Kiri Khan.
"In addition, we have a number of cases before the Court of Appeal and the Supreme Court of Thailand. Our case base covers a broad range including Consumer Protection, Civil Recovery, Asset Seizure, Family Court, and various Criminal cases such as Fraud, Theft, Forging and Uttering, Misuse of Drugs, Supply of Drugs, Assault, etc – in other words the expected case base of a busy legal practice.
I indeed questioned in the public interest whether it was suitable for a man with convictions for fraud in particular 'forgering and uttering cheques', to be leading fraud cases in Thailand. There is evidence that Goudie has appeared in court in Thailand as a 'Lawyer-in-fact'. Its a lot of cases to worry about though.AD
"It should be noted that this Firm undertakes briefs to prosecute many Private Criminal Prosecutions as well as undertake Criminal Defense work".
Noted.AD
"In relation to the assertion that we have a case load of 'mainly sex offences' for 'pervert clients', we currently have two cases in Pattaya Court in relation to Sexual Offences against children, which at this stage at least in one case are mere allegations, and these cases represent a tiny fraction of the work undertaken by this Firm. It is a basic tenet of law that every person accused of a criminal offence is innocent until proven guilty, and entitled to legal representation that accords the best possible defence available under the law – this is a basic right of the adversarial justice system, and every defendant is entitled to a defence, no matter the allegation".
Is he saying his other case does not involve mere allegations? This has already been answered above. On a point he raised though in both cases the alleged victims were under the age of puberty so his clients could be correctly described as suspected paedophiles. I would like to know how he acquired the 'Jaggy Thistle' from Ulster drugs dealer Jimmy Halliday who died at about the same time and who appears to be called Holiday when Goudie was added to the company. Perhaps his lawyers could look up the company 'Jimmi' International Co. Ltd' registered at his address, and find the thumbprint. AD.

Goudie, left in the shadows outside the 'Jagggie Thistle' with Ian Tracy,sitting. Innocent until proved guilty. Now F Off! the lot of you!
" Andrew Drummond, styles himself as an 'ínvestigative journalist', claiming to be a 'correspondent' of the 'Evening Standard' in the 'United Kingdom' as per his Press Card number No. xxxx, issued on 10th November 2011 by the Thai Department of Public Relations".
Andrew Drummond has been a journalist for some 40 years most of it working on stories of an investigative nature, but not exclusively so. The Standard does issue press accreditations and has in this case which remain valid. Should Mr. Goudie check he will see that I first came to Thailand as correspondent for the Observer, then the Evening Standard, then The Times, for ten years, and now back to the Standard again.
"Inquiries this week by this Firm into the validity of his Press Credentials to the sub editor of the ' The London Evening Standard' (the Evening Standard changed it's name in 2009 and no longer issues Press Credentials in that name) has this week advised this Firm as follows: 'Mr Drummond is a freelance journalist who contributes stories to a wide variety of newspapers. He is not a contracted member of staff of Evening Standard Ltd and is not a representative of the newspaper".
Well if he actually did make enquiries to the sub-editor of the Standard his enquiry would have been put on the spike. Who on earth is the sub-editor? There are at least 20 subs, probably more. This is not a standard of rank, its a type of job. And I would not know any of them. I know the newsdesk team and the editor though.

That's a botched up quote if ever there was one. The newsdesk of the Standard know nothing about it. Nor would they have issued any statement without informing me. I have to act as their representative whenever they ask me. Most foreign correspondents in Thailand are freelance. The Ministry of Foreign Affairs has a list of the other papers for whom I write. Whether the Evening Standard is known as the London Evening Standard, (the slight name change is of no interest to the Ministry of Foreign Affairs) is immaterial. – The paper is still known as the 'Eeny Stannit' from the old vendors cry! Or perhaps more from the Morecombe and Wise TV show.

But wait a minute where have I seen all this silliness before. Yes you have guessed it on the Pattaya Times website (under comments) controlled by Drew Noyes. Its not there now though.
"As a result of this information, this Firm has requested the Department of Public Affairs to review the supporting documents presented to obtain Drummond's press credentials, which are now under investigation.
In that case 'this Firm' will be wasting its time. It should apply to the Ministry of Foreign Affairs who have known me for 20 plus years. In fact we could go together.
"Following a criminal conviction in which the Bangkok Post was successfully sued as a Joint Defendant, Drummond has been unable to submit articles to newspapers in the Kingdom of Thailand – who now refuse to publish his articles. Drummond instead now participates in the practice of 'yellow journalism' via his web site, in which he writes factually incorrect articles in a style that can only be properly described as gutter tabloid journalism".
Here we go again. I no longer bother writing for local publications – only on special request.
Drummond wins libel – Press Gazette report
Andrew Drummond was acquitted of libel charges brought by a Pattaya (Brits) running gay venues. The Bangkok Post was not successfully sued. I rarely have any problem having stories published in Thailand. Normally I do not, because it does not pay. The other 'yellow journalism' stuff here was also copied from the Pattaya Times published by Drew Noyes, an American, who also falsely claimed to be a lawyer. It has now been removed from the net following action against him. Why do I think that Goudie's Thai lawyers had nothing to do with the publishing of this press statement. I do tend to write in a more colloquial style though. AD
"A further foreigner featuring in the Drummond story, Andrew Ronald Matthews, has two criminal convictions for violent serious assaults, the most recent conviction being on 18th October 2011 in Pattaya Provincial Court, case number 9043/54, in which Mr. Matthews received a three month term of imprisonment, suspended for two years and a fine of THB 2,000.
"Mr. Matthews has a current dispute with this Firm and it's partners, and is currently facing Criminal Proceedings in case number 5163/55 in Pattaya Criminal Court has been charged with two counts of criminal trespass contrary to s. 365(2) and 365 (3) of The Criminal Code of Thailand, two counts of Criminal Defamation contrary to s. 326 of the Criminal Code of Thailand, and a number of other charges.
"As a defendant on a suspended sentence, if convicted, Matthews is facing an automatic prison sentence. The matter has been listed for preliminary hearing on 22nd October 2012.
Mr. Mathews admitted hitting a German property developer who insulted him last year. Mr. Mathews does not have a problem with "This Firm' and its partners. This is a very odd way to say Mr.Goudie is trying to get Mr.Mathews kicked out of Thailand because he owes him 400,000 baht.

Mr. Goudie claims Mathews insulted his company 'Jimmi International Co Ltd" (the first plaintiff) and trespassed at the 'Jaggie Thistle' pub in Jomtien. Mr.Goudie (the second plaintiff) admits owing Mathews in excess of 400,000 baht which Mathews said he wanted returned after he discovered that Goudie's was not who he said he was. Clients should be aware. Essentially Mr. Mathews appeared to have called into Goudie's pub and called and let off a few expletives.

Moreover as 'Jimmi' was funded with drugs money from Ulster how can it be libelled?. And how can you damage a concern which is, er closed. And how can an abstract entity be a 'c**t?', which is I believe one of the words used by Mathews. And who on earth would know that the 'Jaggy Thistle was owned by 'Jimmi'. More to the point what reputation does 'Jimmi'have which can be tarnished? Clearly this is a matter that only an International Legal Practice can handle.

As in his Oil Tech Pumps problems explained in the original story Goudie has a series of companies in Thailand and elsewhere which he actually controls but avoids on paper being the decision maker. On many of these companies he is named as Goldie.

Mr.Goudie here is giving out information acquired while Alba Law was acting as Mathews's advocate. Client confidentiality? So again other clients should beware.

Mr. Mathews has NO criminal record in the U.K. It's Mr. Goudie who should be leaving.
"This Firm and it's partners on Tuesday 4th September made a report at the Office of the Crime Suppression Division (Region 1) of the Royal Thai Police in relation to the article penned by Drummond, and that investigation into a new charge of Criminal Defamation contrary to ss. 326 and 328 of the Criminal Code of Thailand is continuing.
In the unlikely event anything should arise out of this (and I cannot find any trace of it) it will be dealt with. Meanwhile I await the case number and the name of the officer who took the statement and to which police station this case was referred. The CSD merely have to talk to the Australian Federal Police office in Bangkok.
"Drummond has further proceedings now pending in relation to a number of other individuals in Thailand who also allege Drummond has defamed them".
This is news to me. The only cases I have on record are those involving Mr. Drew Noyes, who is also facing extortion charges in Pattaya Criminal court. My case should be finished very soon.

UPDTE: September 16 2012: Pattaya Court yesterday dismissed allegation that Andrew Drummond (I) was in contempt of court for a breaching an agreement signed on June 2nd. Noyes had asked the court to jail or fine (me) Andrew Drummond as he had lost his deposit on a 5 million baht libel case he had brought against Drummond. The court refused his application and ruled that the costs they had deducted from him were legitimate. If he wished to sue (me) Andrew Drummond he would have to initiate a new case. Andrew Drummond (I) was merely required, as in customary in all settlements in Thailand, to ackowledge Noyes' apology and apologise in the same wording on my site. Despite Noyes demands no articles have had to be removed from this website.
"It is unfortunate that individuals such as Drummond and Matthews are easily able to use the internet to post material that is demonstrably false, and material that is egregiously defamatory to this Firm and it's partners. The use of web sites registered outside the Kingdom of Thailand make it difficult to have the material removed, however this Firm is now in the process of requesting the Registrar of the site to remove the material, or to face prosecution".
All allegations written by Andrew Drummond on www.andrew-drummond.com are true and well sourced. Indeed it is unfortunate that there are people around who can spot Pattaya chancers. I have no dispute with bona fide Thai lawyers but I will certainly be watching any case being brought by Alba Law involving Goudie and would like to hear from readers how much Goudie has been charging for his legal services. We already have quite a few of his bills, like this one below.
Here's one Goudie bill.But wait a minute. He has signed this one Goldie. He certainly was not legally here in Thailand in September 2011 under that name. I have deleted the name but I would be interested to know if GB ever got it, or was this just a spoof to show someone else that he was owed money
And below is a story from someone else who was at Halliday's death bed, besides, Goudie, Tracy and Pattaya Police Volunteer Macdonald
He would have cried a lot longer if he knew
This Firm has already commenced the process of prosecuting Drummond and will vigorously prosecute this individual to preserve the good name of this Firm.
In the meantime, we thank you our valued Clients for your continuing support.
But you should read the original story first if you have not done so
EXPOSED! A CONVICTED SCOTS FRAUDSTER, CHILD ABUSE PRISONERS AND A KILLER FLESH EATING DISEASE IN A THAI PRISON
Finally a spokesperson for the International Bar Association confirmed that Goudie had paid for membership. The spokesperson said last night:
"With regard to the qualifications of members, the IBA is not a regulatory body and does not have the means to check the qualifications of members across the globe. IBA membership is voluntary and members rely on their peers to be truthful and professional in their conduct.

"On the topic of expelling a member there is a mechanism in place. I draw your attention to the below relevant excerpt from the IBA Constitution. To read the item in full download the IBA Constitution from this IBA website page".http://www.ibanet.org/About_the_IBA/governance_and_management.aspx
A report in the Herald, Glasgow, before Goldie went to trial. He changed his name to Goudie later.