A 40-year-old Australian national was granted bail by the Thai Region 2 Appeal Court today in the sum of 800,000 (AUS$30,573) on a charge of possessing 'Ice'  – crystal methamphetamine.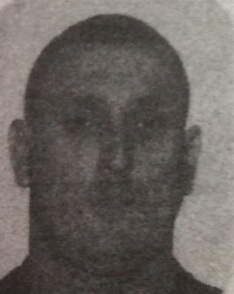 Jacob Dade Davies from Melaney, Queensland, had earlier been refused bail by Pattaya Provincial Court, as earlier this year in case YO17/58 he had been convicted of possession of  a Class A drug fined 14,000 Thai baht (AUS$535.52) and given a 15 months prison sentence suspended for 2 years.
As the cash goes into the court if he breaks his bail terms and conviction could see him doing ten years in prison there is considerable speculation as to whether Mr.Davies will stick around for his trial.
In court as guarantor was Australian Scotsman David John Hanks, 66, former owner of 'The Masquerades brothel in Keysborough, Victoria.
Hanks, now a moneylender on a retirement visa was acquitted earlier this year or racketeering charges.  It was alleged that he charged 60 per cent per month for his loans to Russians in the resort.
Hanks' partner fellow Scot Brian Goudie, formerly Goldie,  did not attend. He was due to surrender in a nearby court on a charges relating to revenge porn on a former woman partner and setting her up to face licensing charges.
Normally those arrested on drugs charges in Thailand have little chance of getting bail. The maximum penalty for drugs offences is death by lethal injection.
But Pattaya Court and its associated appeal court are renowned for its ground breaking legal decisions.
The legal victory for Davies, born on May 16 1975, comes as even a greater surprise as his senior adviser Goudie, is currently appealing a three year jail sentence for posing as a lawyer to cheat an elderly female client out of 7.8 million Thai baht (Aus$300,000) a large part of which was bail money for her son.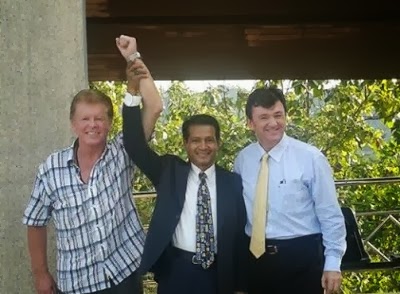 Triumphant legal team Hanks and Goudie with former lawyer