BELLY TO BELLY IN A PATTAYA COURT!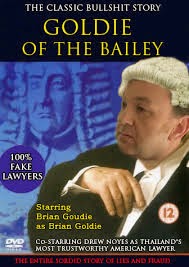 -A furious fake barrister Brian Goudie threatened to tear a journalists' head off and addressed two Thai women as prostitutes yesterday – a day in which he failed to pay his way out of fraud and impersonation charges at Pattaya Provincial Court.


The attack on Andrew Drummond (owner of this site) came as the reporter made his way to Court No 1 at Pattaya Provincial Court and was recorded on CCTV.
Drummond's summary of a complaint was that Goudie and David Hanks blocked his way the court and attempted to push him away making a number or verbal threats.
"He did not actually hit me, but his face was contorted in anger and right in mine and he tried to push me in a in a northerly direction away from the court room door using nothing but his stomach and shouting: 'I'm gonna tear your heid aff'"
Later police complaints were lodged that Goudie had also made verbal attacks on two Thai women Kanokrat Nimsamoot Booth, 44, and Nang, calling them both 'f…king prostitutes'.
Earlier in the day police investigating another report that Goudie had cheated two Britons and a German over a series of condo frauds by a British developer, had called Goudie's lawyer to ask that he attend an interview at Pattaya Police station.
In this case it is alleged by the three victims that, having paid over a million baht for his services, Goudie then went secretly to work for the developer and deliberately screwed up their case. Its further alleged that he also banked cash which the courts had awarded his clients. The matter was referred to Pattaya Police by the Crime Suppression Division in Bangkok.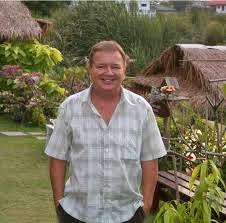 Drummond
The attack on Drummond happened shortly after 09.20 am.
Shortly after 10 am the court heard an application from Goudie's lawyer that Goudie wished to repay the 7.9 million Thai baht he had taken from Mrs. Barbara Fanelli Miller, 76, while claiming to be a British barrister . He would do this, he said, by signing over Jimmy International Company Ltd., to her lawyer for re-sale.
The company of which Goudie and his dormant company Ramidin Holdings were the majority shareholders, owned the premises of the former 'Blarney Stone' and 'Jaggie Thistle' public house. The premises are valued at 10,500000 baht at the very minimum.
This deal could only be facilitated if (Nang) the managing director and his former girlfriend gave written permission for the sale.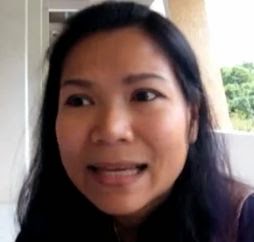 Kanokrat
Nang was reluctant to make any agreement with Goudie She was concerned about other victims of Goudie. She herself was a victim. Mr. Goudie had taken intimate pictures of her while they were together as a couple – but later when their relationship crashed and burned – those pictures appeared on the internet.
The judge however ruled that it was not that simple just to settle in this way. There was already a civil court order finding him guilty of cheating Mrs. Miller, from Madison, Wisconsin, out of the cash, on the pretext he could get her son Greg Miller out of prison, where he is now serving 38 years for child sexual abuse. The judge therefore adjourned the case until July 3.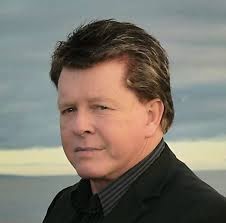 Hanks ' My wife was terrified'
The Miller case had in fact finished before police investigating the other alleged fraud by Goudie could turn up in court.
Journalist Drummond was delegated to check where Goudie went after he left the court and he subsequently discovered that Goudie, his latest girlfriend Yingmee, David John Hanks and his 'wife' were lunching in Tara Court, on Pattaya's Pratamnak Hill.
Drummond drove to Tara Court and as he arrived Hanks was pulling out with his passengers in his black Toyota Vios.
Drummond then pulled over to allow the Vios to pass but the Vios parked behind and Goudie approached the journalist's car and tried unsuccessfully to open the driver's door.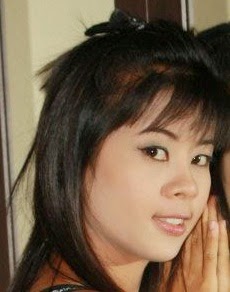 Nang
Goudie returned to the Vios and Drummond then followed them to Dongtan Police station Jomtien where Goudie and their companions pulled in, it turned out, to try and make a complaint of harassment.
Hanks, from Girvan, Scotland, the former proprietor of Masquerades, a brothel in Keysborough, Victoria, Australia, could be heard saying: "My wife is pregnant and she was terrified." Goudie said: "He's been following us for two hours."
At this point police from Pattaya Police station arrived with Kanokrat Nimsamoot Booth and Nang.
A heated conversation then took place. Subsequently complaints were laid against Goudie by both Ms. Kanokrat and Ms. Nang.
Goudie also approached Drummond at the police station and said: 'There is nothing you can do. You cannot get me arrested."
Drummond subsequently left with both women and was not required to answer to any complaint made by Goudie. Police did not even ask for his ID.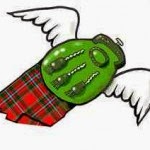 A Flying Sporran Report
The complaints against Goudie allege that he called Nang, co-owner of a real estate business, a prostitute and that she should 'watch out'. Goudie is also alleged to have also called Ms Kanokrat a prostitute.
Nang: "There is no way I can deal with him (Goudie). I am not signing anything. And I am now going to pursue cases against him."
Outside the police station a police officer approached Andrew Drummond and used a few colourful and uncomplimentary phrases to describe Goudie.
"We know he is not a lawyer. We know what he did to Khun Ian and Khun Andrew."*
• Google Andy Mathews and Ian Tracy in conjunction with Brian Goudie.
Related News: Posters to this site say Drew Noyes has returned for court case on May 12. However his Facebook was reporting him as in Irvine CA.
He is due to go into witness box in extortion case in June. Staff say he was due back today. He has to surrender to bail in Bangkok on Monday.
David Hanks is still on bail with three others (Russians) in relation to illegal loan sharking. The case was initiated by the Department of Special Investigations and in other countries is known as 'racketeering'.
Brian Goudie: Has agreed to attend Pattaya Police station Monday in connection with allegations made by the condo owners.