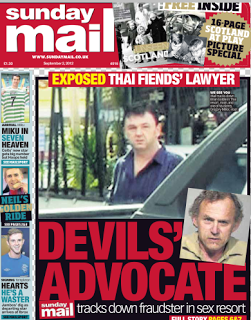 While British journalist Andrew Drummond was making his presentation about foreign crooks using abusing Thailand's Computer Crime Act last night – two more cases against him looked like they might be collapsing in Pattaya.
Brian Goudie, the fake barrister and former Royal Marine officer, had left it to David Hanks, the former owner of Masquerades Brothel in Melbourne to represent him in a case being brought against Drummond, under the criminal libel and Computer Crime Act laws at Pattaya Night Court.
As the case has yet to be accepted it was not necessary for Andrew Drummond to attend.
Hanks, born in Girvan, Ayshire, had tried to explain to the court how offensive it was to read in the Sunday Mail newspaper in Scotland and on Drummond's website that his friend Brian Goudie had been on the run and had used a paedophile to gain business from clients in Nong Plalai prison.
But he ran out of answers and simply did not appear to know who Goudie was, or when or where he was born or about his jail sentence in Australia, or indeed fully understand what Goudie's complaints were. The court also heard complaints about paucity of actual FULL translations of what Andrew Drummond had written.
The offending article – Goudie says he is going to sue the Sunday Mail – but that's unlikely
Hanks repeatedly stated: " I don't know".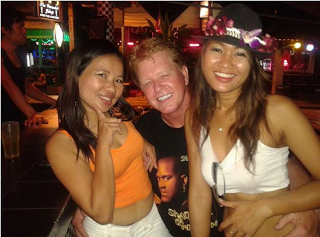 David Hanks, Lamai, Koh Samui.
Should the case be accepted – the judge will announce his decision on December 12th – Drummond says he will provide documents from the Australian Appeal Tribunal showing that not only was a warrant issued for Goudie's arrest (under the name Goldie) by Police Scotland, but that Goudie had declined to go home to face the allegations.
Further he was described in the AAT judgement as ' not a man of good character' and subsequently stole from an Australian mining company, a member of which had given him a character reference at the AAT saying he had '100% integrity'. An Australian witness says he will time her Thai holiday to give evidence against Goudie.