CLARIFICATION THE PICTURES BELOW ARE PHOTO-SHOPPED. THERE IS NO SUGGESTION THAT NOYES OR GOUDIE HAVE TAKEN PART IN A GAY PARADE OR INDEED THAT GOUDIE WAS AN OFFICER IN THE ROYAL MARINES.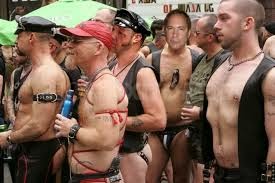 Photo-shopped picture of Goudie and Noyes from
subzerosiam
Controversial American Drew Walter Noyes who is suing the owner of this site for criminal libel and libel under the Computer Crime Act after we published a photo–shopped picture lampooning him and phony barrister and Royal Marine Captain Brian Goudie – failed to turn up to press his case at Pattaya Provincial Court today.


The picture which was edited to show Goudie and Noyes in leathers – Goudie bottomless and Noyes wearing a pouch – in a parade of leather clad gays. In fact this site merely used the pictures to illustrate why Noyes was suing a website called subzerosiam.
We do not believe either are gay and readers of the site are unlikely to read that interpretation particularly as we stated so in the story which neither has produced in evidence.
Noyes is suing claiming that he is 100 per cent totally heterosexual.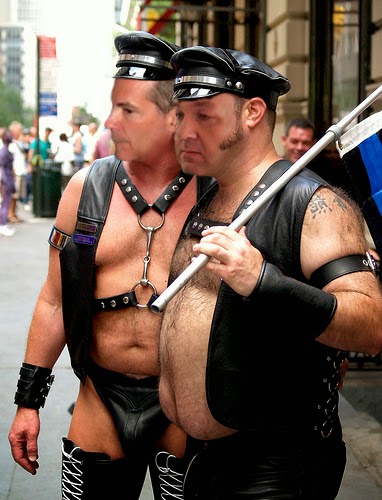 Photo-shopped picture 2
In Koh Samui court on June 12th Brian Goudie will continue being cross-examined in a similar case.
He is claiming that the gay picture and others lampooning him as a bewigged barrister, a Captain in the Royal Marines, in prison uniform and handcuffs, and as a baby, are also against the Computer Crime Act – which was introduced to protest Thailand's internal security and also protect the Monarchy.
At Pattaya Provincial Court a lawyer turned up at the last minute to say he was Noyes' new lawyer and asked for an adjournment.
He was told that the trial would be scheduled for dates in December this year and February next year. If the plaintiff did not turn up or the lawyer was not ready to proceed the case would be dismissed.
On June 16th #DrewNoyes is due to surrender to bail in a case brought by Andrew Drummond, against him, Wanrapa Boonsu, and the Pattaya Times Media Corporation. Its allegedly they falsely claimed Drummond's press card as a foreign correspondent in Thailand had been withdrawn.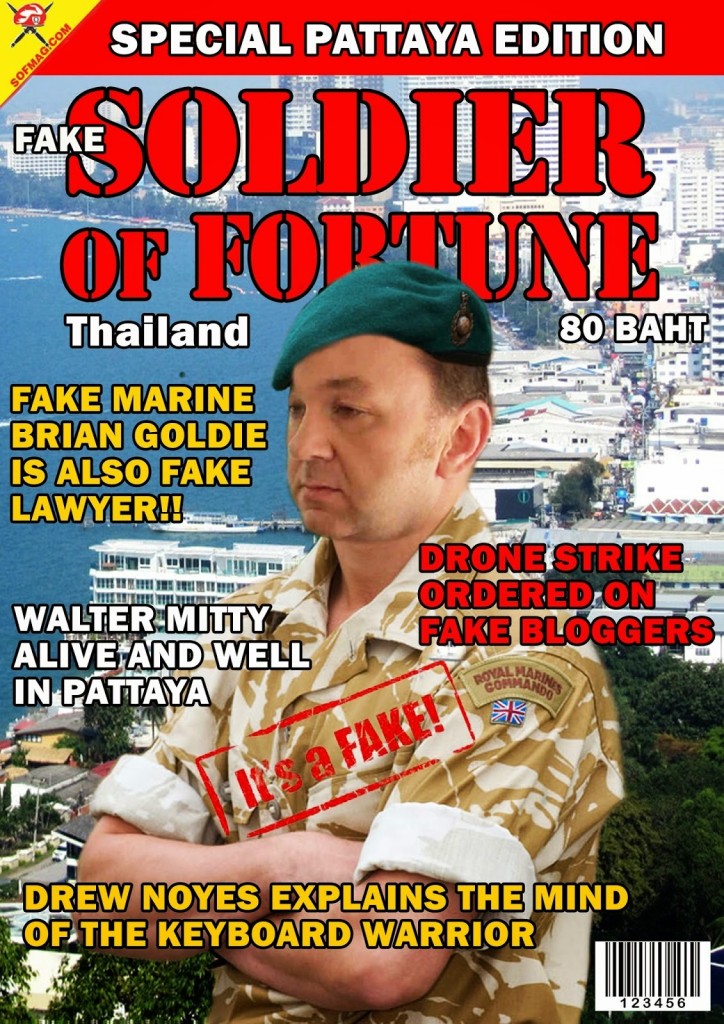 On the same day Drummond and witnesses will also take the stand in a case being brought against Drew Noyes, Wanrapa Boonsu, and Brian Goudie, for making a number of false allegations that Drummond was being hunted down by the Department of Special Investigations, the Crime Suppression Division etc.
And again on the same day Alistair Cooper, a UK citizen, is taking a criminal case for libel against Goudie, David Hanks and Noyes.
Hanks and Goudie alleged that Cooper was being investigated by the US Secret Service for making death threats against Hilary Clinton. Noyes alleged that Cooper was a drugs dealer.
Alistair Cooper has already sued #BrianGoudie, Hanks and Noyes for five million baht in the civil court and judgment will be announced on June 30th. The case was not contested.
In August Drummond will counter-sue both Noyes and Boonsu over cases against which have now been dismissed and also seek punitive damages.
A case against the alleged owner of the SubzeroSiam website has also been postponed – this one until September.