LINK MAN TO PHONEY LAWYERS TIED TO RUSSIAN MONEY LENDING AND ENFORCEMENT OPERATION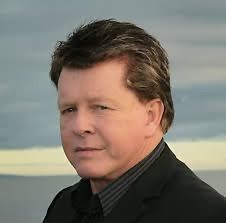 The former owner of the Masquerades Brothel in Melbourne has
been arrested in Pattaya, Thailand on a charge of illegal money laundering.
David John Hanks, 65, was seized after the arrest of Mr Ayrat
Khabiryanov, aged 25, a young Russian national. The arrest of the Ayrat was
actually reported in June but no mention was made at the time of the arrest of
Hanks, originally from Girvan, Ayrshire, Scotland but of dual British Australian nationality.
The operation run by Thailand's Department of Special Investigation
revealed how Khabiryanov worked for a larger organization which also involved
Thai Nationals. They would lend money to other Russians of between 5,000 and
30,000 Baht at an interest rate of 60% per month or 2% per day.
If the customers failed to pay on the agreed dates their
original passports would be confiscated. The Russian detainee had been
reportedly running the operation in Pattaya since November 2012.
It's now alleged that the former pimp Hanks provided the cash
while Khabiryanov found the customers.
Police who carried out the arrest on behalf of the DSI found
a number of passports in the Russian's home in Central Pattaya, reported Pattaya
One News.
Details of the arrest of Hanks, however, who had sold his
brothel business to Chinese businessmen, and also his house in Melbourne, to
take up residence in Thailand, only emerged after he recently requested the
return of his passport to go back to Australia on business. An inducement may
have been involved. Hanks has been whinging that he is 'out of pocket'.
He has been working out of the offices of One Stop
Services run by phoney American lawyer Drew Noyes and his common law wife Wanrapa
Boonsu in the Thepprasit Road, Jomtien.
Hanks jointly owns a company with Wanrapa Boonsu, which he
says is to import and export plastic products.
Recently Hanks was named in the trial of Drew Noyes and
Wanrapa Boonsu for conspiracy to extort the Thonglor Clinic, Jomtien, out of 7
million, then 2.5 million baht – on pain of a raid by police and bad publicity
in Noyes' former Pattaya Times
newspaper.
The clinic's joint owner Australian Dr Mike Goulet told
Pattaya Provincial Court he was scared for his business and his security, after
being confronted at the clinic by Hanks.
Hanks, he said, had checked in at the clinic and asked to
see him announcing that he was connected to the Chinese mafia in Australia
where he had been in the sex business in Melbourne. His new boss Drew Noyes wanted to meet with
him.
But his boss Noyes, then publisher of the Pattaya Times
newspaper, did not want to talk about advertising the Thonglor Clinic when they spoke.
Said Dr Goulet: "When Noyes called he said: 'Come to my
office and we can talk about the protection we can offer so your business can
run smoothly." – the case continues.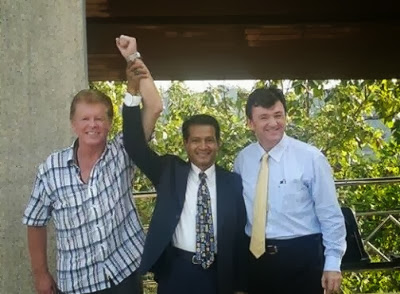 David Hanks, Samui lawyer, Brian Goudie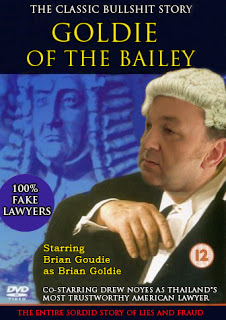 Next week Hanks is due to stand in at Pattaya Provincial
Court to represent fellow Scot Brian Goudie, who has taken criminal libel and
Computer Crime Act charges against the owner of this site. Goudie has failed to
appear at earlier hearings – and two charges he has brought have already been dismissed. He is also suing in Koh Samui.
Brian Goudie
himself faces two criminal cases in Pattaya Provincial Court.
(1)J Pretending to be a qualified British lawyer to obtain
business to Briton John Jepson.
(2) Obtaining US$300,000 by deception from Barbara Fanelli
Miller, for the release of her son Gregory Miller, 47, from Nong Plalai Prison,
posing as a qualified British barrister and former Royal Marines Captain.