MANIPULATING
GOOGLE!


REAL MEN AT WORK.


"You see that's what separates the men from the boys. Once you start fucking with me I become ruthless. I don't care how long it takes, how much money I spend, how much of employees time is used" – Drew Noyes, Founder of the Pattaya Times. – on SubZeroSiam.



Former Pattaya publisher Drew Noyes, now the boss of a 'Thai Police' website, seems to be spending all his waking hours these days manipulating Google in part of what must be an exhausting 'Reputation Protection' and 'Damage Limitation' exercise.


He has been burning the midnight oil trying to put negative stories about him to the back of the queue, so now when we Google Drew Noyes we get a lot of Linked-In stuff, and drivel from his own blog spots and of course his famous Naymz biography.
Still however there is tasty stuff on the first page of a G search of him which still cannot be hidden.
I was checking today because Noyes, who runs www.askthailandpolice.com* encouraging foreigners to report other foreigners' crimes, has claimed to have worked for Thailand's Ministry of the Interior – and I wanted to see if it was still on Linked-In.
No, under Education, and then under Ministry of Interior he describes himself now as a 'Seminar Leader'.
But I loved this one below.
And he is suing ME for libel! I mean he does not even have a wife!
I also loved this. Its for people who come up to him and say 'What a load of bs you put up about yourself on the net Drew!'
After that though, his image management all goes to pot. You can do this for a while. But poor old Drew will have to do it every day until… Well if he were put behind bars, if he had the opportunity he would still be seeking beatification on the net.
Noyes and Scottish fraudster Brian Goudie have been intensively searching the net to find stuff on perceived enemies, or rather friends of this site, and setting up blog.spots against them, but it seems Noyes has not helped Goudie with HIS damage limitation.
But first this is one of the their more unusual blog.spots tweeted by Noyes.
You work it out.
Alas for Goudie bad news still comes out against him all over page one on a Google search. You would have thought Drew would help his friend in arms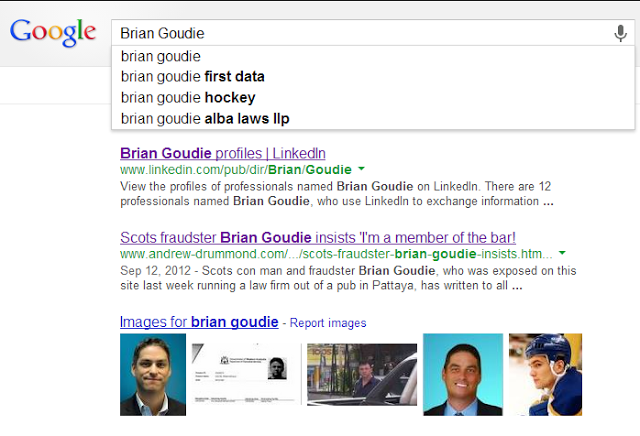 Two out of top five Google Images
It does not get any better if you google Brian Goldie.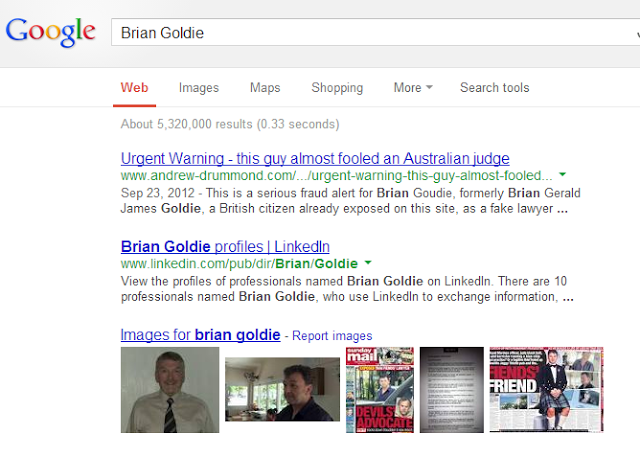 4 out of top 5 Google images