THE ULTIMATE SEX TOURIST DREW NOYES DID NOT CARE WHERE HIS MONEY CAME FROM BUT NEITHER DID THAI OFFICIALS.
Serial confidence fraudster Drew Walter Noyes and his Thai partner Wanrapa Boonsu officially became fugitives from justice today as Pattaya Provincial Court finally issued a warrant for their arrest after they fled on bail.
The couple who published the Pattaya Times to prey on tourists and expatriate foreigners, failed to turn up to hear the result of an appeal against their two year prison sentence for extortion.They faced immediate incarceration if they lost again.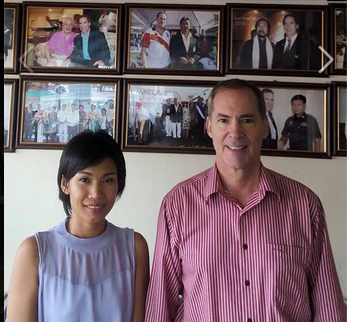 Boonsu and Noyes plastered their offices with pictures of themselves
with Pattaya dignataries and police
Both had paid out sizeable amounts of cash for bail and the Pattaya Court had taken even more cash to allow Noyes to travel back to the United States with some of his children.
Noyes's career as a con-man in Thailand was first interrupted when we exposed the fact that he was not a lawyer as he claimed.
(But it dates back to the 2004 Tsunami when he was accused of pocketing cash raised for victims of the disaster.)
He had been taking cash off American pornographers in Pattaya to pay off Thai police and thus allow the filmmakers to continue exploiting Thai country girls at knock down rates performing in porn films unprotected in any way – let alone by US laws governing the trade.
Most of those films remain on the internet to this day.
Through their businesses PAPPA Co. Ltd and One Stop Legal Service Center the couple lured foreigners into handing over their cash on legal bills for work in relation to mixed marriages, property deals, and even visas.
He even advertised for Filipina staff on social media, employed them illegally, and was accused of sexually assaulting them then firing them when resisted and complained they were not given the promised cash.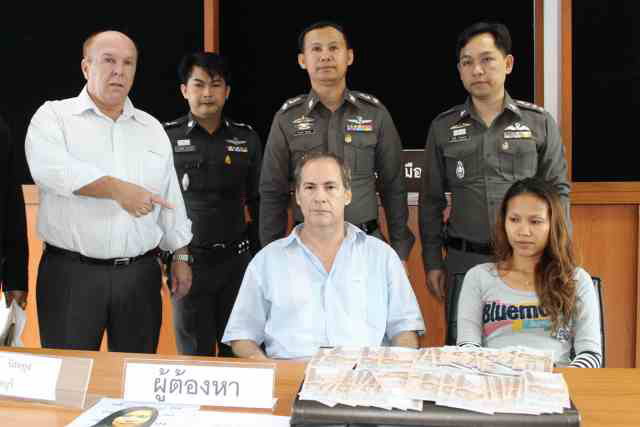 Michael Goulet point so Noyes and Boonsu at their arrest
Noyes cultivated judges at the Pattaya Court and whenever a foreigners complained he would threaten them under Thailand libel laws. After he was exposed on this site he was however forced to make out of court settlements.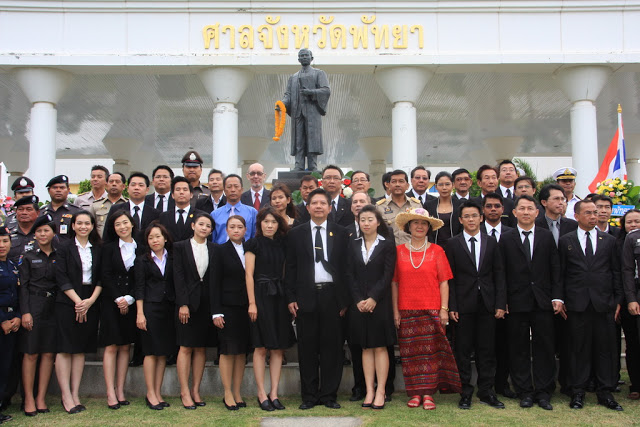 Boonsu and Noyes peering from the second row with judges on National Law Day
When he went to court he surrounded himself with bodyguards American Jerry Weinerth and Scot David Hanks, who ran a brothel in Melbourne, Australia.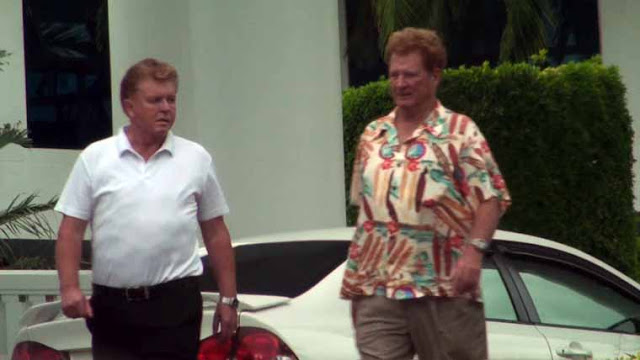 Hanks and Weinerth
He would scream the house down with indignation at the accusations against him and delayed cases against him by pleading jet lag, a problem in the nether regions, or blaming it on his children, one of whom he even used in a video to promote his crooked businees.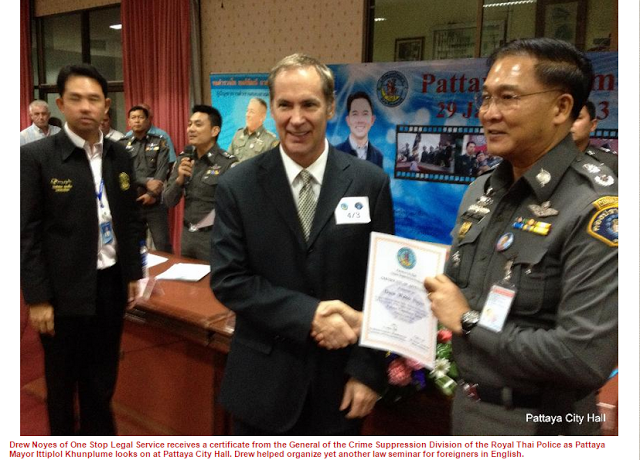 He even set up a legal seminar with the judges and conned the biggest foreign web forum in Thailand – ThaiVisa.com – to broadcast it and he declared he was the international adviser to Ittiphol Khunplume, the Mayor of Pattaya, a statement which the Mayor never denied.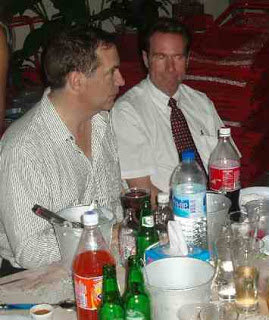 Noyes with child abuser Brian Wright
And with the police he organized a conference with the Crime Suppression Division in Pattaya and even created a CSD website to encourage foreigners to report on foreign 'criminals'.
Noyes frauds were so brazen that he even sold Housing Authority property built for poor Thais to foreigners at extortionate prices and he talked himself into being variously the unelected President of the Pattaya City Expats Club, the Pattaya Optimists and up until last year the Lions Club 310 D of Silcom, Bangkok, which he joined with a bar girl as his 'secretary'.
Noyes was the consummate sex tourist. He fathered some nine children in Thailand, four by a wife, three by Wanrapa, one by a member of staff at PAPPA and the nineth by his wife's 14-year-old niece and he trawled the bars with fellow American Brian Wright looking for young talent.
Wright has since been sentenced to jail for child sexual abuse. He boasted on video about the ability to have as many mistresses as he could afford. And he spoke about the Clinton-Monica Lewinsky incident saying that in Pattaya society Clinton's wife would have found it totally acceptable.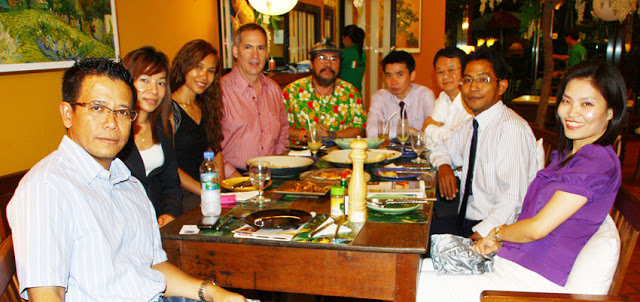 Dining with judges
In the United States he was exposed by Scott Gold in the Wilmington Morning Star in a major feature in April 1995 when he was accused of property and share fraud and demanding oral services from a female member of staff – on pain of cutting her work hours.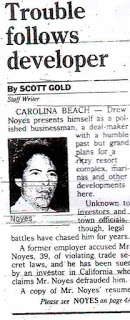 The law, such as it is, finally caught up with Drew Noyes and Wanrapa in March 2012, when they were arrested by police for attempting to extort the Thonglor Clinic Pattaya out of seven million saying if he did not cough up he would be raided by the CSD and illegal substances would be found and the publicity in the Pattaya Times would destroy him.
As for Wanrapa Boonsu. She was a willing and able assistant who helped organized and profit from his scams.
Drew Noyes is gone. Apart from his lawyer the only person to witness the order for Noyes' arrest was David Hanks the former pimp.
Hanks himself had been acquitted or racketeering in the resort – money lending to Russians at 60 per cent per month – as the court had taken money from his co-accused Russian and allowed him to go home to Russia and the DSI had lost their witnesses. In Thailand unfortunately it's just a matter of price.
Now its up to the good folks of Wilmington, North Carolina. Scott Gold of The Star was the first person to report this man was living a 'myriad of lies' – Its going to be interesting to see what Noyes tells the folks back home.