WHEELS OF JUSTICE GRIND ON-
The trial of Pattaya Times publisher Drew Noyes and his common law wife Wanrapa Boonsu for the attempted extortion of the Thonglor Clinic – Jomtien – has been adjourned until November*.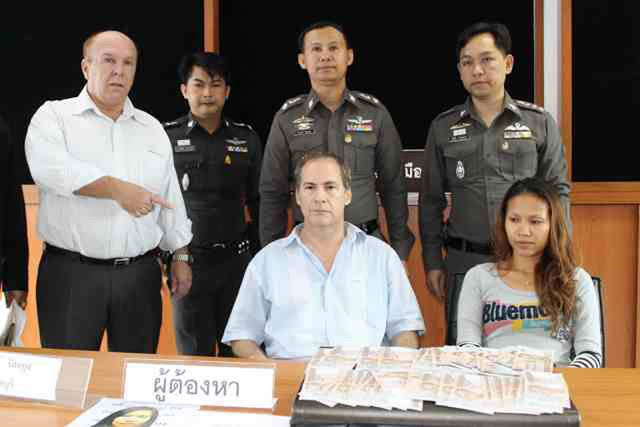 (Picture: Dr. Michael Goulet points to Drew Noyes and Wanrapa Boonsu after they were arrested in a 'sting')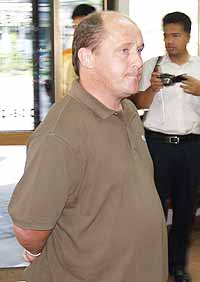 And the scheduled trial of British visa shop owner Sean Tinsley on a charge of the attempted murder of Adam Pickles, former head of English at the International School of the Regents, Pattaya, is also expected to by adjourned this Tuesday August 20th.
Michael Goulet, director of the Thonglor Clinic, is still under cross examination and the court needs a clear full day for this to be completed. He has so far told the court how Australian David Hanks had checked into his clinic last year and announced that he had previously had a sex business in Melbourne and knew the Chinese mafia.
He said his boss Drew Noyes, 57, whom Goulet took to be mafia, wanted to see him.
In a meeting with Noyes, he alleged Noyes, demanded first 7 million Thai baht (the going rate, its alleged he said) then reduced it to 2.3 million Thai baht. This was to stop a police raid on the premises where illegal drugs would be found and bad publicity would follow in the Pattaya Times newspaper.
The police leader of the team which arrested Noyes has also testified how Wanrapa Boonsu, formerly billed as Editor of the Pattaya Times, called Goulet to tell him to hurry up with the cash.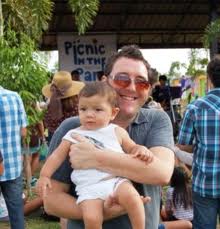 Police gave Dr. Goulet 100,000 and put it in a brief case. Noyes and Wanrapa Boonsu were arrested at the News Restaurant, Thappraya Road, Pattaya, allegedly receiving the 'first instalment' of cash.
In the second case Adam Pickles, married with a baby son, still remains in a coma in Bradford Hospital in the U.K. after being medi-vacced home last year.
Tinsley, from Wolverhampton, is alleged to have struck him with a wheel brace in a moment of road rage. Defence lawyers have told the prosecutor that they have been fired and a postponement will requested while he finds new ones.
Adam's father and mother have flown out from Bradford and are expected to come face to face with Tinsley at the Pattaya Court before visiting Adam's Thai wife and their baby grandson.
• * New dates will be added later