MOTHER LAUNCHES BLISTERING ATTACK ON POLICE STATEMENTS AND MEDIA COVERAGE
From Andrew Drummond, Bangkok
Why did no-one hear my daughters screams?
Evening Times Scotsman Daily Mail Daily Record The SUN Press & Journal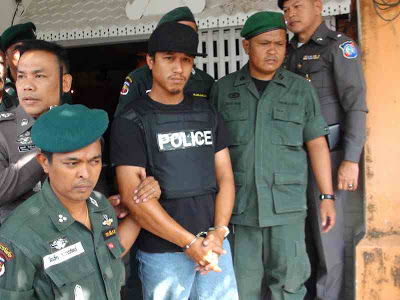 A 26-year-old Thai man was today being held in connection
with the rape of a 20-year-old Scottish student as the girl's mother launched a
blistering attack on corruption, police statements and media coverage in Thailand.
Pongpatana Porsoi, a native of Nakorn Sri Thammarat in
Southern Thailand, was paraded before the press and made to re-enact enact his movements in regard to the alleged rape on a second floor walkway in the city at the weekend.
Pongpatana, who was given a police 'stab vest' to wear claimed that the young Scots woman was lying on the
walkway. It was an opportunistic action. He had seen her in the nearby
restaurant and had followed.
The woman, who was drunk, tripped and fell as she walked up the the
stairs. He was drunk and aroused.
He admitted dragging her into a corner and attempting to
rape her. But he failed to finish. A short while later he returned and the
woman was in the same position so he raped her again.*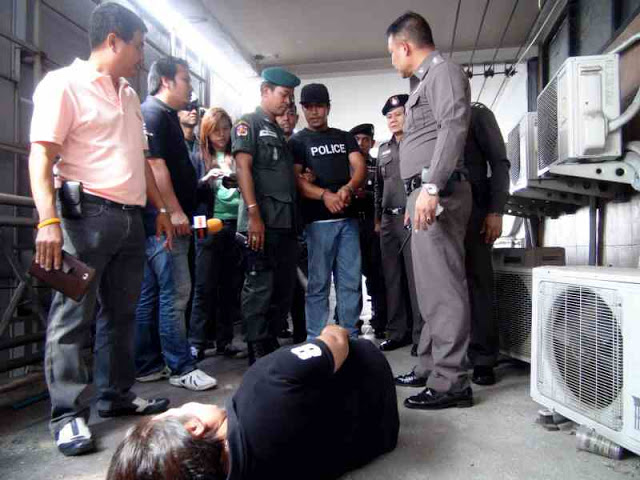 Porsio, said police, had been pointed out by a security
guard as a suspect. But when confronted with the young Scots woman she
repeatedly said: "I can't tell".
Police say that they will now have to rely on forensic
evidence taken at the local hospital.
The man's confession flies in the face of police reports yesterday
quoting the manager of the Vientiane Restaurant, where the woman was refused
admittance, as saying she was escorted to a room and quoting a neighbour Noi Raksachon,33,
saying that if she was being raped she would have heard her cries.
It also appears to contradict other reports by the woman that two men raped her.
In an interview
with STV the young woman herself said: "How come no-one in nearby houses heard anything happening?
I was screaming and shouting during the attack, there's no chance they never
heard anything. The police have said the people living nearby just thought it
was a fight and didn't do anything.
"The police and
authorities are very humiliating, their whole system has let me down – they're
making out that I was some drunken idiot and it was my fault, which was not the
case".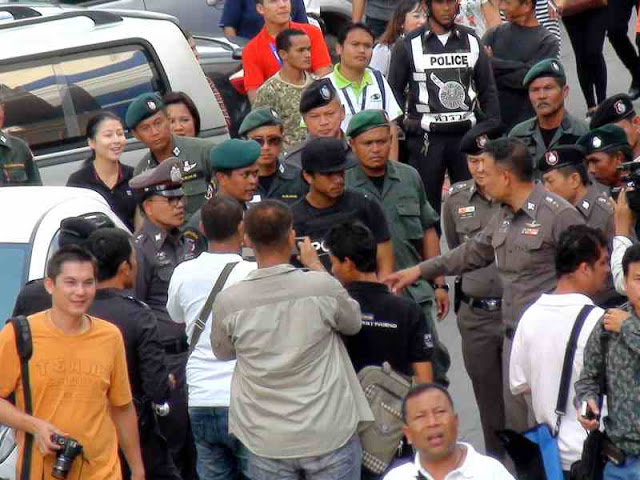 And now the woman's mother
has also rounded on Thai police and the press.
"The system there is so corrupt …and if my daughter had
been taken back to the flat there was another housemate there who wasn't aware
(my daughter) was home ????.
"He would have heard her …instead of theses ignorant
people not listening to the screams of a young woman being attacked /raped.
"They go to the
authorities and tell stories to make money to keep their country looking good
and us Briton's looking like drunken idiots.
She does admit she was drunk but believe me my daughter was so happy
with her new life about to begin in Thailand with a new job etc. Why would
anyone make up such stories, to make themselves out foolish or stupidans?"
* Statements by defendants on rape charges in Thailand should be seen as that and no more. Thai newspapers are also quoting this man as saying that the Scots woman said: "Good. Good".