But Brit had colourful history of public order offences
ANDREW DRUMMOND, Bangkok
April 10 2012
An investigation is reported to have started into how a Briton arrested on a charge of stealing a motor-cycle died behind bars within days of his arrest in the Thai resort of Pattaya.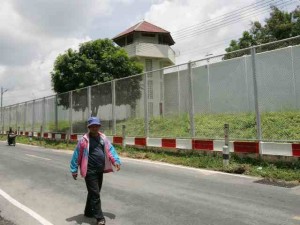 A British Foreign & Commonwealth spokesman confirmed early today that 47-yr-old Sean Flanagan from Barrow-in-Furness, Cumbria, had died 'while in custody'.
The spokesman added: 'The Thai authorities are conducting an enquiry into the incident'.
Unconfirmed reports from sources close to Flanagan's family in Barrow say that Flanagan died from injuries as a result of a beating in the jail at Nong Plalai just outside Pattaya.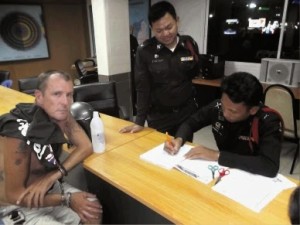 Neither Pattaya Police nor the Department of Corrections have commented on the incident.
Flanagan was arrested three weeks ago on a charge of stealing a Yamaha motorcycle from outside a pawn shop in Pattaya. He was followed by the pawn-shop owner and arrested outside his hotel.
The theft was recorded on CCTV cameras.
A friend, Steven Strefford, 53, from Walney, Cumbria told his local paper the North West Echo:
One of my mates rang me straight away when he got the news. He said:
"It's a hell of a shame. I have known Sean a lot of years and he was one of those guys who, if you wanted a hand with anything, he would be there for you. We had some good laughs, we used to go out fishing together and he was an absolutely blinding lad. I couldn't believe it when I heard. He was just a cracking guy."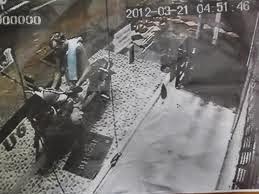 However three years ago the same newspaper reported another case involving apparently the same Sean Flanagan.
He was convicted and jailed for eight months on an 'air rage' charge while on an Etihad flight from Abu Dhabi to Manchester.
At Manchester's Minshall Street Crown Court Mr Adam Lodge, prosecuting, said: "Before he was on the aircraft, he was consuming a lot of alcohol and he was already being abusive to the cabin crew.

"He would sing and change words to the songs with offensive language.

"Passengers were trying to calm him down.

"The captain was told and unless he improved his behaviour, they would have to land in the Ukraine.

"He caused upset to many passengers, including children, and other people were reduced to tears."

Mr Lodge said Flanagan made racist and other offensive remarks as the aircraft approached the airport.

"He stood up, despite the warning signs, and grabbed his crotch," Mr Lodge said.

"At this point, two passengers restrained the defendant. He struggled with them and pushed out at them.

"He shouted at the air crew and more expletives words were said towards them.

"He was removed from the aircraft by police and he continued to be uncooperative with them."

During a police interview, Flanagan denied misbehaving aboard the plane.

The court heard he had 25 previous convictions for 44 offences which included assaults and public disorder.
While the FCO have not specified the place of death it is believed to happened at Nong Plalai Prison, just outside Pattaya, although Flanagan had also spent some time in the lock-up in Pattaya Police station, Beach Road, Soi 9. He had not been able to pay bail or pay compensation. The pawn shop owner insisted on pressing charges.

The family are expected to be told the results of the enquiry. But no official statements are expected unless a formal complaint is made.

Pattaya Police station lock-up was the subject of some controversy last year when Briton Richard Hewitt  was found naked, emaciated and locked to the prison cell bars there. He was 'rescued' by a British woman running a local charity and sent for psychiatric treatment and made a quick recovery before being deported. Hewitt had a breakdown after over-indulging in the worst the resort had to offer.