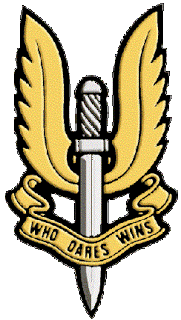 The international media are reporting today that a real SAS man might be hiding out in Thailand. This is because of the country's lenient police and low cost of living, said the Daily Mail.
Its not that SAS men normally have to run from the law, but this one known as 'N', which I believe stands for 'Norm', was the sniper who claimed that the death of Princess Diana, Princess of Wales, in Paris, was orchestrated by the British Government and carried out by the SAS.
The SAS shone bright lights into the driver's eyes before the accident in a tunnel under the River Seine.
Police have re-opened an investigation into Diana's death. But 'N' did not want to hang around.
Either he genuinely feared for his life, or he was laying it on a bit thick.
But actually the information leading to the enquiry came not originally from him but from his estranged wife and her parents who said he had admitted to them that Diana's death was arranged by his unit.
Soldier 'N' who has a conviction for illegally handling firearms (Its illegal when they are off duty) was a key witness at the trial SAS Sergeant Danny Nightingale on illegal arms possession.
Intrigue? Yes. But if you sit next to him at a Pattaya bar switch on your i-phone record.
Maybe he might get to meet up with this character.