-Andrew Drummond writing under the name Flying Sporran celebrates victory in Drew Noyes case.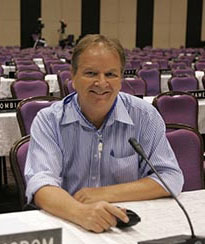 A charge of libel brought against a British journalist investigating what he described as 'rogue' foreign newspaper publishers has been dismissed by a court in Thailand.


The Pattaya Provincial Court dismissed claims made by 57-year-old American Drew Walter Noyes, founder of the English language Pattaya Times newspaper – leaving Andrew Drummond open to counter sue.
Andrew Drummond,a freelance journalist, accredited in Thailand to the London Evening Standard, but whose copy is widely used by British newspapers, had published a picture of Drew Noyes and fellow publisher Niels Colov, CEO of the English language Pattaya People Media Group, and leader of the Pattaya Police Foreign Volunteers.
The caption under Niels Colov, a Dane, read: "Been to jail", while the caption under Drew Noyes read: "Going to Jail".
Drew Noyes is still currently on trial with his Thai common law wife Wanrapa Boonsu on charges of extortion. which have to be proven. Its claimed they variously attempted to extort the Australian director of a beauty clinic in Pattaya out of 7 million (£151,865) and 2.3 million Thai baht.
Prior to arriving in Thailand claiming to be a lawyer Mr. Noyes had been exposed in North Carolina in the United States in a two page report in the Wilmington Morning Star (now The Star) as a man of 'myriad lies pursued by lawyers with unflattering allegations".
The newspaper accused him of share fraud, unscrupulous property dealing, and cited a case of sexual harrassment against him.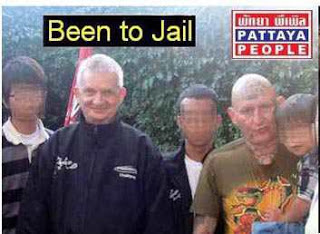 Niels Colov prior to arriving in Thailand and establishing himself in Pattaya, a resort famous for its sex trade, had received a jail sentence for offences of pimping and violence in Copenhagen's red light area of Vesterbrogade.
Drummond, 60, from East Craigs, Edinburgh,is a former correspondent for 'The Times' and 'Observer' 'Daily Mail' and News of the World but who quit 27 years ago during the Wapping industrial dispute.
While at the News of the World he was the recipient of the Maurice Ludmer Memorial Award for Investigations into Racism and Fascism. For that award he became an undercover Nazi infiltrating right week groups in Britain and Europe.
He said: "Common sense has prevailed again. None of the allegations against me have been serious, just the action of bullies trying to deprive me of my resources."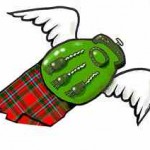 Andrew Drummond was not required to give evidence.
The case was the latest in a series of legal actions taken against Andrew Drummond by Drew Noyes after Drummond published a series of exposés under the name 'The Flying Sporran' on Noyes' activities in Thailand on his website. All previous actions, including an attempt to close down his website www.andrew-drummond.com have also failed.
Andrew Drummond had been helped in his legal actions with cash donated by readers of his site.
From Andrew Drummond: Once again I have to thank readers who have been so generous with their support, both moral and financial. Despite this I now have to pull my daughter from school and put her in a cheaper one for next term (something I have been trying to put off because she will lose some of her friends but this may be a blessing in disguise. The cheaper smaller one appears to have great staff) and I am past the initial discussion stage of re-mortgaging my home. At the moment we have two more cases to fight. One identical to the one above brought by Wanrapa Boonsu and another brought by David Hanks- the businessman from Melbourne – and Drew Noyes, who claimed they were libelled in readers' letters. I think to put out another appeal for funds would be pushing the card out a bit far but for those who are regularly generous and know what I am fighting for, well hi! We have won three – just two more to go. My lawyers and Thai colleagues have been great and generous in their assistance. They understand what is happening. Meanwhile even if not one more baht is donated I will be forever thankful.