BUT PATTAYA'S MOST OUTRAGEOUS SEX TOURIST WILL FIGHT STANDING!

POLICE PROBE JOURNALIST'S BROKEN BAG STRAP.


The journalists from Sneaky TV in Australia have snuck off. They did not want to get arrested. They did not want their film seized. So at 4 am this morning they hiked it out of Pattaya and got a morning flight back home.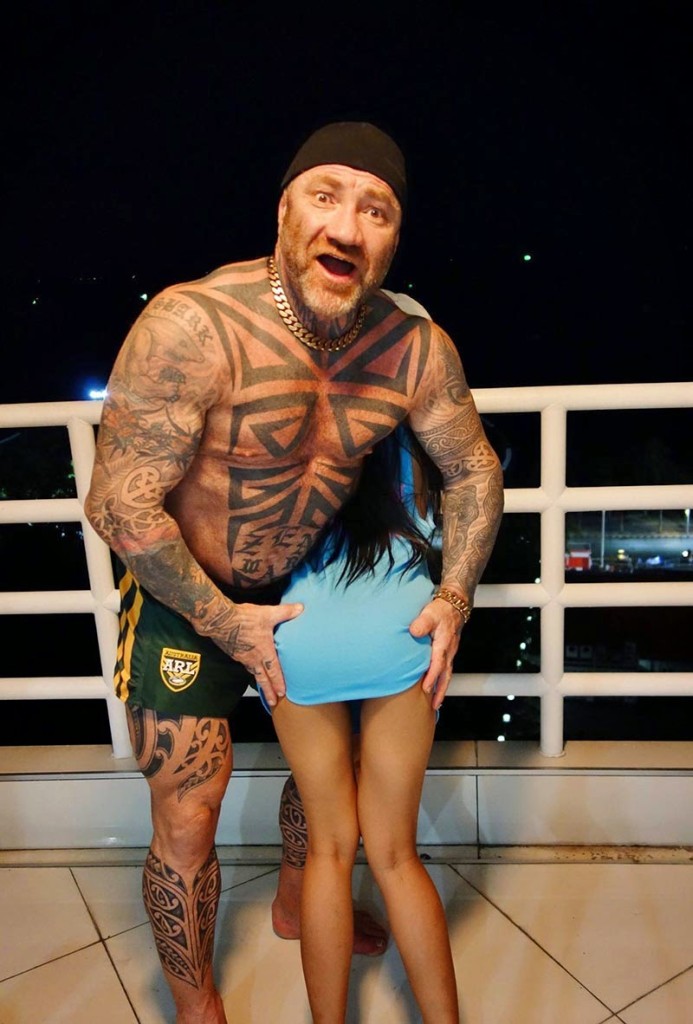 Sneaky TV is the video arm of Sneaky Mag – a Melbourne-Sydney based magazine about art, culture, weird people, deviants, boys and girls – pretty much the whole gambit.
Their hacks were in Thailand to report on the latest escapades of Tim Ward, better known as Sharky.
Sharky, a former club owner and loan shark on Australia's Gold Coast, is perhaps Pattaya's most famous sex tourist.
Unashamed he shouts it from the rooftops – or at least from his central Pattaya apartment, and posts pictures on Facebook to prove it.
At the moment he is on a personal crusade against Pattaya Police who, he claims, tried to set him up on drugs charges. He has made other allegations against them too, relating to gold missing from his apartment and he is not going to go away quietly.
Every day he goes to Pattaya Police station to make a statement against Pattaya Police officers. Every day he is refused. Nobody will talk to him. But his story is all over the social media.
"The funniest occasions was when an officer would not even look up from his bag of chips," he said.
It got so bad for the besieged police station, says Sharkey that a high ranking policeman went from the Regional HQ in Chonburi to talk to him about his problems.
"I thought it was going to be a 'wear a suit' day.
Social media: This video has had 40,000 plus his in 24 hours
But all that happened was that this officer spent two hours telling me that if I did not get off social media I would be charged with criminal defamation.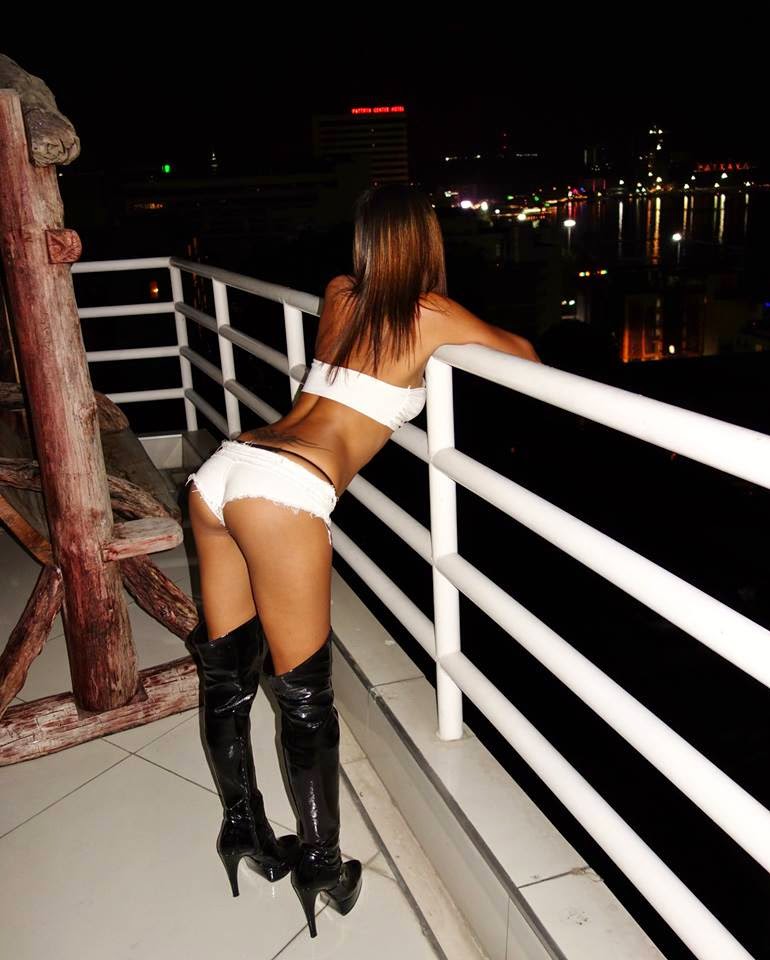 Typical view from Sharky's balcony apparently
"One of the Thai TV channels told me that the drugs matter (Police claimed they found crack in crack pipes on his bed but later withdrew the allegations) was described by a Pattaya Police officer as a 'misunderstanding'.
"Misunderstanding! My #@$%@! , 'said Sharkey. "How can one misunderstand policeman saying they have found this stuff on top of the Versace cover to my bed! I know exactly what they were trying to do.
"The question is how many times have they tried this before and succeeded."
Sharkey is calling out the local police. The arrival of the sneaky petes is part of raising the profile of his case. He cannot talk about Pattaya Police without resorting to a few expletives.
The local media were there to record what happened at 1 am today. It appears even one journalist is bringing a charge against Sharky.
Journalist reports broken bag strap
Chocktawee , 46, reported PattayaOne made a statement that Sharky had broken the strap on his shoulder bag whichsounded remarkably wet to the film crew and Sharky.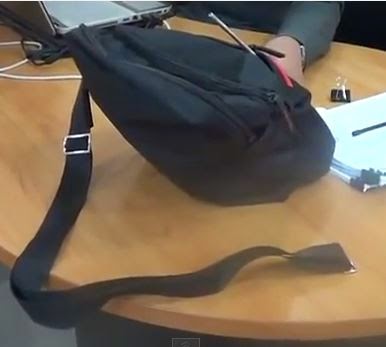 Exhibit A
But they did not hang around to find out as other journalists demanded to know where they were from and whether they had permits to film etc.
Sharky sees this as another conspiracy or a matter of Thais sticking together against foreigners.
"I see the local media as little more than agents of the police. The allegations is total rubbish – what sort of wet would bring such a case?'
Thai Police are in the public eye over the Koh Tao deaths and may not want to garner even more media attention.
Sharkey insists: "I am not going to die on my knees. I am not going to do that. I am standing and fighting.
"I have been fighting since before I was born and I will fight until I die."
Viewing the video its easy to see how he got people to pay up when he was loaning money. Sharky appears to be loved or hated. He has been in trouble with the local police before over an attack on a Canadian (a knife was used) but paid himself out. He claimed the Canadian had abused one of 'my girls'.
To listen to Sharky's views on life in Pattaya click on this video. Not suitable for children
Nevertheless he is up against a system which will not play his game.
"What can they charge me with?" asks Sharky. "They need to explain first how they ransacked my apartment without a warrant. They need to explain how they found drugs and then lost them again."
Below: Videos posted on Youtube, says Sharky, show 'special police' officers making an 'unauthorised' raid on his apartment in which they allegedly find drugs – then lose them again. He claims he has lost a lot more.