From ANDREW DRUMMOND, Bangkok, July 7 2012
.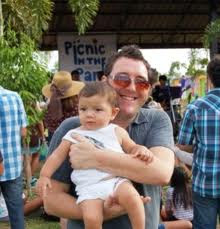 Pickles
A 43-year-old Briton accused of the brutal road rage attack on a popular English teacher in Thailand was today (Saturday) being held in custody for attempted murder after being arrested at Bangkok International Airport.
Sean Henry Tinsley had fled Thailand, it is alleged, after launching a brutal attack on Adam Pickles, 40, from Bradford, Yorkshire,leaving him for dead in the resort of Pattaya – 80 miles east of Bangkok.
Tinsley, from Wolverhampton, was arrested on his return late Friday and is expected to be further remanded in custody at Pattaya Provincial Court (Mon).
So serious were Pickles' injuries that is believed he attacked Adam Pickles from behind with a wheel brace after he scraped Tinley's vehicle while getting out of a parking spot in the resort city.
Bravado
But CCTV footage appears to show Tinsley, who had already been deported from Thailand for immigration offences, re-enacting the crime with bravado in front of friends showing him punching someone face on and knocking him down.
Pickles married with a nine-month-old son is 6ft. Tinsley is 5ft 8".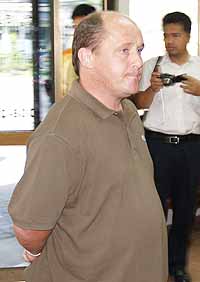 After six weeks the popular Head of English at the Regent's International School in Pattaya, was brought back home to the U.K. when a local and international appeal received a massive response for funds.
But today the amiable guitar playing teacher still remains in a coma in Leeds General Hospital. Kids and teachers from the school have been sending messages of support.
Adam's parents Andrew, 62, and Adele, 61, had earlier flown from Leeds to be by his bedside and see their grand-son Benjamin for the first time.
Back in Leeds Adele Pickles said today:
"We are pleased and relieved at the arrest and we would like to thank the Thai police for their great help, particularly a Lt.Colonel Chakring at Banglamuang Police station and his team.
"Our only fear is that this man gets away again. An international warrant for his arrest was issued last Thursday. We do not know how he got back to Thailand. My husband and I are going through hell daily because of what happened. Our thoughts are with Adam, his wife, and our nine month old grand-son."
Since the incident police have found CCTV records which allegedly show Tinsley, leaving a bar in Pattaya and chasing Adam after getting into his own vehicle.
When Tinsley comes back into camera-shot seven or eight minutes later he uses gestures throwing punches and appears to be telling friends what he did. He then mimics a person dragging an object or body along the ground.
Pickles' best friend Steve Tomlinson, from Birmingham, Head of Music at the International School of the Regents said today:
"Adam was not a very good driver and the CCTV pictures suggest he might have scraped what I think was a white Toyota Fortuna. It's a while since I have seen the video.
"But there was not a mark on Adam's hired car so it could not have been serious. Injuries show he was hit on the back of his head. Part of his skull came off.
"This looks like a cowardly attack from behind by a thug, yet we can see on the video that this man is boasting about what he did. Adam was such a lovely guy. People are very angry here."
Sources believed to be close to Tinsley however say Pickles broke his skull when he fell back onto the pavement. They say due to the outrage in the case Tinsley will find it difficult to get a fair trial.
Other witnesses including a security guard have now come forward and given information about the incident outside a place called the 'Paradise Bar' in Soi Khao Noi, Pattaya.
Sean Tinsley had already been previously arrested in Pattaya. In 2007 he was charged with selling fake visas to long term foreigners in Thailand, who did not want to go through official channels, through his company 'The Visa Shop'.
He allegedly charged £500 each for the visas to foreigners without work permits or qualifications to stay long term and was believed to be working with a corrupt immigration official.
He was deported, but it is believed to have returned after changing his name by deed poll. He left again after the attack on Pickles and was arrested returning to Thailand on Friday and taken straight from the airport to Banglamuang Police station, North Pattaya.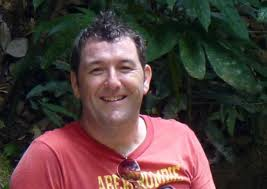 Feelings have been running high in the resort and many organisations have been donating to help Adam, who formerly taught at the Cathedral School in Wakefield.
After the attack Danielle Nicholls, a former colleague at the Cathedral School said:
"He's one of those characters that everyone who meets him loves.


"He radiates positivity and makes everyone smile".
In appeals launched simultaneously in both Britain and Thailand under the name 'PicklesAid' some £70,000 was raised to pay for hospital bills and medi-vac Adam Pickles home.
The insurance provided by his school did not cover the full amount. He had previously had a motor-cycle accident in the resort city which had also put him in a coma.
Adam Pickles' parents still have to raise another £80,000 to pay for the full costs.
Details of how to donate can be found at www.facebook.com/groups/adampickles or www.adampickles.blogspot.co.uk.