A FLYING SPORRAN INVESTIGATION
Warning this story includes sex, money, lots of it, alleged fit-ups and foreigners wearing surgical masks. For those who do not know what boiler rooms are, I hope this makes you better informed. For those who do not wish to drink, eat, or play sex games in a boiler room run operation, I cannot help at this time by providing a complete guide.


I have been warned and I do not carry a gun.
But what I can show perhaps is just how nasty this business in Bangkok has got.
Below is a letter from the sister of a Canadian called Stephen Burt who was employed in Bangkok boiler rooms – illegal share trading houses – which today have taken over the major part of Bangkok's tourist sex trade.
His life ended in all respects when two years ago he quit and went to Thai police with the details. He thought he would get protection, perhaps even a reward. Now he is in jail a debilitated man losing his senses.

What happened to Canadian Stephen Burt also known as 'Smart Sharp Guy' (above), is no secret among boiler room operators in Bangkok.
It's a story told to the minions who are lured to Bangkok every year with the promise of easy cash, and loose women.
The bosses want this story known. It's a warning to those who would betray.
But first read this from Stephen's sister.






Who and why are they so evil?
"Please except my apologies, I should have been more professional in writing this last letter as I read this email to you, this is not my life yet it has become all of me in fighting for the freedom of a person's life. Someone who is loved by us.
What I put forth in this email is something that is way way out there as I cannot speak of what happened. I know I cannot handle what is happening nor can I believe this is even reality.
These last two, to three years in this heinous fight against who?
Who and why are they so evil to another?
Anything and everything on this earth remains moving forward no matter if we are here or not.
Enough, enough, please!
And if we are here, there is a purpose, so my question is how and why is it, that the power of these people, fraudsters, who take the lives of others into their hands and seemingly do not get punished for what they are doing to other humans?
Andrew the accusation I put forth are not my words of knowing anything about these people, nor do I care or have any remaining time, I just beg that these fraudsters understand enough, enough, enough please.
I am tired, tired of this, with me as my fight right now is to free him alive and allow him to seek medical care along with most definitely mental care.
This is an unbelievable criminal line of events of this trip with the Philippines, an end of life that has drained my parents of everything leaving us with only an existence, trying or having to do out there in society to survive each and every day, but how does one look beyond all that pain and try and smile outside the house?
I find it difficult knowing not one person around me would understand what is draining me of my mostly my parents and SB life.
All of this, thousands of hours, dollars, tear and fears, calls and what else may unfold on us in one day as we fight for a life. My mother understands the magnitude of these people. She has tried to listen to everything.
They have beaten us down

People whom punish, illegally, inhumanely, until there is nothing left, nothing left but a human shell. If they need to know they won, they have beaten us down.
However, they must try and get through the heavens' above one day themselves. Material and money will not follow them.
You ask all employees, AD who live the ' life of Reilly' they are offered something to live the life of Thai, women song and dance, nothing no other person would offer them what was offered to them anywhere in the world. The life of Reilly in the land of Thai, but let's not forget where else in the world.
Our need is his freedom, free as well vindicated of these wrongful charges, allowed to leave the country, most importantly allow him to see his mother.
Help us please, I am tired and sad. I myself need your help.
This has become so time consuming that my life is non-life. I struggle every day to get outside. Mentally I am exhausted trying to hold up all ends of this crime.
Lied and cheated

It is so important to know that unless SB has protection, security some kind of safety, it will become difficult for him. It seems these people have the money to pay for what they want. We don't. We've lost who we are everything.
People took, lied cheated and threatened any one person that tried to help.My mother yes is feeling like she is losing this fight for the freedom of not only her son but that of her own, she does not have the strength to take anything more.
Yet she will ask me every day what is different. My parents they are peaceful people, wonderful, caring giving people. They do not need to be a part of this heinous crime at the end of their lives.
We need your help. For sure he needs protection Andrew.
Along with the arrival of your beautiful buddle of joy, be safe and protect all you love.
I read your blog always. May you be Blessed.
A sister
Steven Burt comes from a middle class family in Canada's back of beyond. Like thousands of others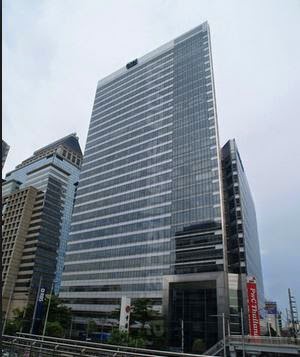 Bangkok City Tower
he came to Bangkok and wanted to stay.
But like thousands of others too he did not have the wherewithal to accomplish this until he was offered a job in a local 'share trading house'.
It all looked kosher. Nice offices in Bangkok City Tower. The money was good. The women were cheap.
But that all came crashing down in 2001 when Thai police acting in conjunction with Australian Federal Police and the FBI raided offices in Bangkok City Tower and closed down the 'Brinton Group'.
To all intents and purposes this raid was a success.
Some seventy account openers and loaders, those who made the initial cold calls and those who talk punters into investing in worthless share schemes, were deported. Minor charges of breaking SEC regulations were brought against the bosses.
Steve Burt was one of those deported. He did not seem too worried.
"I went to Malaysia and came back on the next plane, or pretty near to it."
The Thai authorities claimed the raid to be a tribute to Thailand's efficiency in bringing wrongdoers to justice. This is what the Nation newspaper wrote at the time:
"The Securities and Exchange Commission (SEC) filed a criminal complaint against seven defendants on July 26, 2001. They were John Kealy, Scott Campbell Fisher, Paul Mary Hickey, Ronan Joseph Murray, Steven Hooper, Jason Garrick Rich and Adrian Robert Wallis. An SEC statement yesterday said: "The Bangkok South Criminal Court convicted all seven defendants and sentenced each of them to two years jail and a fine of Bt200,000, but the jail term has been suspended. "Kealy and his colleagues were charged with "conducting unlicensed securities businesses (boiler rooms) in Thailand, which is a contravention of Section 90 of the Securities and Exchange Act BE 2535".
"These defendants, claiming that their offices were located in Thailand as well as in many countries, had induced overseas investors, mostly Australians, into making investments in securities of companies in USA and Canada. "Different names of the Brinton Group, Sigama Capital Management, Lincoln Financial, and EGO Trade incorporated, were used."This had not only caused damages to investors but also to the reputation and image of Thailand.
"The commission said yesterday's conviction "reflects efficiency of Thailand's criminal justice administration in bringing wrongdoers into justice". Australian authorities have said thousands of investors were conned into sending their savings abroad, mainly to bank accounts in Hong Kong. Angry investors in the Brinton Group banded together to form an association, which attempted to assist police in Thailand to recover an estimated 300 million Australian dollars (Bt8.4 billion) which people said they had lost.
Well that put a nice gloss over everything, but the 200,000 baht fines could be paid out of the float and the Brinton Investors Group never got their money back.
Brinton staff cover their faces during the 2001 raid
All charges of fraud were dropped both in Thailand and Hong Kong, where the investors lost their case through lack of evidence. The bosses never had to leave and to this day insist they were offering genuine share deals. Clients only lost money because of the bad publicity, was the claim.
Romanian pickings and full steam ahead.
Rather than put a damp on 'boiler room' operations in Thailand these operations went steaming full ahead. Boiler rooms had account openers in Bucharest, and trading offices in Bangkok, Kuala Lumpur, Jakarta, Manila and even Cambodia.
But the Cambodia operation, pictured above, was closed down after this raid. The only charges made were in connection to them cheating on their phone bills.
Steve Burt was climbing up the ladder fast. After Brinton, he joined American Jim Muller boss of FCI, Foreign Currency International, which was also closed down.
He was with Muller's next operation and claimed to be witness to the 'planning' before New Zealander Ian Travis, 32, was gunned down in Bangkok's Sukhumvit Soi 8 in March 2006.
Travis had quit Muller to start up a rival operation.
Police re-construct the murder of Ian Travis. (Muller and wife inset) But nobody was ever prosecuted
But although Thailand issued an international warrant of arrest for Muller and he was returned to Thailand, Muller was never charged with that offence. He was however sent to jail for five years on other charges relating to his businesses after brokering a deal and is now free.
Burt went on to join a British-American boiler room operation which looked like it was going to be the king of all boiler rooms in Bangkok.
Burt was also on the scene when the American partner Mark Hutcherson was kidnapped in Bangkok after two Thai born Americans Jim and John McCleary, who had previously worked for the Kensington Group, quit and took their 'dossier' to Thai police.
Trussed up like a chicken
But the police gang in question, and the McClearys too, according to the courts, decided to turn the whole thing around in a money-making scheme.
Hutcherson, who claimed to be an oil man, was taken from his home in Lard Prao and trussed up like a chicken .
The perpetrators got away with US$400,000 from his apartment and demanded another US$800,000 in ransom money.
Most of the victims were British and Australian and were involved in scams known as 'Jackson Cole' and 'Smith Fairchild'.
The British Serious Organised Crime Agency (SOCA) has had a list of the victims for a long time.
Thai Police Colonel disappeared – so did US$378,000
All were arrested in April 2007. But police only recovered Bt700,000 (US$22.187) and a more senior police officer Lt. Colonel Thanakol Bunnag disappeared and has not been seen since. The Thai courts however judged that they themselves intended to share the spoils from the shake down.
Both the McClearys and three police officers, two from the Crime Suppression Divison, were in February 2009, jailed for 12 to 18 years for kidnap and extortion – the McClearys got the larger sentences.
'We never met these police
'The McClearys were actually handed over to the Thai authorities by the American Embassy, after they had called there to collect passports for their children. The McClearys still maintain their innocence. They claim that even in court the bent police stated that they had nothing to do with the crime.
They insisted until they were all banged up together in prison they had never met their co-conspirators in the Royal Thai Police. Three boiler room sources however insist that the McClearys were not just involved in one kidnapping but were serial kidnappers being involved in at least THREE.
The names of the other two victims have however not been volunteered but this may well justify the US Embassy's interest.
During their interrogations, they said, police were only interested in the files they took from the boiler rooms – but were not interested in prosecuting the boiler room bosses.
McClearys claimed they were set up
Meanwhile there came a time however when Burt became crotchety with his bosses, including the English one known as 'The Maniac', or simply Paul, or even Harry in Kuala Lumpur where he previously ran an operation.
'The Maniac' had previously been one of the star boys at another closed down boiler room International Asset Management. and Foreign Currency International.
Daily News: James and John McCleary
– inset Thai policemen
It seems Burt, also known as Steve Sharpe, had trouble keeping his complaints to himself. His last job he says was as a cooler working out of Chiang Mai, Northern Thailand.
These were the people assigned to clients who were now getting suicidal. The idea was to calm them down then try and get them to invest more.
Sometimes 'coolers' posed as agencies chasing crooked boiler rooms, which for a 'small fee' could get their clients' money back. Yes. It's a dirty business.
He quit and in doing so notified the authorities of where the new headquarters of the boiler room was in Thonglor Soi 25.
The problem was that even though the house was the headquarters of the boiler room run by 'The Maniac' the police were not interested in taking the enquiry any distance.
When they announced the raid, they said it was a result of a call from 'Interpol'. They did not stipulate which foreign police force had made the request and there is no evidence there was one.
Boiler rooms move to private houses – this one in Thonglor
By now Bangkok's boiler room kings had started moving their rooms out of fancy offices in Sathorn, Silom, Sukhumvit and Asoke, and were breaking their employees up into sections and putting them into condos and private rented houses.
Below is how the raid was reported in 'The Nation'.
Six foreigners arrested for Internet scam

By THE NATION ON SUNDAY

Published on September 20, 2009


Four Britons, a Filipino woman and a French man have been arrested for allegedly deceiving foreigners to invest in stocks of bogus firms through the Internet and taking their money, a senior police officer said yesterday.


The six were arrested last week while carrying out the scam at a rented house in Bangkok's Thonglor Soi 25, said Central Investigation Bureau deputy chief Pol Maj-General Panya Mamen.


Police seized seven desktop computers, six notebook PCs, three computer servers and 31 mobile phones as well as some documents from the house. Interpol had contacted police about some Thai-based and Philippines-based "bogus firms" that were tricking foreigners to invest in stocks via Internet, he said.


The Thai police investigated and learned about this group of foreigners carrying out the scam at the house, so police asked Phra Khanong Court to issue a search warrant.


Information from the seized computers showed the group tricked victims into investing over Bt100 million in stocks in fake companies, he alleged.


The foreigners claimed they were hired by a man identified only as "Paul" for Bt30,000 to Bt50,000 a month to key in data and make phone calls.


The six were initially charged for putting false information on to the Internet and knowingly distributing false data in a bid to earn money from others, as well as working in Thailand without permits.
Again a bit of gloss was put on this arrest. Not only did those charges not materialize but after negotiations all were simply deported on immigration charges and the boss got his computers back.
Those computers contained details of everyone who had been conned and by what amount.
Needless to say Burt was in trouble. The raid did not go down as he hoped. Now he himself was being hunted.
Hollywood Star
For a while he fled to Pattaya, but then shortly before Christmas 2009 while walking in Sukhumvit he met two characters one a Norwegian, Lars Carlsen, the second a Briton called Gary Stretch.
Gary Stretch is a former British light-middleweight boxing champion turned minor movie star. He had roles as a psychotic gangster in 'Dead Man's Shoes' and, a guy called Cleitus in 'Alexander' , a paramedic in 'World Trade Centre' and a lead role in 'Megashark versus Crocosaurus', but he does not talk much about the latter I gather.
What Burt did not know was that meeting may not have been accidental. On reflection he believes it was not. Stretch for instance already knew the former boss of the Brinton Group as did Carlsen.
Pattaya Addict
Burt had lunch with them both in the Nana Hotel where they said they were security people working for a private company but also for the Royal Thai Police. Gary Stretch was filling in time between films and was a bit of a Thai and Pattaya addict.
Soon Burt was spilling all. He even handed over documents on his computer called 'A Painted Picture'.
Part of Burt's dossier 'A Painted Picture'
Back at their office he named his former employers, their habits, contacts, and how the operations worked, but very little else. It paled into insignificance compared to the 'McCleary Dossier'.
The Norwegian Lars Carlsen certainly worked with the Thai police, when he was not running a bar called 'Hookers'. His GSS – Global Security Services – office was full of police paraphernalia, including flashing red lights which these guys could stick on their cars.
There were even police cars in the car park. He has been on the scene for years offering to help foreigners out of their 'troubles' at a price.
From the GSS website – No further comment necessary
But most of the work either seemed to involve foreigners, or hiring police out for public event crowd control at football matches.
His two new friends said they could look after him, said Burt. But he never saw them again.
It's not quite clear what happened in the intervening two months but by March 2010 but he had flown to the Philippines under a false name, Max Klein, of French nationality, with false papers given to him, and apparently an offer of a new job with a company called 'Sparta Matrix'.
Sparta Matrix was a company which had been touted by boiler room king Paul Richard Bell, one of the 'share dealders' who registered to join the Pattaya Optimists of American Drew Noyes, publisher of the Pattaya Times.
Suicidal
But if going to the Philippines seems like a bad idea if one is running away from 'boiler rooms' who claim to have both Thai Police and the Philippines NBI (National Bureau of Investigations) in their pocket, then for a wanted boiler room boy to go to the LA Cafe in Ermita would have been suicidal.
It was the preferred drinking hole, pick up joint, for most of the boiler room boys at the time.
Burt says he was was approached in the bar by a foreigner called Roland and they even had a couple of drinks together before the foreign pulled out a photocopy page of Burt's false passport and two passport pictures and said:

"I guess this is you. You are wanted all over the place on orders from Bangkok."
A natural instinct would be to cut and run. But Burt had nowhere to go. He did not say how that meeting ended but he did decide to leave at some stage. On the morning of March 25th his hotel room was raided by Philippines Police three days before a flight he had booked back to Thailand.
Initially he was arrested on a drugs charge – he said police fitted him up. But finally they settled for rape. It is alleged he picked up a 17-yr-old in 'L.A. Café' – a well known prostitutes' hang out, then drugged her and raped her in a place called 'Eurotel'.
This is part of the woman's statement. A few months later she gave birth. Burt was not the father. Now it turns out the woman was not 17 but 25 and she has been locked up in prison too in Manila for other offences.
Burt claims not only does he not know where the Eurotel is, he has not even heard of it. He was staying in another hotel completely. What is further if he was released to fight his case he could prove his alibi.
He was never allowed out. The lawyers he was given did no research but took his money. A friendly policeman said he would work on his behalf , then took the money, and says Burt, did nothing.
And so ends the story of Stephen Burt. He has begged to talk to international police agencies, but nobody is listening not even his own RCMP. (Update: Since this story was first published after spending three years in jail without trial Burt was released after an investigation by the Philippines Human Rights Commission.)
Meanwhile Bangkok's boiler room operators have made massive investments in tourist and expat haunts in Bangkok, from top night-spots, theme restaurants and bars, and most massively of all into the tourist sex industry, with massive new acquisitions last weekend.
The FSA, SOCA, City Fraud Squad, FBI, Europol, Australian Federal Police, and Scandinavian Police have all said they are doing something about it. But what?
Recent raids in Bangkok have made the boiler room boys unhappy. These have included the raiding of premises in Sukhumvit 39, 26, and most recently at the Sukhumvit Suites in Sukhumvit Soi 13 Unit 19/132.
The raid on the premises in Sukhumvit Soi 39 was made according to police after the British Embassy notified Thai police that a British military officer had committed suicide as a result of actions by that boiler room.
It is quite possible a British soldier did kill himself for those reasons. But the British Embassy deny quite emphatically that they had any involvement in this case and had at no time passed on information to the Thai police in relation to this.
Further calling Immigration would be odd action to take by the local Serious Organised Crime Agency investigator, that is if he genuinely wanted action against the boiler room in question. The proof in the pudding will be what happens to those arrested and/or indeed their bosses.
One American BR operator, who has interests in Nana Entertainment Plaza, is not happy. It's the personal intrusion he says he finds worst of all. Apparently his private condo was raided as well.
In pictures published in the Thai press boiler room staff 'loaders' were allowed the luxury of wearing 'masks' to cover their faces – in Thailand something of a privilege. Above is how the Nation reported the news with pictures from Agence France Presse.
One Briton, Richard Ian Cook, who was arrested in the Soi 26 sting, has died in the IDC. An enquiry is ongoing but it may be put down to natural causes. It is said he was refused the medication he was on and was put in solitary after annoying other prisoners. No official version has been released, but it is believed he banged his head against a wall.

No victim here – No crime – Show us the money
The standard Thai Police line, despite international police calls for co-operation, is that as the victim is not in Thailand, there is no crime.
Immigration Police announce that they had swindled people out of 320 million – about US$10 million. But although much of that money has come to Thailand it was not sent here by the victims. It came in suitcases.
No crime, no need to chase the bosses having a beer in Soi 4 and where do the bosses bodyguards come from?
Finally if you still do not know what a boiler room is. Below is a letter which arrived today from my UK bank.
Wiki: Salutary neglect was an undocumented, though long-lasting, British policy of avoiding strict enforcement of parliamentary laws, meant to keep the American colonies obedient to Great Britain. Prime Minister Robert Walpole stated that "If no restrictions were placed on the colonies, they would flourish."
Obviously all this changed with the Boston Tea Party.