AWFULLY WELL KNOWN EXPAT COP ARRESTED FOR DRUGS OFFENCES –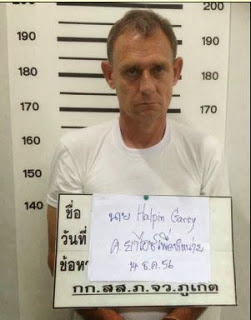 Garry Halpin – Phuketwan
An expat police volunteer well known to both this site and
probably even better known to the media down in Phuket has been arrested for
selling 'Ice' and 'Yaa Baa' after being arrested in a police sting.
No explanation has been given as to why police in Chalong,
Phuket, have turned against Garry Halpin, 57, apart from of course the reasons
of law and order, because he has had close relations with the local police
station for many years – and his adopted role was as foreign arbitrator…that is he took
money for things to be done, not to be done, and/or solve problems.
Halpin, who lives in a spacious pool villa, was also the boss of Raya Diving – set behind the police
station.
Halpin was arrested at the Chalong Villas Resort last night.
For the
full story go to
Phuketwan
which is now reporting
that Halpin has not confessed to
dealing in drugs and possessing drugs equipment such as scales and insists he never sold drugs to tourists.
This site has been in receipt of a number of complaints relating to this volunteer. Chalong Police too have had their controversial moments.
UPDATE – Latest reports seem to suggest Halpin was remanded in custody to Phuket prison; not a happy situation for him but possibly made worse by the fact there may be people he may not have wished to see again in the jail.