So what is Koh Phangan famous for?

With the sudden departure of their Romanian Swami following numerous allegations of rape and sexual assault against his female followers the current leaders of the Agama tantric yoga school on the Thai island of Koh Phangan are involved in a major damage limitation exercise.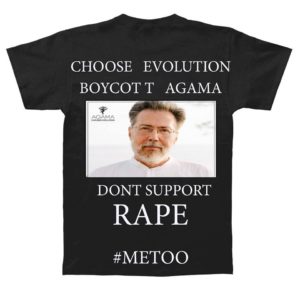 Countering alleged claims by Swami Vivekananda Saraswati (real name Narcis Tarkau), that the fastest way to enlightenment and an inner peace can only be achieved through his penis, his senior followers have issued a statement to locals reminding them how they supported the community shops etc., and how they followed the teachings of Buddha.
'Nothing to see here, they claimed, no rape, drugs, alcohol'
"Recently, there is a group of foreigner on Koh Phangan trying to spread rumors about Agama. This people are jealous, have a bad intention. They wanted us to close down the business, no more teaching. Agama is innocent. We never have rape happening in the school. Throughout these 15 years we never have any problem with law. Agama people do not drink, do not smoke, and do not do drugs. This whole story is an accusation to destroy our reputation.

Therefore, please don't misunderstood Agama and do not believe the accusation from this group of foreigner. In the opposite, we are the one supporting the community, the shops, room rental or bungalows. Most of the customers are students from Agama. Our focus is to help people to have good physical health and good mind by offering meditation or yoga and follow the teaching of Buddha as well. All this time until present we and the community have good relationships. We hope that community understand us and supporting Agama in this tough time." (unedited)
Meanwhile two new Facebook groups have appeared on the net. 'Boycott Agama' and the Agama Survivors Group. The anti-Agama groups have been calling for Thailand's dictator Prime Minister General Prayuth Chan-Ocha to get involved. (One person has also called for the King to be involved but has now deleted that from the Facebook page, presumably on advice).
They claim that the Agama has been paying the local authorities to exist on the island (no news there) and want a clean-up.
Koh Phangan, which I first visited in 1986 paying 50 baht a night for a bamboo bungalow seems it may soon be as crowded as an Indian slum, with detox clinics, some dodgy,  and a foreign population seeking the meaning of life, or failing that, a permanent 'drugs high'.
But the locals seem happy enough with that. They have a captive market for their goods, and they have changed the shops to suit the new residents. (So, if you like carrot cake etc. with cream based on aquafaba, magic mushrooms etc).
The latest allegations appeared on the website of Be Scofield a transgendered authority on Swamis and the like. He/she is a Swami hunter. Some 31 women, its alleged, they were either raped or sexually assaulted while undergoing tutorage at Agama.
Tantric Yoga is what rock star 'Sting' says enabled him to make love to his wife Trudie Styler for seven hours.
However, the victims of Swami say sex with him was not so much Tantric as quick hand-grabs of bottoms and insertions of fingers into vaginas followed by his tongue down their throats as he grabbed his member to make a quick penetration. This, on occasion, had followed a promise to unblock their 'Virgo' or release them from something bad.
I cannot verify these accounts which are recorded in detail on Be Scofield's website. Nor can I put the allegations to the Swami as he fled Thailand days after the allegations.
But sex scandals at Tantric Yoga schools are common and such complaints have been echoed worldwide.
These allegations of rape at Agama are going nowhere because they have not been reported to the local Koh Phangan police. If anything they are a mere cry for help on these islands.  Victims of rape in Thailand cannot as a rule trust in the legal system.Such an act as going to police would invariably cause more distress to the victims.
Rape on Koh Phangan or in the Samui archipelago in general is common. The (UK) Foreign and Commonwealth Office warns about it in its Travel Advisory, and of visitors to the islands suffering mental problems.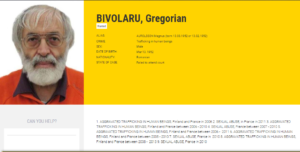 The Agama school follows the teachings of Gregorian Bivolaru another Romanian. Bivolaru is wanted by Europol in connection with traffic of human beings and sexual crimes against a minor.
One of the spicier stories on the net accuses him of attempting to have sex with 1000 virgins, but although a Europol warrant has been issued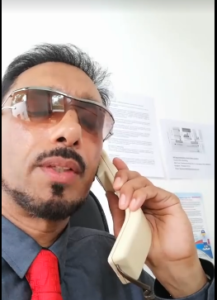 he seems to be living happily in southern Sweden, very close to bridges and ferries to Denmark.  In his favour is the fact that the original allegations against him were brought by Nicolae Ceausescu an even more famous dictator than Thailand's Prayuth.
Another Bivolaru tantric yoga joint in Thailand is the Mahasiddha Yoga school in Chiang Mai. Last month they held a Kama Sutra and Tantra weekend at their retreat the Amaravati Ayurvedic Ashram palace in Mae Rim.
This group is also under attack, but from its inner state has managed to latch onto Thailand's Computer Crime Act and has acted against namely Mauritian citizen journalist, Dr Richard L Munisamy an Oxford grad and internet pain in the ass.
Dr. Richard complained to the Thai authorities that sexual malpractices of the Romanian Bivolaru sect/ashram applied to the Chiang Mai ashram and that his investigation showed that 'advanced progress by pupils was dependent on the personal "initiation" of a sexual nature with their "Guru" or one of his representatives'.
He says he will be refused bail and, as he suffers from an (unspecified) lifelong chronic illness he will not survive a Thai jail.
Clearly, he made a mistake going to the British Embassy, which apparently represents the interests of Mauritius.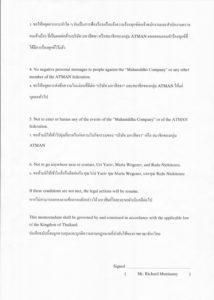 He soon found that he was being threatened with prosecution under the Computer Crimes Act directly by the local Thai police and says his arrest is imminent this week ,even though he had signed a 'cease and desist' order produced by the ashram manager.
To this end he went to see officials at the British Embassy in Bangkok for help. Apparently, they gave him their customary short shrift. Hence the headline below on his one of his websites.
He says he will be refused bail and, as he suffers from an (unspecified) lifelong chronic illness he will not survive a Thai jail.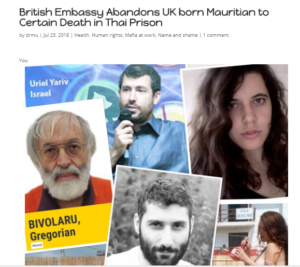 The British Embassy is unlikely to be of much help to a British subject in trouble with 'Thai law' (unless he is the son or daughter of someone famous)  let alone a Mauritian one.
Further Britain has kippered Mauritius on a number of occasions and is at logger-heads with the principals of Munisamy's website 'We Love Mauritius'.
Why? Well when Britain gave Mauritius her independence it kept some of the islands in the group including the Chagos Islands and renamed them the British Indian Ocean Territories in one of the last bites of the Empire.
The British government then transported all the inhabitants of these islands to Mauritius and declared the islands as an MPA (Marine Protected Area) which was a very good wheeze. (see Wikileaks)
Meanwhile it rented out the principal island, Diego Garcia, to the United States as a military base.
The islanders are campaigning to go home. 'But how can you live?' asks the British government. 'Fishing is illegal there now!'
The last I heard was that Richard Munisamy was quietly leaving Thailand.
Footnote: Koh Phangan is famous for, full moon parties, sex, drugs, and more than the occasional rape.
LINKS:
Be Scofield
https://medium.com/@bescofield/women-accuse-agama-yoga-founder-swami-vivekananda-saraswati-of-sexual-assault-28baf12c781e
https://medium.com/@bescofield/agama-yoga-founder-flees-amidst-sexual-assault-accusations-23d3de3d91e3
https://medium.com/@bescofield/about-be-scofield-f4b7aea5f263
KOH PHAGNAN NEWS
Agama Yoga Founder Swami Vivekananda accused of sexual assault

Boycott Agama
https://www.facebook.com/groups/283735049049170//
Agama Survivors Group
https://www.facebook.com/groups/437988933368873/?hc_location=group
https://eumostwanted.eu/bivolaru-gregorian
British Embassy Abandons UK born Mauritian to Certain Death in Thai Prison
https://docs.google.com/document/d/1Mjx8kEujgt-CL8QFae0rq4LflZnP7ljTfmS3P9NBE_A/edit
Another Yoga scandal
Satyananda Yoga Reeling from Horrific Details of Sex Abuse, Rape Allegations and Accountability