CORONERS IN UK TOLD FOREIGN OFFICE OFFICIALS THEY MUST GIVE STRONGER WARNINGS TO TOURISTS-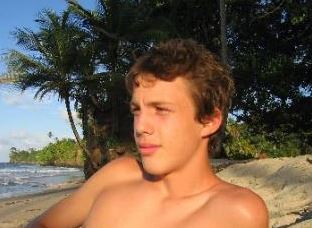 A British mother who lost her 19-year-old son in one of Thailand's numerous coach crashes is flying out to ensure justice for her child who was due to study economic at Manchester University.
Rachel Cooper, from Brighton, East Sussex, will attend the criminal court in Ranong, to see if it takes seriously the prosecution of the driver who fled the scene
The driver responsible was found an appears in court in Ranong later this month.
Rachel, mother of Felix Cooper Robinson, had also hoped to sue the bus company, as the bus in question was running on bald tyres, but was advised against it.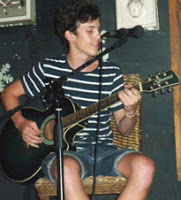 She is one of a group of mothers in Britain who have all lost children in fatal bus and coach crashes in Thailand.
Felix was mad on music and travel and when he was younger a proficient skateboarder as is shown by videos up on Youtube.
A fund set up in his memory helps to finance music projects for hill tribe children in northern Thailand.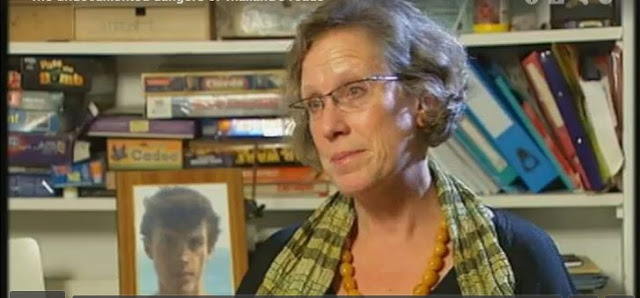 Rachel – Felix in picture in backbround – Channel 4 UK
She is joined in her campaign by the mothers of Bruno Melling-Firth, Max Boomgaarden-Cook and Conrad Quashie, all 19, who were killed heading for Chiang Mai in a bus crash in Kamphaeng Phet province.
The young men were all pupils at the Charter School in Dulwich. The driver , who attempted a U-turn on a six lane highway and was broadsided by another bus was subsequently prosecuted and jailed for two years for negligence.
Driver in denial
The driver said: "Of course I am sorry about what happened, but I really did not do anything. I just stopped in the middle of the road to turn. We were hit."
The seats on the bus were not firmly fixed, but even if they were that might have not saved the young men's lives in such a collision.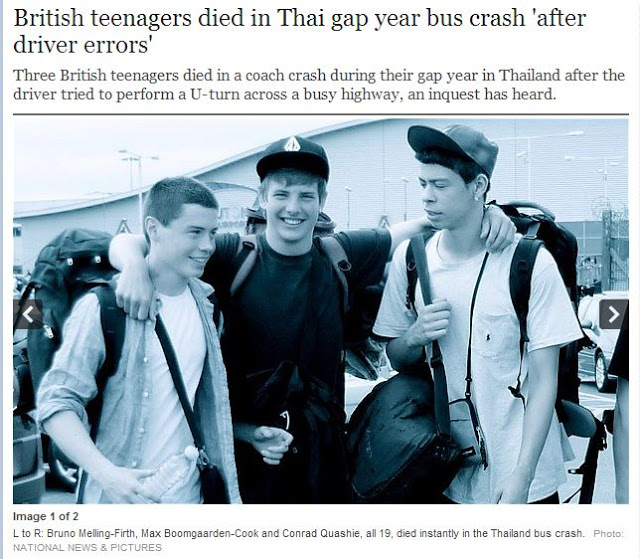 From the Daily Telegraph
Dr. Andrew Harris the coroner in Southwark, South London urged the British Foreign Office to issue more warnings about the dangers of Thai bus travel after it was disclosed that the bus seats were not fixed down and there were no seat belts.
He said:
"This has been a harrowing and tragic inquest. It's never easy to hear an inquest into the deaths of young people.
"It does seem to me to be a reasonable and sensible solution to make that I could ask the Foreign and Commonwealth Office that if they have any evidence of unregulated bus travel that they should give the same warning for bus travel as they do for motorcycles."
In the case of Felix Cooper Robinson there were also complaints about the condition of the bus. Not only were the seats not firmly fixed but the tyres were also running.
One of the bus tyres
Sussex Police forensic investigator PC Colin O'Neill gave evidence to the Coroner's Court in Brighton saying that the tread on the rear tyres was so poor it could not be measured.
Wet conditions and "excessive speed" were also blamed for the crash.
Coroner Mrs Hamilton-Deeley recorded a narrative verdict saying: "If the crash had happened in England or Wales criminal proceedings would probably have been launched against the bus driver and owner."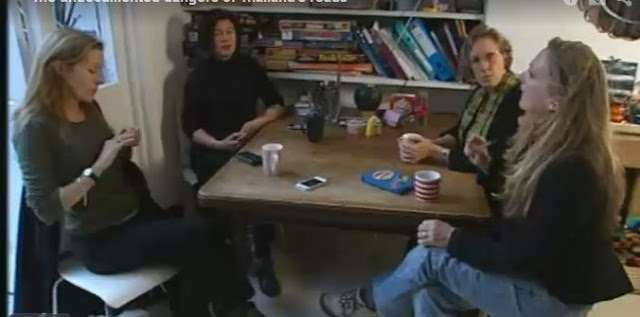 Group of mothers who lost their sons in Thai bus crashes – Channel 4 UK
Indeed the bus driver is now being prosecuted but as for the company Ms Cooper said:
"The bus company dissolved and changed name and the lawyers instructed by the insurance company told us to settle with the bus company's insurers rather than take case because of the risks and length of time (and we had to make a decision in v short space of time because of 1 yr limitation period) but now we realise we should have sued them." **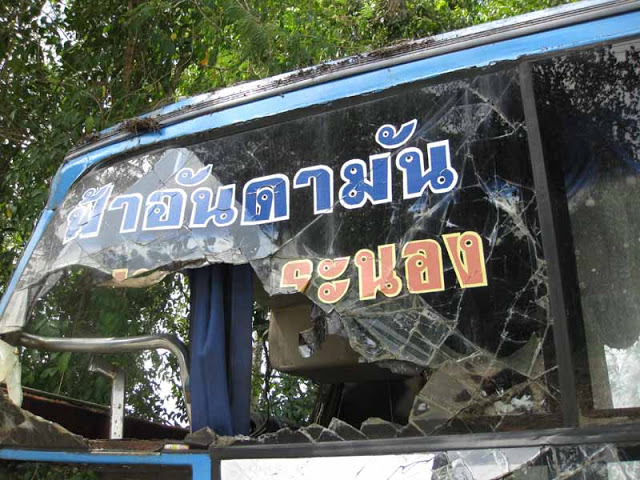 Thai bus company changed its name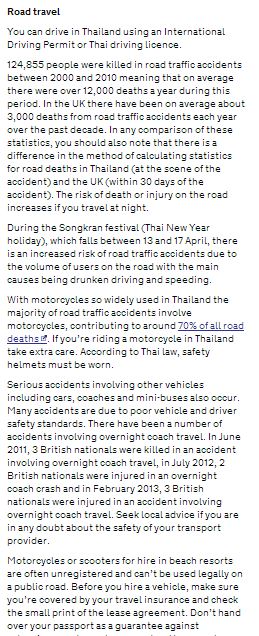 Rachel will be meeting with British Embassy officials and Thai safety officials.
On the right is the current British Embassy travel advice on road deaths in Thailand updated as a result of Coroners'requests, but the parents still feel it is not strong enough.
Both bus crashes were highlighted in a piece by John Sparks on Channel 4 in the United Kingdom.
'
The programme focused on unlicensed buses and on bus repair yards where crashed buses were put back together haphazardly.
'Where were the plans for these repairs?"
'In our heads!' seemed to be the reply.
"We have looked at the guidebooks and we have looked at the Foreign Office website and there are just no warnings," Rachel, a solicitor, told reporter John Sparks.
"Sometimes they say buses 'may drive fast' but there are no real warnings about the level of danger and the numbers of people who are killed," she added.
When John Sparks spoke to a Thai government official he replied:'
"We have international standards. We have the engineers to check the buses and we have the plans."
:- all this against an earlier backdrop of Thai 'engineers' doing botched repair jobs on buses.
The repair jobs can be impressive but beneath the surface things can, it appears, be rotten to the core.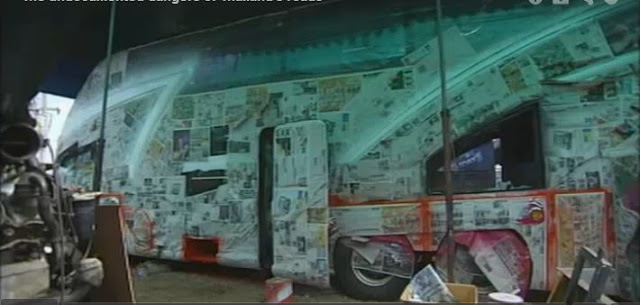 This bus will look pristine – but will it be safe?
** The company involved in the Felix Cooper Robinson case was the Fah Andaman Bus Co. It changed its name to First Management Service Mind Co Ltd. Directors are Mr Pramnan Sakboonyarat and Ms Seng Sakboonyaratong.
Now watch the Channel 4 video.