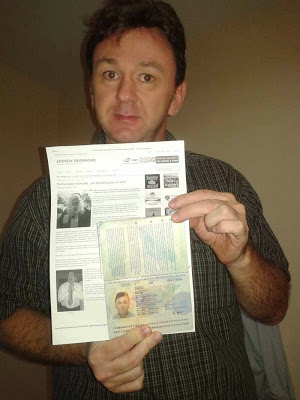 A journalist who exposed the activities of a fake Scottish lawyer in Thailand in the Scottish Sunday Mail has been acquitted of charges of criminal libel and breaching the Computer Crime Act in Thailand.
A case brought by Brian Goudie, 47, formerly known as Brian Goldie, from Falkirk, was summarily dismissed by judges in Pattaya, Thailand, this week. Judges had ruled that Drummond need not attend the hearings if Goudie did not establish a case. Drummond was represented by counsel.
Two earlier cases brought by Goudie had also been dismissed by the same court.
In a front page expose the Sunday Mail revealed that Brian Goudie, was much better known as Brian Goldie, who in Australia was sentenced to six years for theft from his employers – a mining company.
He had re-invented himself in Thailand as Brian Goudie, claiming he was a barrister and a former office in the Royal Marines. But Edinbugh University revealed that he did not have the degree he claimed. And he had been rejected by the army.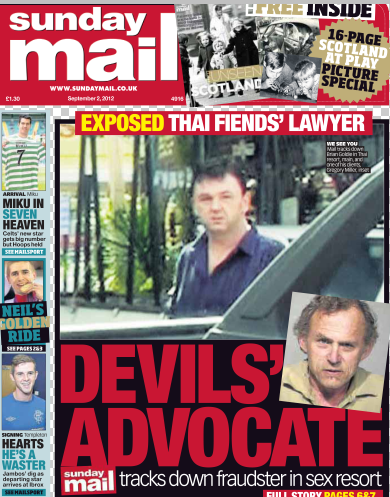 In Pattaya the Sunday Mail revealed how he used one convicted paedophile to get the business of an American Greg Miller who was in the local jail on child sex abuse charges.
Goudie has since been accused in court of cheating the man's 75-year-old mother Barbara Fanelli Miller out of US$300,000, which is allegedly what he charged her to get her son out of prison. He has also been committed for trial for allegedly duping British John Jepson an estate agent on the island of Koh Samui, into believing he had a law degree and was a former officer and a gentleman.
Drummond claimed that Goudie, former Prisoner No E0000274 in Hakea Prison, West Australian, had still managed to cheat a lot of people by claiming he was both an advocate in Scotland and a barrister in England and claimed he often had to return to deal with pro bono cases in the High Court.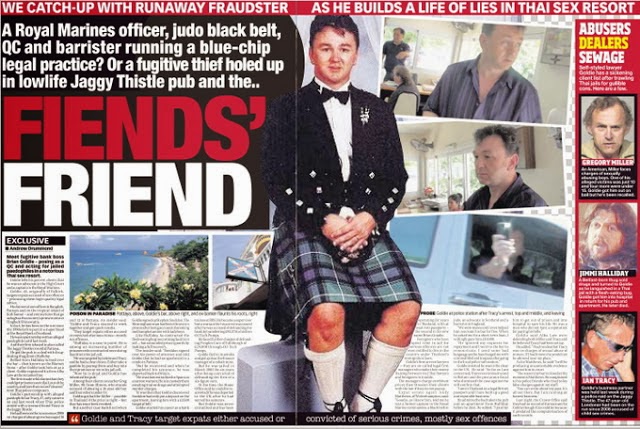 Represented by 'quiet' boy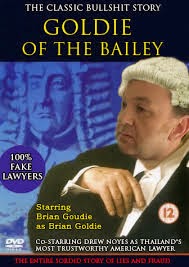 Goudie had failed to attend two of the hearings instead sending fellow Scot David Hanks, from Girvan, Ayshire, to represent him.
'I still ha my passport, mind'
Hanks the former proprietor of Masquerades Brothel in Keysborough, Melbourne, Australia, has himself been charged with racketeering in Pattaya. It's alleged that Hanks, described by his sister Margaret McCulloch, 61, as 'a quiet little boy', set up a loan shark business giving loans to Russians in the resort at 60 per cent per month.
Goudie is on bail but insists he still has his passport.
FOOTNOTE/COMMENT: Brian Goudie claims on his website case-watch-thailand.blogspot.com that the case was thrown out because he had put the wrong date on the charge sheet. That's odd. Any date could have done. The story is still up on this website. He says he is appealing. He cannot appeal a non existent case.

Could it be that the Koh Samui court is on to Goudie?
EXPOSED: A CONVICTED SCOTTISH FRAUDSTER – CHILD ABUSE PRISONERS AND A FLESH EATING DISEASE IN A THAI PRISON