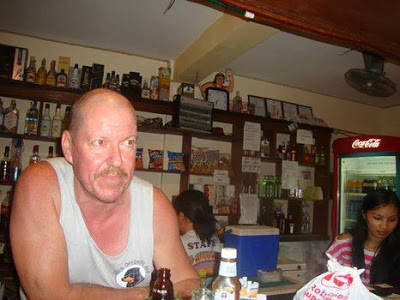 (Picture Michael Taylor)
BRIT ACCUSED OF MURDER IN THAILAND SAID HE WAS HAVING SEX WITH LADY BOY AT THE TIME.
BUT HE ELOPED ALONE.
Mick the Dog was too busy to talk last night. A receptionist at his bar cum guest house in the Philippines said: ' He's right here…(pause phone covered) I don't think he can talk to a British journalist from Bangkok right now. There is a party on'.


Mick, real name Michael John Taylor, 50, from Hull, was down on the beach at Pundaquit , four hours north of Manila, seemingly quite aware of a row about him in Thailand on the island of Phuket from where he fled a charge of murder.
Taylor, known apparently in Phuket as 'Mick the Pom' skipped bail a long time ago. He had denied a charge of stabbing his Thai girlfriend to death in the home they shared on Chalong Beach in Phuket – and produced a rather unique alibi.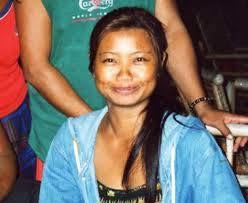 Jantra
At the time of the murder, he said, he was drinking at a lady boy bar, which led him to have sex on the beach with a lady boy.
Pol Maj Jessada Sangsuree, inspector of Chalong Police Station, said at the time: "We have eight statements that suggest Mr Taylor is the murderer. The court issued an arrest warrant, but he still denies the accusation."
Further, after sex , he took the lady boy home with him and they both discovered the body of his girlfriend 27-year-old Jantra Waengta together. Jantra had been stabbed to death. Her body was on the bed of their rented home near Chalong Pier, Phuket.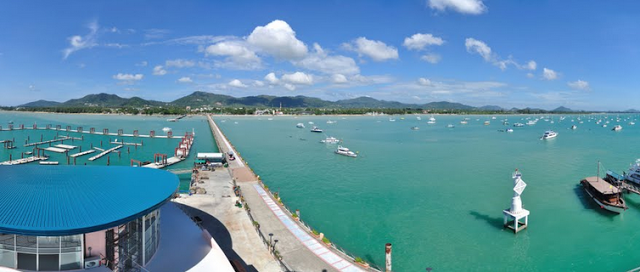 Chalong Pier
Taylor also brought the lady boy, 21-year-old Fonnoi Khonsau, with him to the police station to corroborate his story.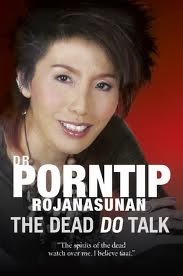 But everyone else is
keeping shtum!
Police said they now had 13 witnesses lined up including Dr. Pornthip Rojasanund, Thailand's top forensic pathologist. Nearby, police said, they had found a Bowie knife and a pair of bloodstained trousers – which they claimed were his.
That was nine years ago in August 2004. But now the local newspaper the Phuket Gazette has reacted with undsiguised fury that this alleged killer is roaming free in another Asian beach paradise.
'Mick' screamed the headline today was now living in the 'sunny Philippines', an unfortunate choice perhaps in the wake of Typhoon Haiyan.
Taylor had posted the equivalent of £10,000 bail in the form of a land title deed and merely hopped it at an opportune moment. In fact he had even skipped a remand hearing and not taken into custody for being in breach of bail. Apparently he had lost his mobile phone and had to report it missing to police!
The Phuket Gazette claimed he had been spotted in England and more recently he surfaced in Zambales Province north of Manila where he runs his 'Dogs Offshore Bar'.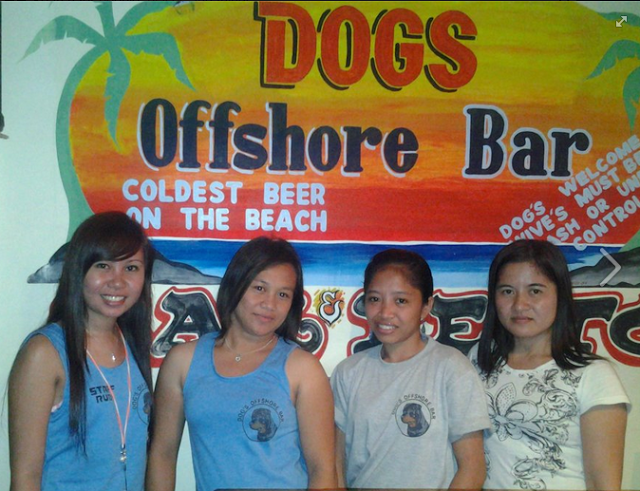 Dogs Offshore Bar. 'Dogs Welcome But Wives Must Be Kept On Leash'
The local newspaper appears angry with the British Embassy, whom they seem to suggest gave him a new passport to escape with (This won't be a first but the British Government controls British passports not the Thai government) and also with the prosecutor and the police. The court did issue a warrant for his arrest – but it seems it was never acted upon. This of course also happens with British warrants for arrest for citizens who ;move' abroad. (Notable Darren Oxley and Brian Goudie)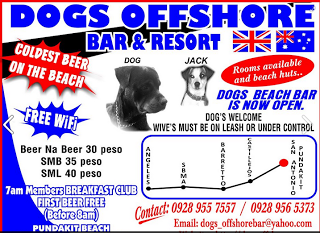 According to the 'Gazette' the prosecutor said it was a police matter, but the police said it was a prosecution matter – Thailand's Attorney General would have to seek extradition.
Said Chalong Police Superintendent Kritapas Daztharasorn : "The police have done their job. The suspect was arrested and they brought him to the prosecutor."
Phuket Provincial Chief Public Prosecutor Chiengsean Panhya said: " Arresting a fugitive is a matter for police."
Taylor's new life in the Philippines would have gone unnoticed had he not allegedly started threatening local expats. He has apparently made friends with the local Philipinnes NBI (National Bureau of Investigation) and they seem totally disinterested in complaints about him.
Sometimes it can take a sum of money to arouse an Asian policeman from his slumber.
" Many of us don't want him here," said one local expat. "But the warrant for his arrest has expired and no request has been made by the Thai authorities. It seems we are saddled with him. he has even boasted in his bar about getting away with murder."
It seems that the boast of the arm of the law being very long, often quoted by international, does not apply to vast swathes of the globe – and this is one of them.
And if no attempt has been made to extradite Taylor so far – now ten years on it does not look like it is going to happen.
Nobody seems to want to go after him.
This very often means that a payment has been made. A payment may also have been made to the family of his late girlfriend, but if she was from one of Thailand's poorest provinces, she may not have been considered important enough.
These payments would not necessarily be a confession of guilt. But it would be a punishment for being caught in this sort of situation. The lack of police action indicates the lack of will to do so.
There appear to be no outraged police.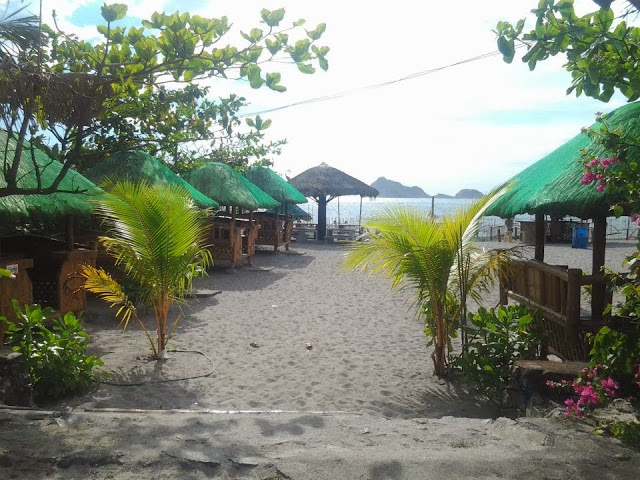 He has merely relocated from one tropical paradise to another. It's not the first time. Many foreigners suffering from 'the heat' in Thailand head for the Philippines- and vice versa. It's a well beaten trial.