LAWYERS FROM PAPPA AND ALBA HAVE TEAMED UP!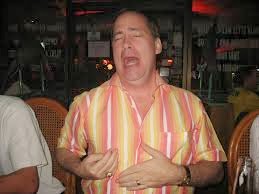 Controversial American Drew Noyes will be acquitted of charges of attempting to extort the bosses of the Thonglor Clinic in Jomtien, his spokesman claimed today.
In a letter posted to this site at 2.47 this morning his spokesman 'Stan Longley' added that his accusers would face a 'day of reckoning' because the lawyers from PAPPA Co and ALBA Laws had now joined up and were now preparing 110 cases against '14 idiots'.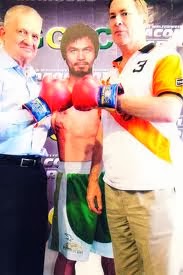 Rumble in the jungle? Niels
Colov and Noyes getting
the gloves on.
'Drew Noyes knows this for sure. He will be proven innocent of all charges, in fact the judges have already decided to throw out the case, but must wait for the day in court to formalize this' – the statement said.
PAPPA Co Ltd and One-Stop-Legal Services are interchangeable. PAPPA has not paid tax for four years. Alba Lawyers is the brainchild of Brian Goudie (AKA Goldie) the Scottish fake lawyer and fake Royal Marine officer now living on Koh Samui.
Another exclusive from Stan Longley – The full text is below:
"Once again you pick away at minor points and ignore the big issues directed at this pathetic one man blog. Why did you delete the Txxxxx clinic?
"You state that you can not edit posts but so far nothing i have posted has gone through to the comments section.
Just more twisting of words. I believe there are many, many satisfied customers of PAPPA lawyers but you don't allow them a voice.
"The weapon is a wanker and will pay. Drew knows who this sad loser is. His day of reckoning will come. SOON.
"Topper is bullshitting as usual. Drew tells me he was squealing like a bitch and in an attempt to avoid the full force of the law, gave Drew's lawyers all the addresses of all the pathetic people who libeled David (Hanks), Brian (Goudie), Brian (Goldie), Niels (Colov) and Drew (Noyes).
"Lawyers from PAPPA have teamed with lawyers from ALBA and are now preparing up to 110 new cases for libel against 14 idiots who thought they could say bad things about successful business people and their families hiding behind fake names.
"But Drew knows this for sure. He will be proven innocent of all charges, in fact the judges have already decided to throw out the case, but must wait for the day in court to formalize this.
Brian Goudie


"They have seen through the lies this site produces, spoken to the senior policeman that was eating with Drew at the time of the arrest that was set up by junior police from Bangkok who were mislead by false and defamatory reports and established that it was all a vendetta to attempt to extort money from a successful and popular community leader, Drew Noyes Sr.

"Drew has ignored a lot of what has been said up until now, but now the gloves are off

A typical Noyes sms

and he will use all of his powers and he doesn't care how much time his staff need to work on these cases. He will now exact punishment on all the cowards who have written lies about him, his friends and family. Son nam na!"
In the video 'Influential People and Men in Suits' (14min.50′) Niels Colov of the Pattaya People is caught on tape saying he and another people were helping Drew Noyes in relation to his arrest for extortion. 'Many people are putting their efforts together and I believe he will get out of this case."
These people's efforts have not yet manifested themselves in evidence given so far at the trial of Drew Noyes and Wanrapa Boonsu. I should state that the DSI were alerted to an 'offer' made to retrieve David Hanks' passport from the Pattaya Provincial Court.
Recap: Of the three people suing this site Drew Noyes faces criminal charge of extortion and fraud in Pattaya Court and prior to his arrival was exposed by the Wilmington Morning Star as a man of myriad lies – with a judgement out against him (now for US$72,000) for selling bogus shares.
Brian Goudie, faces separate cases of impersonating a lawyer with intention to defraud. One case involves an American woman who handed over US$300,000 to have her son released from child sexual abuse charges and get him out of Nong Plalai jail.
David Hanks, the former owner of Masquerades brothel in Melbourne which specialised in 'Asian Hotties', has been charged with illegal money lending to Russians (at a rate of 60 %) in Pattaya. That was a DSI operation.
MEMO TO STAN: You should be pleased Stan. You're getting an editorial page. Your stuff is too good for the comments section.
Contrary to your opinion I cannot edit posts on this site. I can merely allow or delete. To edit I have to scan and paste in a document. Your previous posts were edited in this way – the last one only by removal of the name of the clinic which Noyes has libeled. Clear? At this time I have no confirmation from Drew Noyes that you represent his views though you appear to be his spokesman. If however you can prove that you do and are not merely an invented character then you can continue to post.
MEMO TO NOYES: Stan Longley is claiming to be your friend. If you feel the above does not represent your views you should say so immediately.
PS: Security on this site has just beaten off a Russian intrusion btw. Nowt to do with you of course.