12 YEARS ON MAN WHO GAVE HAVING SEX WITH LADYBOY AS MURDER ALIBI SAYS HE HAS NO PROBLEMS WITH THAI POLICE
Briton Michael Taylor, also known as 'Mick the Dog' and 'Mick the Pom' or simply 'Mick the Murderer' has taken time out on Facebook calling for people to respect the Thai bar girl he is alleged to have murdered at his apartment in Chalong Beach, Phuket…some 12 years ago.
A warrant was issued for his arrest for the murder of Jangtra Weangta and at the time Pol Maj Jessada Sangsuree, inspector of Chalong Police Station, said at the time that he had 13 statements implicating Taylor, plus the murder weapon and his trousers with blood on them.
Taylor however, now 53, hopped it to the Philippines and opened a bar in Zambales Province called 'Dog's Offshore Bar'. He had offered as bail a land title deed worth US$10,000.
Readers of this site may recall that Mick had an alibi. He could not have done it as he was on the beach having sex with a ladyboy – and the ladyboy confirmed the story with police.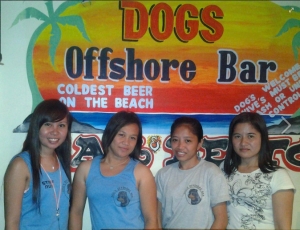 I called the Offshore Bar while he was there, but he was 'too busy' to talk and he later skipped it to Cambodia. I don't know why he ran because the Thai authorities did nothing to seek his capture.
I say that guardedly because what both the Thai Police and the Philippines Police say or do cannot be relied upon. Suffice it to say nobody went looking for him.
He was certainly not very popular in Pundaquit where the Dog's Offshore Bar was located as he had played heavy handed with local expats there and they soon got to hear of the murder allegations.
Now having been the subject of much discussion on Khmer 440 – the Cambodian website for foreigners – he has apparently turned up back in Thailand claiming that he has no problem with police and calling for respect for the dead.


Whether he is in Thailand or Cambodia is subject also to some dispute.
Taylor, now calling himself Mick Goddard on the net, had been pursued by the ghost of Jantra Waengta on Facebook, well at least by someone using her name, calling for someone to take heed of the warrant and arrest him.


I'm not sure if this is going anywhere. Extraditions between Cambodia and Cambodia are as rare as those between the Philippines and Thailand and require lots of paperwork, legal submissions etc.
Maybe of course the Thai police do not have 13 witnesses and the damning murder weapon and bloodstained trousers. Or if they did the knife is now being used as a policeman's can-opener.
One is obliged to take the view that Mick has either gotten away with murder and the Thais were happy with their US$10,000 or Mick was stitched up in the first place.
Interesting alibi though. And a first.