CO-CONSPIRATOR FAKE BARRISTER BRIAN GOUDIE NOW ON THE RUN WITH NO PASSPORT
International fraudster Drew Noyes who was first exposed on this website, was today banned from Thailand for life after skipping bail while appealing a two year jail sentence for extortion in the Thai resort of Pattaya.
His partner in crime who Wanrapa Boonsu, also failed to turn up to face the reading of the judgment of her appeal, claiming, through lawyers, she was in hospital was ordered to report to Pattaya Court in March.
Noyes had fled to Wilmington, North Carolina, with five children by two Thai wives, Wanrapa and Nittaya Chaisit and was reported to be living in a one story shack which he had bought in Nittaya's name for tax purposes. He left three other children behind in Thailand.
Last week however he was still trying to do phone deals on behalf of his One Stop Service Centre, in Thepprasit Road, Jomtien.
At the same time in Bangkok Court, a co-conspirator of Noyes, Brian Goudie, born Goldie, of Falkirk, failed to turn up to answer bankruptcy proceedings and a damages claim by Briton Ally Cooper for internet harassment.
Goudie is appealing a three year jail sentence for fraud and embezzlement. He had cheated a 78-year -old woman from Madison, Wisconsin out of nearly US$300,000 – that included his legal fees and bail for her son – who died in jail when he did not get adequate treatment for a heart condition.
Goudie had posed as a British barrister and a former office in the Royal Marines to cheat foreigners and tourists in Thailand, who urgently needed legal services.
Had Goudie appeared in court he would have been arrested on a number of charges including 'revenge porn' by posting indecent images of his former assistant and girlfriend on the internet.
His is due in court again in Pattaya tomorrow in a damages case being brought by two Britons and a German, who say they were cheated when he went to them for advice. They have brought criminal and civil cases.
Later in the week on January 28th another co-conspirator David John Hanks, from Girvan, Scotland, is due in court in Bangkok to face a 5 million baht damages case.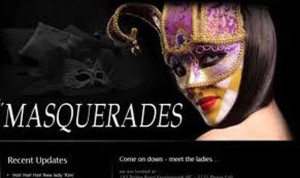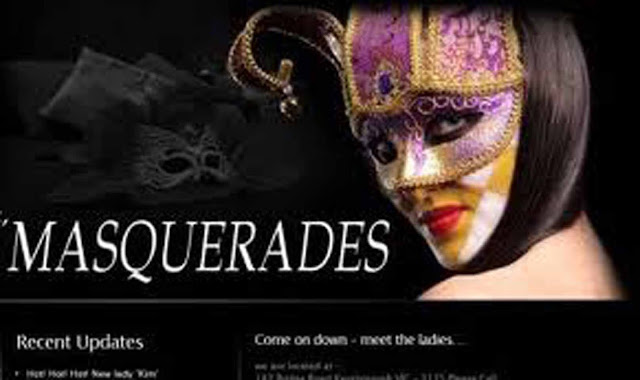 Hanks the former owner of Masquerades brothel on the outskirts of Melbourne, had last year been acquitted of racketeering charges brought by the Department of Special Investigations after his Russian co-defendant paid bail and skipped the country.
Hanks assisted in Drew Noyes' extortion of the Thonglor Clinic in Pattaya when Noyes demanded 7 million baht to stop a police raid on the premises. He told Michel Goulet at the clinic that he was in the sex business, knew Chinese mafia, and that Goulet should listen to what his boss Noyes had to say.
Noyes had courted immigration officials, army generals, police and judges in Pattaya and had set up the Pattaya Times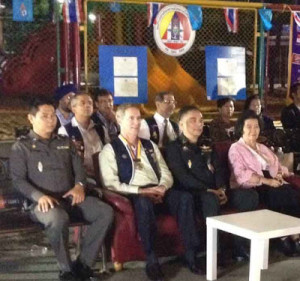 newspaper, to promote himself and lure potential clients to take their business to the 'most credible re-assuring professional American to make Thailand his home".
He was all things to all men, a Royalist, a red shirt, and a friend of the military.  He even had a military colonel turn up in court and give him a character reference saying Noyes was going to give a seminar on 'living happy with the military'.
While on bail and on trial on the extortion charge he was even given a military escort to Bangkok International airport while his wife Wanrapa convinced the military to block andrew-drummond.com.
For a while the newspaper even had an advertising partnership with the 'Bangkok Post'.
While unable to speak Thai he frequently attended the civic meetings of Pattaya Mayor Ittiphol Khonpluem, with fellow publisher Niels Colov, of the Pattaya People, a former Copenhagen underworld gangster and pimp, nodding knowingly and sometimes clapping as discussions went on.
He dined Pattaya Court judges and wined police and immigration police bosses.
And in his NAYMZ biography he accredited to himself a host of royal medals.
Among his coups was to fool the US Ambassador Kristie Kenney into believing he was an important American businessman on the eastern seaboard – even though his American Chamber of Commerce membership had been withdrawn.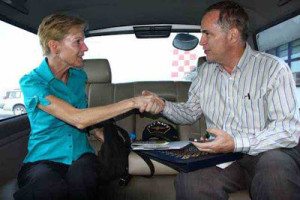 Despite having left the Pattaya City Expats Club in bad odour (He had tricked members intro buying Thai National Housing Authority properties) and failing to join the Rotary Club in Pattaya, he managed  to get elected to the presidency of the Lions Club of Bangkok (Silom 310D).
He posted the photos of all his 'friends' on his business websites and whenever he turned up in court he provided a set to the judge.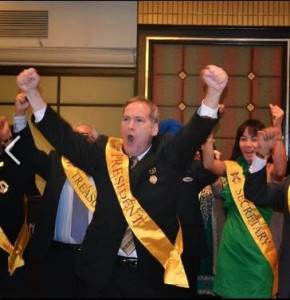 But he has fled America where he had been the subject of an investigation by the Star in Wilmington, in which journalist Scott Gold wrote about his 'myriad of lies' and exposed his fraudulent property and share dealing, sexual harassment.
According to the 'Star' a women employee reported that he demanded oral sex services if she was to keep the same number of hours at the company they both worked at.
He also had an FBI record for larceny.
Today's blacklisting of Noyes and the arrest warrant for Goudie mean that a tranche of cases brought by the duet against their enemies under Thailand's Computer Crime Act libel laws against four people who had stood up to him will be thrown out.
Michel Goulet, co-owner of the Thonglor Clinic, reported Noyes' extortion attempt, after reading exposés of Noyes activities on this site. His activities included cheating clients, selling housing built for poor Thais to foreigners at extortionate rates, posing as a lawyer, sexual harassment of Filipina staff, and inventing a phony biography.
Asked to comment today Dr. Goulet texted today : "I'm happy. One bad apple removed. Thanks for your help."
Judges in Pattaya today seized the 500,000 Thai baht (US$14,000) bail Noyes had paid to be allowed to go to the United States.