– 'WE WERE REVOLTED!' – SAID PATTAYA 'BARRISTER' WHO WAS 'PAID US$300,000' – TO 'SPRING' ALLEGED CHILD SEX ABUSER
-The British head of a legal company has admitted paying cash to young children who were the alleged 'victims' of one of his clients awaiting trial on child sexual abuse charges.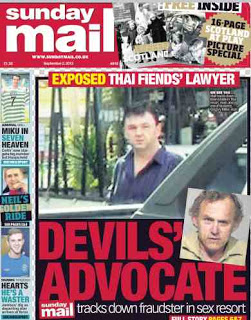 Scot Brian Goudie, formerly known as Brian Goldie, claimed his former client was caught on video indulging in oral sex with a nine year old boy and that he was asked to destroy the evidence after relative became involved.
He has now attacked his former client and family after his services were terminated. But not before they claim they had given him US$300,000 and were taking him to court for fraud.
" Did xxxx tell you about all of us all trying to help even though we were revolted? And getting nothing but shit thrown at us? and the other six boys he did it to that we tried to get treatment for and help the kids with their mental issues.
"And giving the kids a few quid for school and a bit of help when the fucking monster that destroyed their young lives finally got caught?
"At first I actually fell for the line that he was innocent until xxxx told us he has been having treatment for his 'problem' for thirty years! Can't wait to see xxx taking this to Court."
The allegations came after after a case of fraud was brought against him..
He is accused of allegedly cheating a client and relative out of US$300,000 on a promise that the man would be bailed. Police appear to have found out the plan and added an extra charge to the prisoner's rap sheet.
In his outburst using his email ramadin@gmail.com Goudie rounds on people who formerly used the services of Alba Laws, a company with addresses in Pattaya, Bangkok and Koh Samui. Much of the information appears to be in breach of client attorney confidentiality.
"And condo man. Did he forget to tell you about the 3 million I sent to his bank? About getting a senior Thai lawyer for two years for free because I paid for it?" continued Goudie.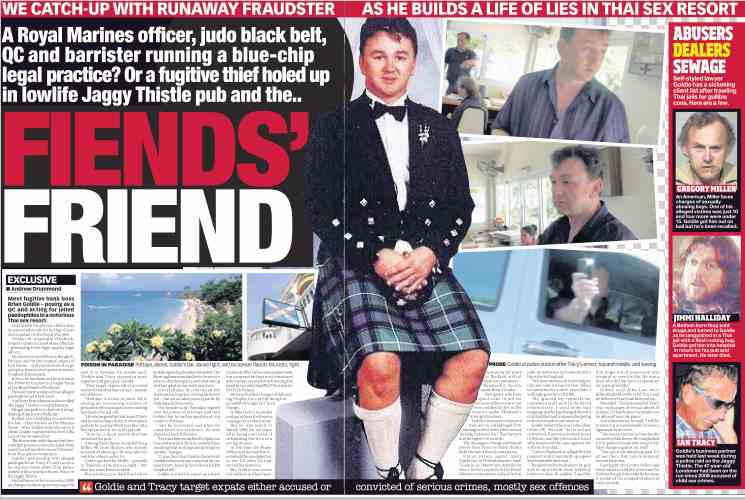 "That I paid his bail when he was charged with making a false charge and making false statements to police, and that he was paying witnesses and conspiring to pervert the course of justice?
"And he was lying crying on the floor of Pattaya police station and could not make bail until I helped him and gave him the money to bail out? That he was offered his condo back if he repaid what he owed.
"No he would not tell you that – he listened to you 'Alba Laws bills are not valid' – he has never paid a bill! Not one fucking baht.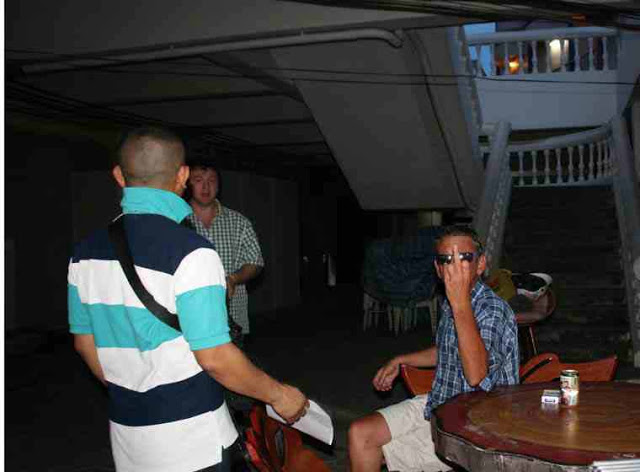 Last year Pattaya Police arrested Briton Ian Tracy at the premises of Brian Goudie formerly known as the 'Jaggy Thistle'
now the Paradise Bar in Jomtien Complex, Jomtien, Chonburi. Tracy a former prison visitor for the 'Mercy Centre' is alleged to have also found clients in the prison for Goudie in particular the man Goudie speaks about
here. Tracy is doing four years for child abuse. In this photo Tracy is giving the finger while Goudie remains in the background
"We are going to destroy him in cross examination. He is in for a nasty shock on the (May) 15th let me tell you. I have not taken a penny from this idiot, but I am going to now".
He refers above to a former client, a Briton, who owns an apartment in The Peak Residence in Sukhumvit Soi 15, which taken over by Goudie in lieu of very high barristers' fees. Goudie charged 50,000 baht a day – even though his claim to have a law degree from Edinburgh University was pure fiction. But he gave it on the basis I presume that people like George Carmen QC could charged twice that!
The client is seeking his condo back claiming that as Goudie's qualifications were fake so were his services.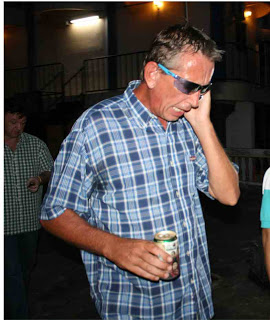 Ian Tracy
Then Goudie goes on to attack a man he calls gangster boy, a Brit who apparently lost his temper after going to Goudie's bar in an attempt to get some 400,000 baht back he had loaned Goudie. Goudie had him charged with libel and trespass at the 'Jaggy Thistle' pub .
"Gangster Boy shouting and screaming with off duty cops? Already convicted twice in Thailand of serious assaults and I tried to settle but he just would not listen. May 26th, bail or jail?" wrote Goudie.
Goudie's was sentenced to six years in West Australia for defrauding a mining company.
An attempt to obtain bail made by representatives of an American citizen represented by Mr Goudie was blocked after police, hearing of the move, pressed a further charge.