"IT WOULD HAVE BEEN IMPOSSIBLE TO CARRY ON" – SAYS FORMER FOUNDER OF PATTAYA EXPATS CLUB CAMPAIGNING ON AN ANTI-IMMIGRATION TICKET.
The Vice Chairman of a branch of the right wing United Kingdom Independence Party said today that he had no choice but to flee the British local council elections because of his 'dragon' Thai wife.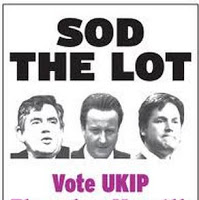 David Watson, deputy leader of the Basingstoke, Hants, branch of UKIP has since taken an apartment in the resort of Pattaya and had gone on FACEBOOK to announce that he had celebrated his arrival on Thai whisky and Chang Beer.
He replied today following allegations from his Thai wife Phattawan, 31, the daughter of a taxi driver from Buri Ram, that she had been ditched in the U.K. with her their two sons, aged 8 and10 and stepdaughter, 12, with just £100 to live off.
The UKIP has been accused of racist and is anti-immigration.
Phattawan had given timely interviews to the Daily Mail and Basingstoke Gazette on the eve of local elections where Watson, the Vice Chairman of the local party, was standing for election.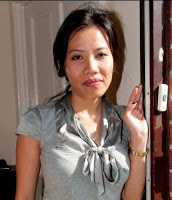 Phattawan (Solent News)
She said: 'He just left. I want to find out where he is. I want him to take responsibility for the children.
'All I know is he has gone to find his future life in Thailand.'
The couple have been married for ten years and her husband owned three properties around Basingstoke, two in nearby Brighton Hill, and one in nearby Popley.
Mr. Watson, who met his wife at the end of a her relationship with another Briton said however: " I had to leave. There was no choice. My wife, who has become a dragon at the best of times, had made it impossible to stay. I left so she can reconsider her position.
"All she has been doing is asking for a divorce and a house and car and money. She did not want one house but two. But the money has gone and the houses are mortgaged and rented out to people on social security. At best she can get the house she lived in which is worth £190,000 but is mortgaged for £150,000."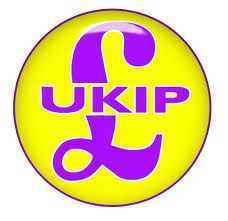 UKIP Logo
He said a lot of his money had been supporting his wife in the courts. She had had several actions with a former British lover; the father of his stepdaughter. The case had not gone well, he said.
The boyfriend, whom Mr. Watson referred to as 'The Stalker', had won on Appeal. This had distressed his wife, he said, and she had had taken it out on him.
"It's useless to argue with her. She won't talk about the issues. The marriage is not over. But she needs to think," said Mr. Watson.
He said he did not know what had gone wrong with his marriage. But it had been fine until last August when she lost at the court case at the Appeal Court against her former British boyfriend. It was time to go, he said, police had been called to their house twice already. Once after, it is alleged, she attacked him. The second time, she called the police, after he called her a thief in a dispute over a 'Mont Blanc' pen.
There were also arguments about her alleged use of his credit card details on Paypal and things from the house being allegedly sold by her on E-Bay.
He said in turn would be sitting and thinking in the controversial resort of Pattaya, where he was one of the founding members of the Pattaya Expats Club and friendly with local newspaper publisher Niels Colov, from whom he was taking media advice, and 'entrepreneur' Drew Noyes.
An indication of the downturn of his marriage is an entry he made on Facebook during Songkran. He had been on holiday in Phuket and his wife had not enjoyed the excessive water splashing. Below is his report.
The United Kingdom Independence Party has been picking up a lot of votes recently at the expense of the Conservative led coalition government.
The party campaigns against immigration, and Britain's membership of the European Union amongst other things. It's candidates have also amongst other things been accused of 'giving Nazi salutes', 'wearing a Jimmy Savile mask and blaming the Holocaust on the Jews' and 'caricaturing President Obama as a chimpanzee'.
Mr. Watson as a former leader of the Pattaya Expats Club will be well versed in political intrigue and is unworried by the recent publicity. "Sticks and stones," he said.
(English LanguageTip: The UKIP went into election in 2010 under the 'Sod the lot' banner. While 'Sod' comes from 'Sodomite', despite some criticisms of the UKIP, this was, of course, a call to get voters to reject the other party candidates – not sodomise them.)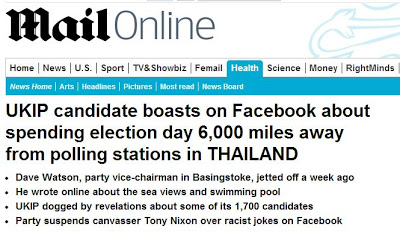 How the Mail ran with the story
Mr. Watson was told early today that he had lost the election to Liberal Democrat candidate Brian Gurden, but he had beaten the Labour and Conservative Opposition.
"I wantëd to win. I would not stand if I did not. If I had stayed for the election my wife would have caused more problems there."
He has received the backing of his agent Phil Heath, who told the Daily Mail: 'He is a good and honest man. Dave Watson and his family have personal problems.
'He's taken the decision to go before the election because it is urgent, including selling land to help out with the personal situation.
'I always recommend to my candidates that they put family first.'
He added: 'He will be away for a couple of weeks. If he's renting a place for six months that may be for convenience in case he needs to go back.
'If he needs six months to sort it out, I support him on that.'
Mr. Watson said today there was no longer any hurry to head home.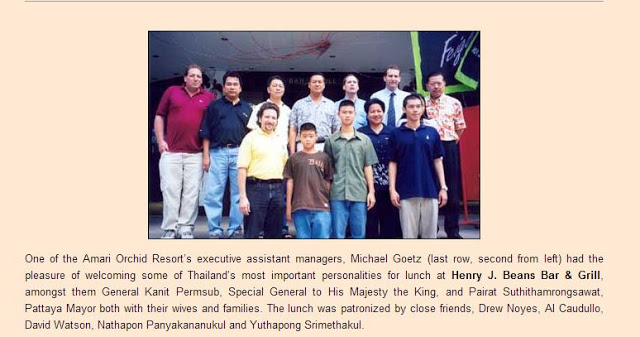 David Watson on the social circuit in Pattaya
Quote of the Week: "I was just recently talking to Drew Noyes. I told him that its only when you get exposed by Andrew Drummond you know that you have made it in Pattaya". – David Watson.
And finally a follow up from the Basingstoke Gazette