MONEY MONEY MONEY. IT'S A RICH MAN'S WORLD
Mark Hallett, from Somerset, wanted in the UK for fraud and money-laundering,

photographs 1 million baht in a Bangkok apartment

When the defence lawyers for Zaw Lynn and Wai Phyo, the two Burmese charged and convicted for the murders in Thailand of Britons David Miller and Hannah Witheridge, pleaded in the High Court in London for the Scotland Yard report on the Thai Police Investigation they were refused.
The 'chilling effect' of the release of the report, said Scotland Yard 'could cause a breakdown in co-operation between the law enforcement authorities of Thailand and the United Kingdom.'
Even worse:

"The 'chilling effect' was the 'substantial and adverse effect on law enforcement, fulfilment of public policy and the UKs security objectives'.

Put another way Scotland Yard was saying: 
'If we release the report the Thai police may not speak to us anymore.'

That Scotland Yard does not want anything to interfere with the relationship with a police force, in which 80 per cent of its core 'investigative units' in the Crime Suppression Division and Central Investigations Bureau were dismissed around the same time being involved in rackets ranging from fraud to illegal wildlife trading, is not surprising.  

Scotland Yard must have a relationship, even if it's only to arrest criminals, who are not being looked after by the Thai police.

So, let's keep the relationship friendly. Indeed, as Anya Props argued in the Koh Samui double murder case:
"such is the power of the British public interest that it would still trump private interest."
But just how effective is this relationship? How are the Thais reciprocating?  
Take this man here, and at the top of the page. He is Briton Mark Hallett. He's been wanted by Britain's National Crime Agency for years for a £3.9 million fraud. This former scrap dealer from North Perrott, Somerset fled the South Somerset Court where he faced 13 charges of fraud and money-laundering.

The money laundering relates to all the cash he then removed from the bank, £35,000 of which he wired to Thailand.

Now with nearly £4 million one would not need to revert to fraud.  But once one's caught the bug, I guess… Well, to cut a long story short Hallett, has been accused of all sorts of rip-offs in Thailand, some with, some without 'Lord Geoffrey', who we showed recently trying to introduce the Bitcoin to Vanuatu!
In fact, Thonglor Police, who arrested Hallett, announced he was being investigated for scams on foreigners in Bangkok.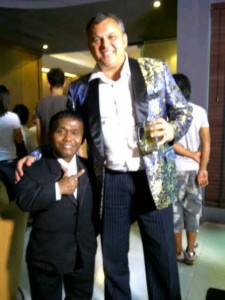 As Thai police do not investigate fraud by foreigners on foreigners unless under high pressure (usually financial) this was either a fib, meaning 'We've had some complaints about him', or then high pressure had been applied.
Avon and Somerset Police seemed quite hopeful when in May 2016 Hallett was arrested by Thonglor police. A man in their press department hoped for some more positive news within the week.
The answer of course came a few days after the week, when Immigration Police, despite knowing he was wanted, released him, even though they had initially stated he was in breach of visa regulations, an offence which requires an immediate deportation.
British Police were hoping to meet Hallett in Heathrow after that trouble-free deportation!
Alas it was not to be. 
Anyway, Hallett, 49, has surfaced again in Bangkok after spending a year or so up north in Chiang Mai.
Now he, I hear, he has teamed up with a Danish businessman called Kenneth Reinholt Hansen, 46, from Holbæk, Denmark.
Holbæk is a nice part of the world just across Isefjord in Denmark from Hundested, where I spent many a happy summer holiday as a child and, incidentally, got my first agonizing sunburn on the day (08/08/63) of the 'Great Train Robbery'.  
Hansen, however, is described as a rather crusty Danish pasty, to be handled with gloves on, who runs a chauffeur car service, and is currently with Hallett selling shares in a hotel in Bangkok.

Meanwhile hats off to the National Crime Agency, who can be seen on British TV picking up east Europeans for shoplifting back in Croatia or Poland on a regular basis and packing them off home.

And 'hats off' to Avon and Somerset Police who remain hopeful the NCA will catch their man courtesy of (and again hats off to) the Royal Thai Police, whom, I guess, are still waiting the money.
Between them they have shown again that public interest does indeed over-ride private interest, which in this case is evidently hiding their combined ineptitude and nothing to do with the victims or justice at all. 

In terms of Hallett's crimes, one victim is claiming he was defrauded in Thailand out of 14 million Thai baht.  That's about £318,000.  Ouch!

http://www.andrew-drummond.com/2015/03/the-sophisticated-berks-of-bangkok.html

http://www.andrew-drummond.com/2017/10/lord-bonds-bangkok-junket-bitcoin-plan.html

http://dailypost.vu/opinion/bitcoin-of-the-realm/article_644693e4-796e-5a71-819f-16dd900acb31.html