" I CAN TELL YOU. I DON'T FIND THIS FUNNY AT ALL!"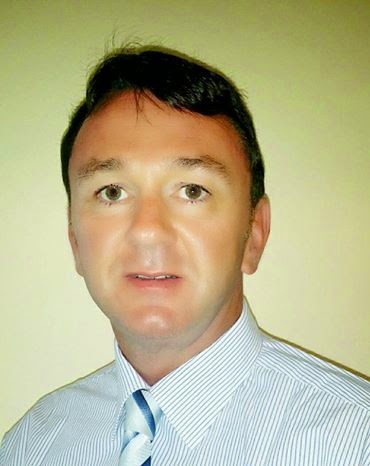 Goudie
A fake Scots lawyer, who is currently on trial for defrauding a 76-year-old American woman out of 7.9 million Thai baht, has joined forces with a Scottish Australian former pimp to sue Google to fight for the right to 'a basic human right to live a life without being harassed, ridiculed and embarrassed on the internet.'
Brian Goudie, formerly prisoner E0000274 Brian Goldie, of Hakea Prison, West Australia, and David John Hanks, former licensee of the 'Masquerades' brothel in Keysborough, in the suburbs of Melbourne, which specialized in "Asian Hotties, say they have lodged complaints at the Bangkok Criminal Court against the entire board of Google, its founders Larry Page, Sergey Brin, and also CEO Eric E. Schmidt.
They made the announcement on Goudie's website Casewatchasia.blogspot.com a Google site which is ironically a vehicle he uses to attack his enemies.
He currently attacks Andrew Drummond (yours truly), Robert Postak who he accused of posting a picture of him in a gay parade, Ian Tracey, whom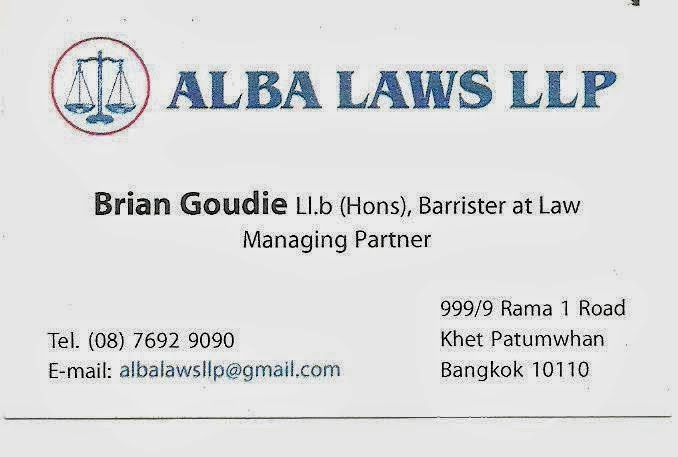 Goudie's fake business card claiming to have an honours
degree in law and with fake address
he falsely shopped to Thai police as a paedophile (Tracey has since been released) a former girlfriend named Nang, about whom he has been accused of posting porno pictures on the net, Kanokrat Nimsamooth Booth, President of the Thai and Foreign Spouses Federation, who has been supporting Andrew Drummond in legal cases, and Gregory Miller, a former client, whose mother Barbara Fanelli Miller he is now accused of defrauding.
The report states:
"Two expatriate business men with business interests in Thailand, David Hanks, 66, and Brian Goudie, 47, filed the criminal charges in case number 2395 /2557 and case number 2396/2557
"Hanks and Goudie submitted criminal indictments to the Bangkok Central Criminal Court alleging that Google has provided hosting services via it's Blogger platform to an 'alternative news site' – a site they say has been at the centre of a campaign of defamation and cyber harassment that has spilled over into threats of violence, real world stalking, harassment of family – including children."
Goudie from Falkirk adds: "He wrote on his blog for him it is 'entertainment'. I can tell you we don't find it funny at all."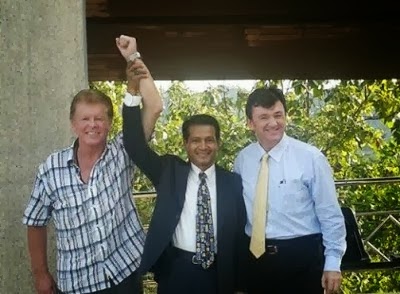 Hanks and Goudie in former days of glory – the lawyer left the court on Monday where Goudie denied receiving a libel
summons. The case went ahead anyway but without payment his lawyer declined to defend him.
In fact Hanks from Girvan, has no business interests in Thailand. He has set up a company allegedly in the furniture restoration business but it has no offices and does not trade, and he is on a retirement visa and Goudie has a law firm without any lawyers.
He does however have a series of companies of which he keeps changing address and directors, but they have only existed so far to illegally hold land in Thailand on his behalf.
On Monday in a criminal libel and computer crime act case brought against #BrianGoudie, #David Hanks, and #DrewNoyes, Goudie's lawyer left the court after he was not paid. Goudie had to be represented by the lawyer of Drew Noyes.
Hanks comments:
Hanks living the high life in Koh Samui on a secluded beach away from the crowds. With him is his pregnant Thai girlfriend and offering a carton of orange is a Russian visitor
"An article has been linked which is just beyond belief that anyone could write that way about another human being. This whole episode has been incredibly humiliating, my family are incredibly upset – Google refused to intervene so we have been left with no choice but to file these cases".
Hanks does not say what the article was headed or what was written. But he adds: "Even after this Blogger was sentenced to jail, the harassment has continued relentlessly."
This may be because the author has not been sentenced to jail.
But it is true that his family is upset. When asked by the Scottish Sun newspaper whether she knew about his brothel his sister Margaeer McCullough also from Girvan said she did adding: I did not approve."

A typical Goudie exclusive
The article on Casewatchasia.blogspot is accompanied by a picture of Hanks published without permission from The Age in Melbourne.
The case they say has been set down for September 22nd when it is forecast no directors or founders of Google will bother to turn up.
Brian Goudie was jailed for six years in Australia for cheating a mining company there. Complaints have been lodged with Pattaya Police that he also defrauded three foreigners by banking the cash Pattaya Court had awarded them in damages.
David Hanks is on bail charges in connection with a money lending racket in Pattaya – allegedly charging Russians 60 per cent per month. The case was initiated by Thailand's Department of Investigations.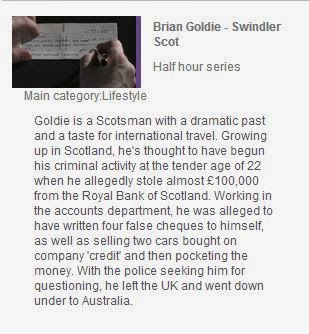 Promotion for 'Brian Goldie – The Swindler Scot
by Makeworld Media
At this site we are puzzled at the claims by Goudie and Hanks.
We hope www.andrew-drummond.com is the site referred to, but here we do not engage in real life stalking, or harassment of children as Goudie also claims.
Brian Goudie was not a former office in the Royal Marines as he has claimed or a British barrister. On the contrary he has a programme to himself in the series 'Serial Swindlers' currently on the world television market.
Goudie and Hanks say they will lodge similar cases in Australia, the UK and the US if 'necessary'..but not for the time being as both are on bail and cannot leave Thailand.
Similarweb.com estimates that CasewatchAsia is the 199,959th most popular website in Thailand.
Andrew Drummond said today: "I thought after 40 years in journalism I had seen it all. The best way for Goudie and Hanks to stop being ridiculed on the net is for them to stop getting arrested by police, and the courts and perhaps attempt to come to terms with what they are."
UK Lords say search engines should not be given the right to delete.