ANDY HALL: 'I FEEL BETRAYED. I HAVE BEEN TOLD I HAVE SAME RIGHTS AS A
PAEDOPHILE'
Plus the perils of Embassy requests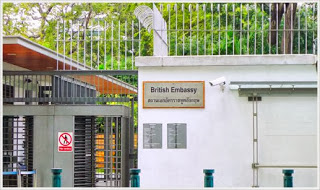 Human Rights Activist Andy Hall said today that we would rather go to jail in Thailand than give in to the pressure of rich Thai companies with cash to throw around.
After appearing at Bangna Police station Bangkok late Saturday to face more charges brought under the Criminal Libel Act and Computer Crime Act he said: "They are applying to the court to issue a warrant of arrest. I am not going to pay bail. They can lock me up first."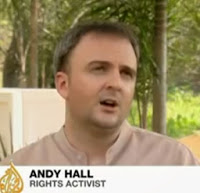 Hall on al jazeera
A furious Hall, who was part of a Finnwatch Team, which made a scathing report on the Natural Fruit Co., owners of pineapple farms and production lines in Prachupa Khiri Kan, also directed part of his wrath on the British Embassy.
"It was the British Embassy who called me up to say they had documents. They told me Bangna Police wanted me to report to them. I asked them what was in the documents. They said they could not tell me.
"Who is the British Embassy working for – Britain or the Royal Thai Police? Are they a Thai police messenger service?"
"The Vice Consul
said the only time I met him I was 'in no different position to an accused
phaedophile and the embassy won't intervene unless I cannot get a fair trial."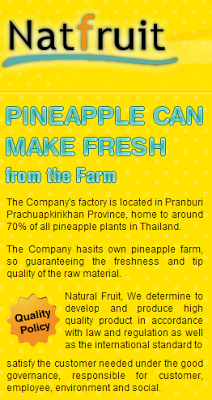 Natural Fruit 'good governance,
responsible for customer,
employee and socal.
Andy Hall, from Spalding, Lincs, who currently spends most of his time in Burma, went along to Bangna Police station, and, as is normally the case, regretted it.
"I spent three hours there. They wanted me to sign a statement which was tantamount to a confession.
"All the while the officer on the case was on the phone to many people.
"The latest charge I believe is connected to the programme on al jazeera."
"As far as I am concerned this was not a private case between two individuals. This was the Government coming down against a Human Rights Activist."
There were several members on the Finnwatch Team but only Andy Hall remained behind in the region.
It appears he was picked on by Natural Fruit because he helped publicise the Finwatch Report which was scathing about Natural Fruit's treatment of its Burmese labour – the majority of its work force.
What the Embassy said below, according to Andy Hall. Mr. Hall says he is raising the question of Embassy support or lack of it with the FCO in London and British MPs.
First he penned this message to a Consular Official and copied it widely through the FCO
"I would like to remind you, as already alerted via email,
that I was almost tricked into signing a false confession on Saturday partly
due to and stemming from my presence at Bangna Police Station that resulted
from your actions/emails and refusing to share information, and the embassy
consular services continue to fail to impress me. Other consular officials I
have spoken to today have expressed surprise at the continuing lack of support
(actually no formal or informal support offered) by consular staff."
Then followed his account of what transpired. The FCO does not comment on consular cases.
Mr. Andy Hall was notified on 27th Sep by the Vice Consul at the British Embassy in Bangkok as follows: 'I wanted to advise you that we received a copy of an official notification from Bang Na police station (Bangkok) regarding "Broadcasting False Statements in the Public Media" charges being brought against you, which were recently reported in the press. I would advise you, as we would for all British Nationals involved in legal proceedings to seek an update from your lawyer in Thailand. They will be able to update and advise you on the status of your case and if there are any potential implications in entering Thailand. Please note that we are unable to provide you with any legal advice on this matter. However, if you do not yet have a lawyer engaged, the British Embassy maintains annually a list of English speaking lawyers and translators/interpreters in Thailand for your information. Please read the notice and information carefully.'

Above the al jazeera documentary
The Embassy consular team responded to requests for further information in a series of emails: 'Permission to send you a copy of the documentation shared by the police to the British Embassy can only be given by the issuing authority, which in this case has not been provided. It is for this reason that I suggested that your lawyer liaise directly with the police so that they can seek clarification of your status… Providing any further information regarding the police notification the Embassy received must be requested directly to the police officer dealing with the matter. The decision to forward a copy of the notification to your lawyer also rests with him.' The Vice Consul continued:'I cannot speculate why the owner of the document sent the British Embassy a copy of the notification. What I can confirm is that we did not request it. I reiterate my advice that your lawyer liaise with the police directly who are in a position to provide you with the information you seek.'

Above the Finnwatch video – at least a Brit Euro-MP was interested


The cases against Andy Hall
(1) Southern Bangkok Criminal Court – computer crimes act (max 5 years imprisonment per count/fine) – pending
(2) Southern Bangkok Criminal Court – defamation (max 2 years imprisonment per count/fine) – pending
(3) Bangna Police Station – defamation (max 2 years imprisonment per count/fine) – pending

(4) Nakhon Pathom Civil Court – defamation (damages claimed US$10 million or Thai Baht 300 million) – pending
——————————————————————————————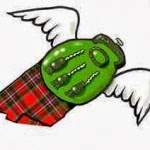 Hall would be on a hiding to nothing if he actually decided to fight the cases, now totalling 3 and for which Natural Fruit are seeking US$10 million compensation. Although the workers spoke to the researchers in confidence and evidently 'truthfully', to identify them would inevitably mean they would lose their jobs and probably worse.


Thus he would be walking into trials against a pre-determined winner.

In Thailand libel can be made a criminal charge. It is not in most western countries. As a result the libel laws are widely abused.
Caution for British citizens: If the British Embassy rings you up and suggests you report to a Thai police station without telling you specifically why – don't go. They do not even ring up British criminals to suggest they turn themselves in. More's the pity. It would be a great service.
What a bummer!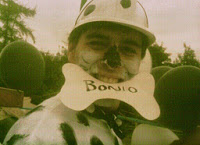 Martin Scripps learned butchery in prison and
expertly carved up his victims after killing them
Many years ago the British Drugs Liaison Officer at the British Embassy asked me to do a favour for his counterpart at the Canadian Embassy.
The Canadian officer was being transferred to Singapore and wanted to impress the local authorities.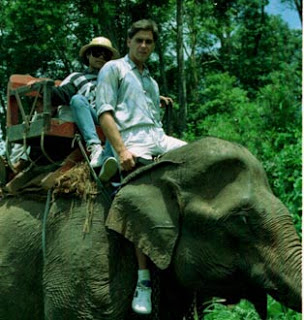 Scripps on an elephant north of Chiang Mai
Now I had just interviewed a serial killer 'John Martin Scripps' in Taneh Merah Prison, Singapore, close by Changi, and he had confessed to me a Singapore murder.
I agreed and met with a couple of Singapore officials at the Canadian Embassy only to find out that they were less interested in the confession than wanting to charge me with deceiving government officers, in gaining access to Scripps.
'Ok here's my statement but lets off to the Amari for a drink', I said, and wrote a quick one out on the way and voiced it into my tape recorder over the first pint which I made them pay.
I had actually gained access with a member of Scripps' family. I did not say who I was as I was not asked.
But I did hand over my passport which at the time clearly stated in a back page that I was an accredited journalist in Thailand.
(The story on Scripps incidentally I did for the News of the World which I had walked out on in 1986 during the Wapping Strike. If you want to read about those days go here.)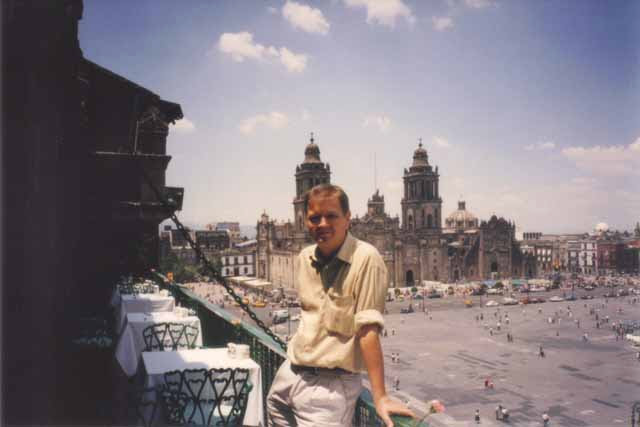 The author in Mexico City – he followed Scripps 'body trail' around the world
The Government newspaper the 'Straits Times' ran with a story about a British journalist being wanted for questioning and after a year or so they forgot about it. I have been to Singapore many times since, but what a bummer!