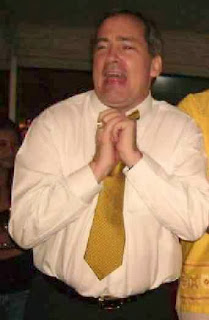 The ranting 'legal firm' boss and former publisher of the
Pattaya Times has now taken to accusing a supporter of this site of being a
drugs dealer.
In an astonishing outburst on Facebook, Drew Noyes, who
together with Wanrapa Boonsu, runs 'One Stop Service Center', formerly PAPPA
Co. Ltd, in Pattaya, and who claims to be the foreign adviser to the Mayor of Pattaya said:
The next time you are at Topps don't run away you big pussy.
You are a punk who talks like a big man.
But you are a punk who sells drugs and
I have witnesses. Get a good lawyer and bail money ready.
I doubt your buddy Drum the bum will post your arrest. He does
not post things that really happen.
Only his fiction. But this will be the real deal and your
Mexican boss will know for sure. Expect a piss test soon.
He adds: "Eat it bitch".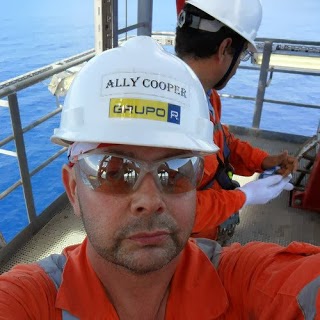 The recipient of the attack Ally Cooper, is a British oil engineer. He does not know where
Topps is, although he might have read on this site or seen on the video 'Men in
Suits and Influential People' that Noyes once claimed he had the rights to sell
space in Topps supermarket, Pattaya Klang".
Cooper, who is not in Thailand, said he was stunned by Noyes
tirade, well not totally, but he was now of the opinion the American, who was exposed by a North Carolina newspaper, before he came to Thailand, he claims to help the Bank of Thailand, has now lost the plot.
"He does not appear very stable.
I do not have a Mexican boss."
Noyes probably jumped to that conclusion when he spotted a picture
of Ally wearing the helmet of a Mexican company Grupo R.
It goes without saying that Ally does not deal drugs.
The helmet was of course not
his personal possession.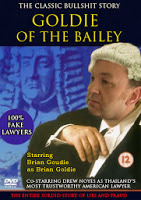 Goudie charicatured
Ally Cooper was previously attacked by bogus lawyer Brian
Goudie on his Case-Watch-Asia website who announced Ally was being sued for libel for
making rude remarks about Hilary Clinton.
Goudie also frequently takes leave of his senses. Readers have now taken to referring to the trio of David Hanks, Drew Noyes, and Goudie, as the 'Three Stooges' (with the relevant photoshopped picture) and Noyes has told Ally ' 'See you in Koh Samui on November 25'. Mr Cooper cannot think why.
Its well past Guy Fawkes day, nowhere near April 1st, and Cooper I guess will be in China or somewhere.
Anyway Goudie said he was taking serious action to defend Hilary.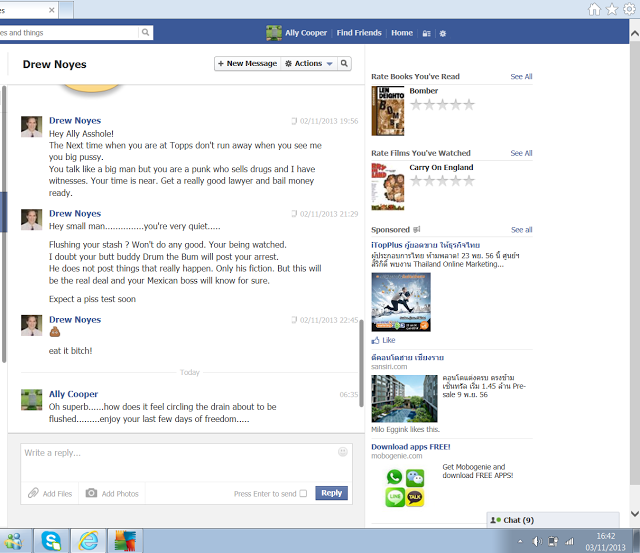 Noyes' latest rant
"The matter was brought to the attention of the Department of
Homeland Security on July 13,
" wrote Goudie, as if the Department does not have
other things to worry about. Cooper says
he is still awaiting the mysterious writ.
The funny thing this is that this is what he says about anonymous bloggers on the internet.

Step forward Brian, Goudie, er, Goldie, and you've got to laugh. This is what he put up today on his Facebook page today!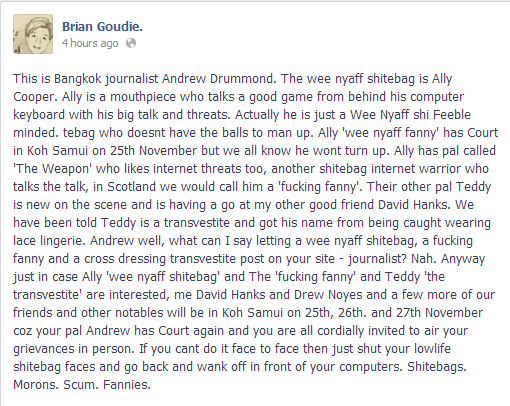 Brian Goudie faces two charges in Pattaya Provincial Court. (1) Posing as a barrister and defrauding US citizen Elizabeth Fanelli Miller, aged 75, out of US$300,000 by pretending he could get her son out of Nong Plalai jail and (2) Posing as a barrister to solicit the business of British Ko Samui resident John Jepson.
Under the name Brian Goldie he was sentenced to six years jail in Australia for fraud. He sought residency but even before the fraud case the Australian Appeals Tribunal turned him down saying he was 'not a of good character'. From the language above I cannot think how he could be mistaken for a Barrister at Law or Scottish Advocate. Then I'm Scots and those expressions were not used in my circles.
Drew Noyes is on trial with Wanrapa Boonsu at Pattaya Provincial Court for the (1) attempted extortion of the Thonglor Clinic, Jomtien, and (2) is also facing a civil brought by Dutchman Theo van der schaaf who alleges Noyes,Wanrapa,and PAPPA Co. Ltd., misappropriated 2.5 million Thai baht
David Hanks, who has now admitted in court to being the previous owner of Masquerades Brothel in Melbourne, is on bail and his passport witheld after an investigation in Pattaya into a business lending money to Russians at the rate of 60 per cent a month.
Andrew Drummond: According to Goudie and Noyes is facing somewhere between six and 76 criminal charges and is going to jail from anything between three years and life. Drummond has so far had eight mendacious cases brought by ' lawyers' Goudie and Noyes dismissed. But both are suing simultaneously over this picture: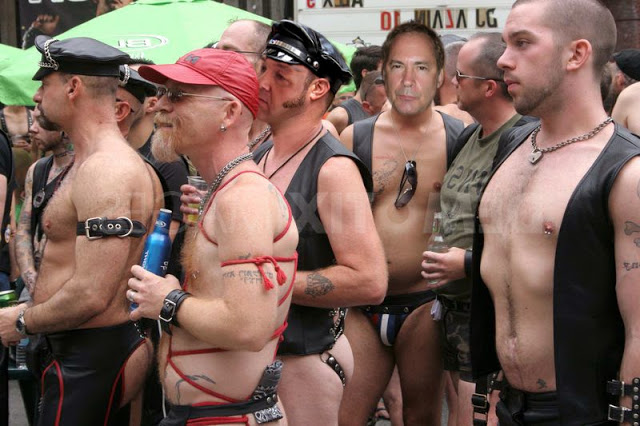 Goudie: 'Drew does my bum look big?' Noyes: 'Do these guys know I'm a real man?'
(I don't know what is special about November 25-27 either. I have no court cases on those dates. I love to see who is friends and notables are. On his site he has got five likes. One is from a former a former U.K. Independence Party candidate, who walked out of elections and his Thai wife and came to Pattaya earlier this year, another is a guy who has one leg tattooed from thigh to foot, and a couple of Thai girls and of course Goudie himself, who is still sending love notes to a girl from 'Misty's' Pattaya. Goudie has pointed out that the daughter I said he deserted is actually only two years old. My mistake I thought he was referring to the daughter he deserted 20 years ago. I have no knowledge as to whether he has deserted this one yet)
Ally Cooper does not work in Thailand nor reside within hundreds of miles of Pattaya. But there will be no doubt a number of people running away from Noyes when they see him in Topps or anywhere for that matter.(
https://www.facebook.com/brian.goudie1
)
Ally I believe however does wind up Mr. Noyes a little as in this earler conversation below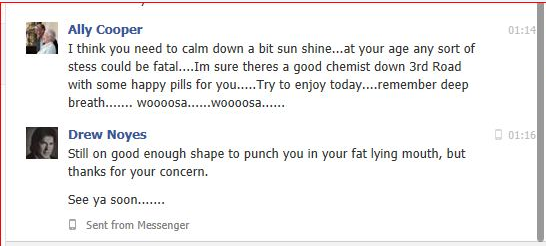 My apologies for yet another story on these guys – but you just can't make it up!