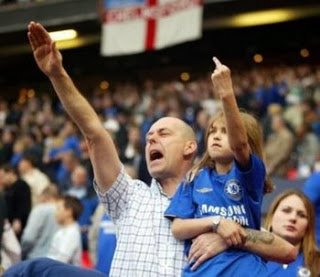 The former leader of the British football hooligan gang the 'Chelsea
Headhunters', Chris 'Chubby' Henderson, who boasted of the kickings and beatings he gave at football matches in Britain in an autobiography, has died in London.
Henderson, former owner of the 'Dogs's Bollocks bar in Pattaya is reported to have died of a seizure on a friend's
sofa last week.
Henderson who was in the skinhead band 'Combat 84' and who
claimed membership of the National Front, appeared to have mellowed in his
racists beliefs in Pattaya and had a number of Thai girlfriends.
But it appears he did not stop taking drugs.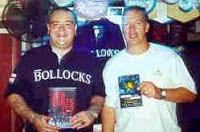 Chubby, left, and Hickie
He was the author of 'Who wants it' and a close friend of
another Chelsea headhunter leader Steve 'Hickie' Hickmott, who owned a bar in the Philippines and authored 'Armed for
the Match'.
The 'Dog's Bollocks' bar in Pattaya had for many years hard core hooligans amongst its clientele, but they declined as did hooliganism, and most customers now appear to be only interested in football.
Both Henderson gained fame when he was acquitted of a variety of charges in a politically led initiative against hooliganism after the police officers involved proved to have been too enthusiastic over 'verballing' or putting words into his mouth.
The Amazon Review of Henderson's 'Armed for the Match' runs as follows.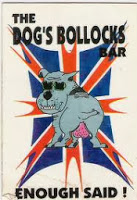 "Chris Henderson formed the Chelsea Headhunters – who later earned a reputation as the most dangerous fans in Britain – as well as the band Combat 84 who, with their punk attitude and uncut, Orwellian lyrics, represented the antithesis of middle-class England.

After the jailing of Stephen 'Hickey' Hickmott, Henderson organised a gang of Chelsea fans who travelled to matches by luxury coach with the aim of causing havoc and destruction.
They were finally arrested and their subsequent trial was meant to be the crowning glory of Thatcher's campaign to vanquish hooliganism.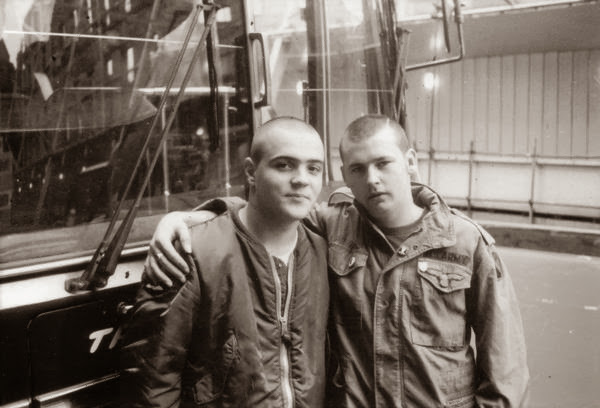 Hendersen with mate as a skinhead
Instead, the dramatic collapse of the case sounded the death knell for all the undercover police operations and mass indiscriminate arrests that had been ordered by the authorities to squash the activities of Henderson and others.
The 'Ministry' continued to pursue Henderson and prior to the 2002 World Cup, he and Hickmott were named as the two leaders planning hooligan and criminal acts for the tournament in South Korea and Japan, which culminated in Henderson being arrested and refused entry to Japan for the England v. Argentina match".
This may have been as a result of a story authored by British journalist Andrew Drummond.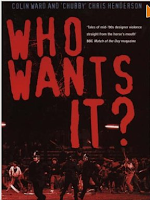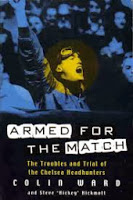 Both of their books glorified in the kickings, stabbings, and general violence of the days when football violence was at a peak in Britain, but both appeared to enjoy the 'camaraderie'.
Henderson was the suspect in a drugs trafficking operation but insisted his import export business on the side was in football kit.
He eventually fell foul of local police and was arrested and
jailed. In prison he suffered severe problems with his feet and he had toes
amputated.
A discussion on Thaivisa.com about Henderson has been closed. Sadly he never put his obvious leadership talents to good use.