But he is gagged on oral sex claim.
How a fictitious poster rose up to bite the Noyes butt
Down at the courts (again) – by the Flying Sporran
September 26 2012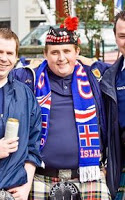 Drew Noyes, the former bogus Pattaya lawyer turned bogus legal expert, and, as founder of the Pattaya Times, Thailand's foremost insult to journalism, is suing again for libel,
Noyes gagged on a threat to sue on an oral sex libel claim.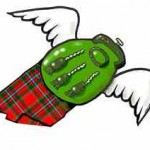 Instead he is citing a picture published by the elusive Icelandic Welsh Scotsman Mangus Evans on his now crashed Facebook page, which was reproduced on this website.
This suit came as a surprise because during recent court hearings, during which he clutched at the bench several times, he also claimed in feigned outrage that this site had printed allegations that his wife provided oral sex services to foreigners and thus I was expecting another suit on this subject – which he had announced as a fact.
Noyes' stooges have so far been superfluous. All the one on the left – David Hanks of Masquerades Brothel, Melbourne, (30 minutes A$110) – has come out with so far is "Watch it mate! The steps are slippery!"

The one on the right Jerry Weinerth, is from, you've guessed it, Hawaii, and bills himself as the 'A New Start Guy'. I guess he is helping Noyes to promote his business because he hangs around the office. As the new start guy's websites are down however, Noyes may be paddling the wrong Hawai malia (canoe).

'New Start Guy' used to be 'A Phone Card Guy' before he became 'A Gift Card Guy'. He used to be in newspaper promotion in the US. He may miss his job. Having witnessed the demise of the press there he may be a glutton for punishment, Could he possibly be responsible for the Pattaya Times promotion (left)? – Still Only 30 baht! (For 12 pages of old news mostly lifted from elsewhere, P.R. handouts and self promotion)
———————————————–
(This oral sex claim of course has never been stated, is totally the work of his imagination, and such allegations would not of course be allowed because we are grown-ups here.*)
The picture referred to shows two of Pattaya's media moguls, Niels Storm Martens Colov, 64, of Pattaya People Media and also Pattaya Foreign Police Volunteer leader, and to the right Drew Walter Noyes, 56, of the Pattaya Times. The titles read 'Been to jail'and 'Going to jail'. That's all harmless enough considering the Noyes predicament. Drew Noyes has not yet been convicted of extortion and is currently on trial.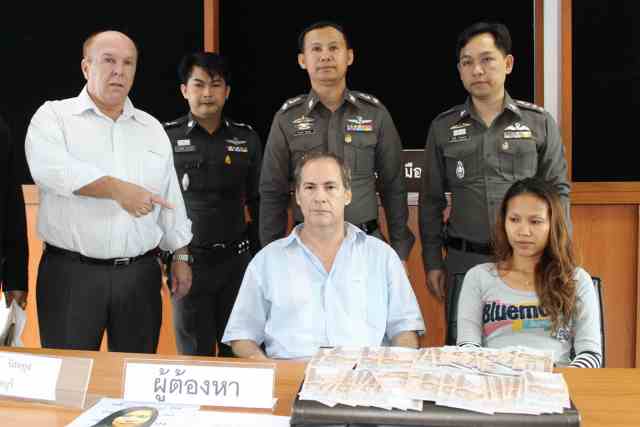 Going to jail? Well that is Mangus speculation of course.
The picture of Colov, who was sentenced to 15 months in prison in Denmark before his arrival in Thailand, for assault, robbery, pimping and vandalism, shows Colov in a garden with Lone Fristrup Jensen, a career Danish criminal and former Pattaya resident, who also worked in Copenhagen's red light area of Vesterbrogade and Istedgade.
The picture of Drew Walter Noyes, who before arriving in Thailand was exposed in the North Carolina newspaper the Wilmington Morning Star as a man of myriad lies, and many other things and who has been fined US$72000 in his absence for bogus share fraud, shows him together with his wife Wanrapa Boonsu, (the self proclaimed author of a lifted AFP article linking oral sex to cancer).
They are pictured at a Royal Thai Police Region 2 press conference, after they were both charged with attempting to extort the Thonglor Clinic, Jomtien, out of 7 million baht. (black Case No: 3921/55)
While no claim has been here that I endorse or support the speculation by Mangus Evans, or the man behind Mangus, that Noyes is going to jail, the following video and statements by a senior Thai police general certainly indicate that that is more than a possibility.

Seems to me fair comment and certainly in the public interest since the news was almost suppressed in Pattaya. Still anything can happen in that fair city.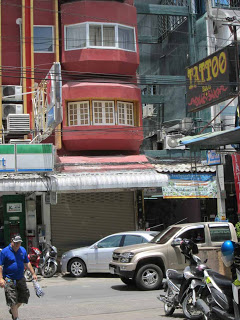 Drew Noyes' bar
Colov, who was recorded saying that he would help Noyes get off the extortion charge, together with Noyes succeeded in getting the 'Mangus Evans' Facebook page removed probably because Mangus Evans does not exist. And Facebook people must be real.
He was in fact created in the imagination of Drew Noyes who published this letter (right) to lead his Ask Drew Noyes advice column on September 1st last year and thus introduced the term 'wanker' to Thai newspaper publishing.
This led to a Drew Noyes rant about a lying journalist who was packing his bags from his 2000 baht a month Bangkok apartment and fleeing Thailand. This was actually Noyes'first attack on this site. The rest is history.
In the current edition of the Pattaya Times, which Noyes says he has resigned from, Noyes gives advice on buying a bar.
Many foreign businessmen use our advisory service and we protect them by insuring they are in compliance with the law amd Revenue Department regulations. Come and see us at our expanded offices on Pattaya's Thepprasit Road, Soi 3, to get started the right way from the beginning. Is how he ends his self promotional blurb.

Noyes is currently trying to set up a bar (pictured below) in Pattayaland 1, Pattaya, which he has been telling regulars in 'The Den' next door will be a high class Hawaiian style massage parlour .
'The girls will be throwing flowers into the street to attract customers' -he said.
In his libel suit Noyes complains that my article caused his business to slump.
He seems to have forgotten that his arrest was also covered by the Thai Rath, Nation, Pattaya Today, and even Pattaya One (for about an hour or so anyway).
It was of course not covered in the 'Pattaya Times', where bad news is reserved for his enemies, or the Pattaya People. The case will be contested.
In the meantime Noyes goes to court again in November unless his messengers can persuade local businessman and children's entertainer Andre Machielsen to withdraw a case against him.
It is alleged he accused 'Father Christmas'of being a drugs trafficker. Seems he cannot conceive he has said anything wrong.
* It has been stated on this site that Drew Noyes held the rights to the internet domain officialblowjob.info not that his wife offered oral sex. Wanrapa Boonsu had indeed presented a news story on oral sex as her own. but we also know that this story was a straight copy from AFP. Thus there is no suggestion she can be quoted as any sort of authority on oral sex.