Thailand caught left footed in 'vendetta' against popular animal rights man
Edwin Wiek, the popular founder of the Wildlife Friends of Thailand, said today that he would go to jail rather than profer bail money in what he says is a vendetta being carried out against him by the Department of National Parks.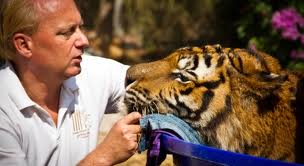 He says he has been charged with illegally rescuing animals – despite the fact that all his animals are legally registered – and he is not going to go quietly. Wiek himself angered the DNP in 2004 when he says he caught a DNP official dumping gibbons and monkeys in a forest by night.
If he does go to jail, he says, he will not keep his silence on a lot of misdeeds carried out by DNP officials.
Privately he has been told by the prosecutor that if he is found not guilty the prosecution will not appeal. He does not want to leave things to chance. His sanctuary in Petchburi was raided earlier this year when DNP officials seized 99 out of over 400 animals cared for.
Here follows the statement issued this week by the Wildlife Friends of Thailand. Only a few minor alterations (italics) have been made for legal reasons.
"If helping animals in need is a crime in Thailand,
I will do the time right away"
On the 26th of September 2012 the prosecutor of Petchaburi province will charge Edwin Wiek and Jansaeng Sangnanork who both work at the Wildlife Friends Foundation Thailand (WFFT) in provincial court for illegal possession of wild animals. This after a raid in February that took place at the wildlife rescue center of the WFFT that has been operating since 2001, rescuing thousands of animals.

The controversial raid by the director-general of the Department of National parks that took 8 working days and mobilized over 100 armed officials on each day sparked outrage on the internet after videos were uploaded by volunteers and staff, showing hired local people and some officials hunting down rescued animals with sticks and metal poles.

Some monkeys almost drowned after being hit and fallen down 6 meters on a concrete pond, while 2 gibbons were killed falling from a 20-meter high tree after being darted. The videos were watched over 150,000 times on YouTube and over 60,000 people worldwide signed an online petition to stop the harassments of several Thai NGO's and asked for the animals to be returned to the rescue center.

While WFFT management was able to proove ownership and registration of all animals at the center within 24 hours after the start of the raid, the DNP refused to look into the evidence as they stated, "the case is not ours any longer, but in the hands of the police".

All documents were send to both DNP and police investigators however police stated that they "do not have knowledge of wild animal legal cases" and "would not investigate any further as it was too complicated".

Police told the WFFT to get in touch with the DNP, who again refused to talk on the issue on orders of their superior.

In the meantime Mr Damrong Pidech, director-general of the DNP spoke on national TV about Edwin Wiek and the WFFT on several unrelated issues and pledged to go after Edwin to the maximum for leaking videos on YouTube of animal abuse by DNP officials. He charged Edwin Wiek with police two months later for being an accomplice in rescuing animals and threatened to sue Edwin for slandering him and his department. The latter has not happened.

By July the case was send to the provincial prosecutors office in Petchaburi but police did not include the documents provided by WFFT in February to the prosecutor's office.

Thamairuak police inspectors found the paperwork "too much and confusing". In total WFFT filed over 400 documents for the 99 "illegally found wild animals", not too much if you consider that this included letters of origin of the animals, a medical file and the registration letters to the DNP for each animal.

As police officers did not know most of the wild animals by species we can understand it might have created some confusion. For this we asked police to call in DNP staff to help out with identification, which was refused by both police and DNP. Police told us to talk to the prosecutor's office later on to seek some kind of "justice".

WFFT again send a letter asking for justice, to the prosecutor this time, asking to look into our evidence and paperwork. The provincial prosecutor never replied to our letters and when he finally allowed a visit by Edwin and Jansaeng to discuss the case on the 6th of September, told both that going through all documents and hearing the witnesses would take him "too much time" further stating that "witnessed live all around the country up to Maehongson province and even down to Surat Thani" and that "it is all to far away to have police question these people and will take too much time for his office"

Just going straight to court would be "the easiest way for him", he was willing to give 3 weeks to arrange for bail.

Jansaeng Sangnanork has never been charged in court for any crimes and is extremely stressed with the injustice that she is facing at the moment, as a Thai citizen she can't believe her government goes after people working for the benefit of the country as if they are hard criminals.

Edwin Wiek has been charged for a similar offence before in 2004 after he was set up by a DNP official dumping wild animals in the middle of the night without paperwork, and was raided a few days after by colleagues of this officer who found these "illegal animals" without proper documents (evidence can be send by email to anyone wishing to see) , Edwin was found guilty as the official denied the allegations, 8 years later we have just received photographic evidence from a volunteer that was present at that time.

On Wednesday the 26th the prosecutor will hand over Edwin and Jansaeng to court. Jansaeng has already been arrested by police and arranged a 200,000 baht bail with the prosecutor's office. Edwin however has until date not been arrested yet, it is believed that he will be arrested on the 26th, two days before the retirement of Damrong Pidech, director-general of the DNP. (deletion)

Edwin will on the 26th of September not settle a bail, and will start doing his prison time right away at Petchaburi provincial prison from this day on.

Edwin was quoted saying "If helping animals in need is a crime in Thailand, I might as well do the time right away" and further added that "we have not received a tiny bit of sympathy from the authorities after 12 years of hard work, it is just one government official covering the other without moral or ethics, using the law to get rid of troublemakers."

If the authorities wish to stop decent citizen from doing good for society they have made their point well this time. Most Thai citizen will think twice before they will try and help society in any way, before they know it doing good becomes a serious crime in Thailand.
Picture: Andrew Chant
Link to Wildlife Friends of Thailand
Good quality video interview here