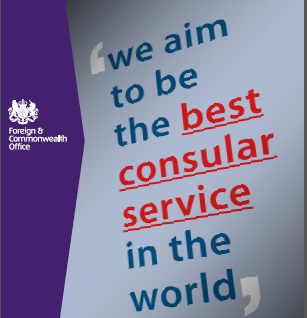 Some unhappy Brits in Thailand have been driven to distraction in attempts to get new passport under the new system.
The Foreign and Commonwealth has sub-contracted passport and visa services to a company operating out of Sukhumvit Soi 13, in what I call 'boiler room' country in Bangkok.
Delays in providing passports back home have already hit the headlines in the UK as many mummies and daddies have found out they can't take their kids to Torremolinos this year for their summer holidays. And some guys can't get to Pattaya.
Below is a letter which I am publishing without comment from one frustrated Brit to Julie Rudge who is the Customer Contact Office Operations for the Passport Office in Swyddog Cyswllt Cwsmeriaid,Gweithrediadau.
Yes that sounds like a good guise – who is ever going to find her!
On no! its not her address its her title. So I am guessing the customer must be Welsh. If he were to be Scottish he would have had her title in Gaelic right? No, the Passport Office is in Newport, so we all have to get Welsh with our correspondence.
Dear Julie Rudge,
Thank you for your personal reply of July 11 to my Freedom of Information
Act request having informed me previously my Thailand UK passport policy
concerns had been passed on to the Complaints Department for response which
never responded.
Mr Paul Pugh's, CEO HMPO, even busier Policy Complaints address never has even acknowledged my formal complaint sinceMay 6th – perhaps omitting that email address from the website might be anidea as I notice I can't find now my, teased, Ministerial referenceonline to a "gold plated passport service for overseas persons". I understand; busy times.
I found your official explanation (July 11) bland and totally evasive –
however I can recognise use of a standard near automated reply. Your lazy
defence of introducing a grossly inconvenient new procedure four months ago
rested on long existing Thai law, on need for foreigners to retain
passport I.D, which predates my 24 years in the North of Thailand during
which years we have have had an Embassy and consulates to turn to
satisfactorily.
I have two friends in this city of Chiang Mai who applied easily last year
and February this year via the Hong Kong courier route for passport
renewal which necessitated their only travelling to nearest post office.
I phoned them yesterday to enquire about their old retained passports:
Answers: "Passed use by date and locked in my safe". Obviously not
satisfactory for security and ill conceived policy procedure; why not
inform every applicant to apply by courier post with blah blah must be
correct docs and inform them that there received new passport by courier
post to their home w*ill remain invalid until they hand over their old
passport for clipping* at nearest consular office or embassy or Visa
Application Centre?
Or pick up new passport at all of these places.
Save a lot of carbon footprints, spreads the admin load.. The FCO and HMPO
are allegedly in partnership, I have seen Government sites boast?
In this computerised age, tapping in a number and a couple of clicks from
such Gov secure places should achieve confirmation of safe transfer
passport to correct recipient and validate it? (My UK credit cards do
something similar by phone)
Also, having had to turn down a trip to Bhutan this August I fail to to
understand why the passport I retain, expiry date end of this December,
remains useless to me for long time because I have applied for a
replacement – utter madness. I'm no expert but there must be a better
way than the current fiasco.
You failed to answer why and how hundreds of British subjects, many
elderly and in poor health, since March, 2014, can make journeys
totalling around 3,000 kilometres to finally renew a passport.
I have friends around the corner here aged 80s and 90s! I wonder how your
Permanent Secretary would feel if his/her grandparents were retired out
here and collapsed because of tiring painful unnecessary HMPO imposed treks?
I am half way – I hope – through the renewal procedure myself (June 18)
and by the time I must return to Bangkok (my application last month, my
first reluctant visit to Bangkok for 7 years!) in X weeks time to pick up
my new passport; total inclusive cost of document will be at least 350
pounds with travel and accommodation.
You ignored answering my enquiry about incredible non utilisation of
excellent British Consul Office – ten minutes drive from my desktop here.
Your website claims are a nonsense for thousands of British citizens far
from Bangkok in the Kingdom of Thailand:- I quote adding parenthisis
reality.

– customer service – we are proud of the service we provide to customers
and will deliver a modern and affordable service that meets the needs of
today's society.
– (proud of forcing hundreds of elderly and disabled and other British
citizens in this society to do a multi marathon "Johnny Walker" – keep
walking!
– operational focus – we will create a more efficient and connected
organisation with operational excellence at its core.
– (beyond the core…we don't care, we're making lottsa money).
– cost – we will provide value for fee-payers and reduce our burden on
the taxpayer
– (not this UK taxpayer you haven't, 350 quid remember,…austerity not
yours but for thousands of us; many on frozen pensions)

There is nothing personal sourly intended in this my reply to you Julie
Rudge.
I understand your role very well and you have my ancient 'been
there' sympathy.
Kindly convey my complete dissatisfaction, near anger, – and I know I speak for many – on this appalling policy procedure to your Permanent Secretary or, at least, to the Assistant Secretary (I use old Civil Service titles) presumably responsible for HMPO policy for S.E.Asia.
I will not hold my breath for a more substantive answer from your office, and indication that a thoughtful brain for duty and caring service does exist in HMPO. ..whilst still counting the pennies for Switzerland.
Thailand's UK passport policy must be altered swiftly to be more customer
service orientated for British citizens to whom you have a duty instead of
focused on profits for a Globally foreign owned subcontractor.
Where is the national security interest and "protection" for British persons most
valuable document whilst processed through the hands of allegedly
overworked and not being paid for all their overtime foreigners (I know,
been there) in one single tiny cubicle – smaller than my toilet – with
that impressive title: "Her Majesty's Passport Office", roughly printed on
a A4 white sheet of paper stuck on the cubicle door within the vast hall at
the UK Visa Application Centre in Bangkok. Disgraceful.
I am passing on this and other correspondence to interested parties. This
Thailand passport problem will not conveniently 'go away'. Inevitably,
bad and sad stories are going to emerge which do not reflect well on HMG's
overseas practices. You better pass this one on also to your Press
Office. That is an area I do know about.
Sincerely,
George Munro
Chiang Mai, Thailand.






———- Forwarded message ———-
From: Overseas Newport CCC <overseasNewportCCC@hmpo.gsi.gov.uk>
Date: Fri, Jul 11, 2014 at 7:21 PM
Subject: RE: Our Ref: (redaacted) – RE: HMPO Passport enquiries JR/6/14
To: George Munro <email redacted>
Hello
Thank you for your email of 9 June 2014 about the process for renewing a
United Kingdom passport if you are resident in Thailand.
We note that you are unhappy at having to attend the Visa Application
Centre in Bangkok to submit your application in person and then return to
collect the new passport.
We are sure you are aware that there is a legal requirement for all UK
citizens in Thailand to retain their passport on their person at all times.
In order to consider an application to renew a UK passport Her Majesty's
Passport Office (HM Passport Office) require sight of the original passport
and any other supporting documents that may be required.
In light of the challenges presented by local Thai law to achieve this
applicants for a UK Passport in Thailand are required to travel in person
to the office of a HM Passport Office representative, in the case of
Thailand our representative is the UK Visa Application Centre in Bangkok,
for them to view the original document(s) and verify photocopies as being
true replicas as the originals. This allows the customer to continue to
meet the legal requirement of keeping their passport with them at all times
whilst their application is being processed.
In order to guarantee public protection and so that the passport once
replaced cannot be reused for illegal purposes should it be intercepted by
a third party it is important that the replaced passport is physically
cancelled. To ensure this takes place, the new passport is returned to the
UK Visa Application Centre in Bangkok where the customer must present their
"old" passport for it to be physically cancelled at which time they will
then be presented with their new passport.
HM Passport Office has a duty to protect the British public both in the UK
and Overseas. By requesting that customers send their original passport
either within or outside the country we would be encouraging an individual
to act outside of official guidance which has been driven by in country
legislation.
Thank you for contacting us in this matter.
*Julie Rudge*Customer Contact Officer
Operations
Swyddog Cyswllt Cwsmeriaid
Gweithrediadau
*Her Majesty's Passport Office*
Nexus House l Mission Court l Newport l NP20 2DW
*Swyddfa Basbort Ei Mawrhydi*
Tŷ Nexus l Mission Court l Casnewydd l NP20 2DW
*T:*+44 (0)845 601 5403 Text Relay Prefix 18001 Rhagddodiad Text Relay
18001