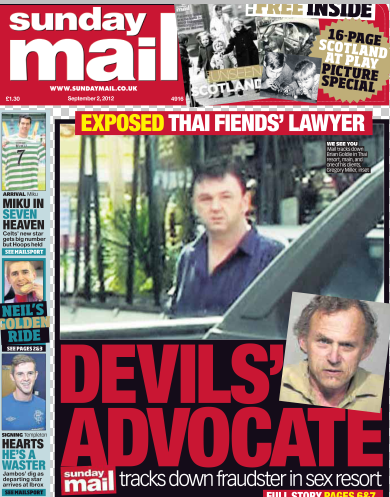 In a bout of incandescent age fake lawyer Brian Goudie, aka Goldie, has gone on the net once again to describe a former girlfriend and managing director of a company he controlled as a 'prostitute'.


In a blog on his casewatchasia.blogspot website he also calls her a criminal convicted of running an entertainment venue (HIS) that offered sexual services without a licence – and he says police are investigating her for prostitution.
There are certain flaws to his latest rant.
(1) The establishment she ran was none other than his 'Jaggie Thistle' pub in the Jomtien Plaza on the eastern seaboard.
(2) He had not paid the licenses but had put her in as the Managing Director of the owning company 'Jimmy International' which he had acquired from Ulster drugs trafficker illegally by getting him to sign a power of attorney on his deathbed.
(3) There is no such thing as a licence in Thailand to sell sexual services.
(4) Brian Goudie is under investigation for posting video and pornographic stills of this woman and 'his member' on the internet. He has admitted the material is his but claims it was stolen from his 'dropbox'. The admission has been removed from the net. But all Goudie's posts are copied.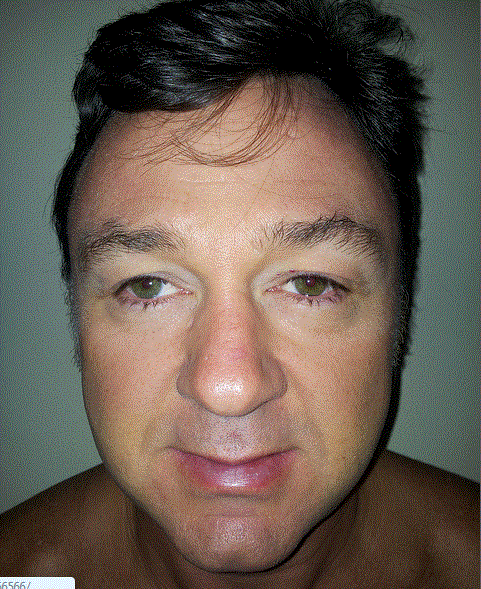 But perhaps most important of all is that people who read his casewatchasia.blogspot site do not know that the woman in question is in legal dispute with Goudie, from Falkirk, Scotland.
At the moment he is trying to pay off Barbara Fanelli Miller the 7.9 million baht he allegedly cheated from her while posing as a British barrister to get her son Greg Miller off charges of child sexual abuse charges. He needs her signature to be able to offer the company Jimmy International to Miller's lawyers. She, not surprisingly has refused.
Mrs. Miller's lawyers have now asked for bail to be withdrawn.
Greg Miller was convicted and jailed for 38 years but now a mistrial has been declared.
Goudie's story is below. I have redacted the woman's name.
By Caseywatcher
A woman described by journalist Andrew Drummond as 'a partner in a real estate firm' was recently convicted in Pattaya Provincial Court of illegally opening an 'entertainment establishment' that offered sexual services for money. (She is now the MD of a real estate business)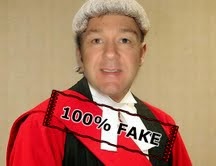 This picture is phot-shopped – by The Weapon
(Name redacted) has allegedly (not allegedly. He was there at the time) made a report to police that Brian Goudie called her a 'whore' last month, and investigating officers have now been informed (by Goudie) that (name redacted) has a criminal conviction for illegally running an 'entertainment venue' that offered 'sexual services' without a licence.
Police also were informed (name redacted) is currently on a suspended sentence for the offences.




(Name redacted) was convicted on 3rd September 2013 of running an illegal 'entertainment' venue offering 'sexual services for reward' contrary to law.



In black case number 9136/2556 red case number 9194/2556 (Name redacted) was convicted and jailed for month (suspended for one year) and fined THB 3,000 (USD100).(Red cases are appeal cases. This is not over)

Police have also apparently been asked to investigate whether or not (name redacted) previously worked as a prostitute in the Bullring Bar in Pattaya's infamous 'short time' area of Soi 6 (Soi Yodsak an old stomping ground of Mr. Goudie)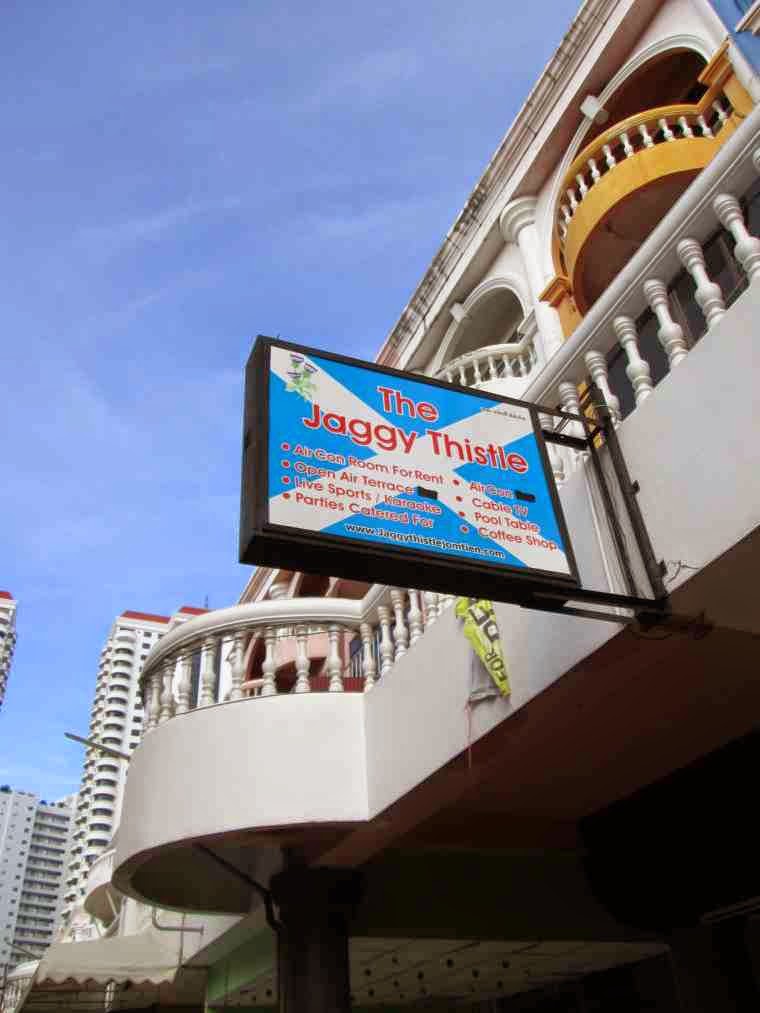 Background: Brian Goudie left Scotland in the early 90s. Shortly afterwards Scottish police filed an arrest warrant for him and two others, who fled with him to Australia, on charges of fraud on the Royal Bank of Scotland and a car showroom through a company called Oil Tech Pumps which was set up for the purpose and never actually traded.
In Australia Goudie (under the name Goldie) was convicted and jailed for six years for stealing from his employers (some AS400,000) a West Australia Mining company. Scottish Police decided it was too costly to go for extradition and abandoned the case there. After doing his time he later surfaced in Thailand pretending to be a former officer in the Royal Marines in Britain and also a British barrister. His activities were exposed by Andrew Drummond in the Scottish Sunday Mail. Goudie carries a letter from the Procurator Fiscal of Scotland. That letter states that the Scottish file has now been closed.