YOUR STARTER FOR TEN – NO CONFERRING
How do you get past Thai Immigration controls?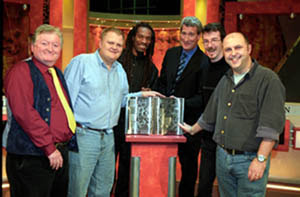 Thor Halland second from left. the BBC's Jeremy Paxman third in from right
Thor Halland a member of the Birkbeck College, London, team which won BBC TV's University Challenge in 2003, has been released from jail in Thailand and will shortly make it home after being set up on what appear to be totally trumped up charges by Drew Walter Noyes, working with Pattaya's infamous Immigration Police.

Alarms bell rang on this story as soon as Immigration Police, not the normal police, were identified as the prosecutors; the victim was identified as Frenchman Laurent Thery or Thierry and Drew Walter Noyes was named as the facilitator.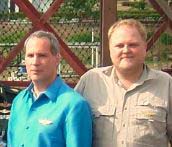 Noyes with Halland when they
got their royal decorations
Halland, a former pupil of Stowe College and retired British army officer, had arrived in Thailand 15 years ago and turned his hand to writing.
He was formerly a close friend of Drew Noyes at the Pattaya City Expats Club, but they fell out when Noyes started to sell National Housing Authority condos in Keha Condo above his One-Stop-Services offices to club members who found they were being ripped off massively.
Halland along with 13 others including a schoolboy also received a Queen Sirikit Medal after spending 10,000 baht for a day out at the 21st Queens Infantry Division but unlike Noyes he did not put on his CV that he was royally decorated.
Noyes threatened to sue him as the author of a blog which described Noyes as a total phony and sociopath. Halland paid out of court damages of 1 Thai baht.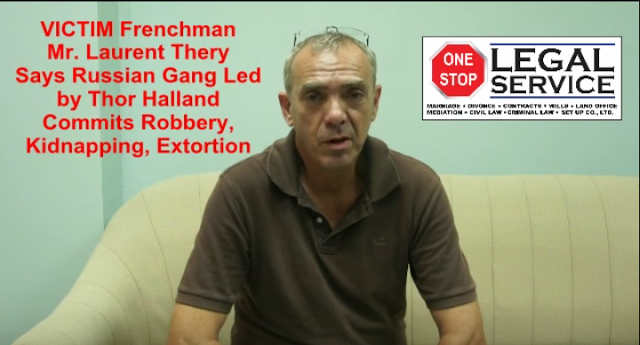 Monsieur Laurent appeared on Noyes' One-Stop YouTube where the ex Stowe college pupil is accused of leading
the Russian mafia in Pattaya.
Frenchman Laurent Thery, whom I understand is known to les gendarmes was the former partner of Ivan Schiffer who was employed by Noyes at his Pattaya Times newspaper – until he warned an American not to invest in any Noyes ventures.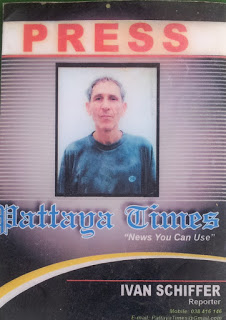 Noyes then reported Schiffer to Pattaya Immigration for overstaying his visa. Schiffer went to the Cambodian border believing he could pay the maximum fine of 20,000 Thai baht only to find that it had be pre-arranged that this would not be accepted.
He was sent to Bangkok and banged up in the Suan Phlu Immigration centre before being deported to Brazil.
Thery by convenient default inherited Schiffer's aromatic oil business (Schiffer is a chemist by trade). Schiffer has now returned to Thailand and effectively put him out of business by producing better quality products but unable to get his proeprty back.
It is not hard to see the conspiracy. Halland is described as working with the Russian mafia and a report in Pattaya One at the time of his arrest says he was known as 'Dimitri'.
"Poppycock," says Halland. Thery knew exactly whom I was and I was trying to get back from me what he owed me. Halland does not cut the figure of a ruthless kidnapper and extortionist, for which of course Drew Noyes is appealing a two year jail sentence.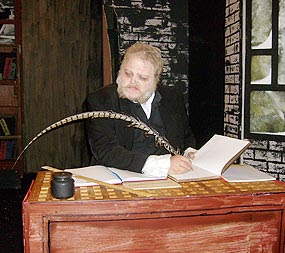 Halland acting as Scrooge
Halland is one of the more eloquent and learned members of Pattaya expat society, if a little eccentric. He is also an amateur actor.
He seems to have had the last laugh at the Thai Immigration department which last week detained academic Wyn Ellis, who works for the United Nations Environmental Agency.
Halland has now left Thailand and is on his way back to London. I think he's buying me a beer in rural Oxfordshire or maybe with the Chipping Norton set. I expect him to contact a British Sunday newspaper.
Last week outgoing Thai Police Chief Somyot Pumpanmuang gave the Immigration chief a shaking down for the corrupt practices of his agency. As he is outgoing let's assume plus ca change.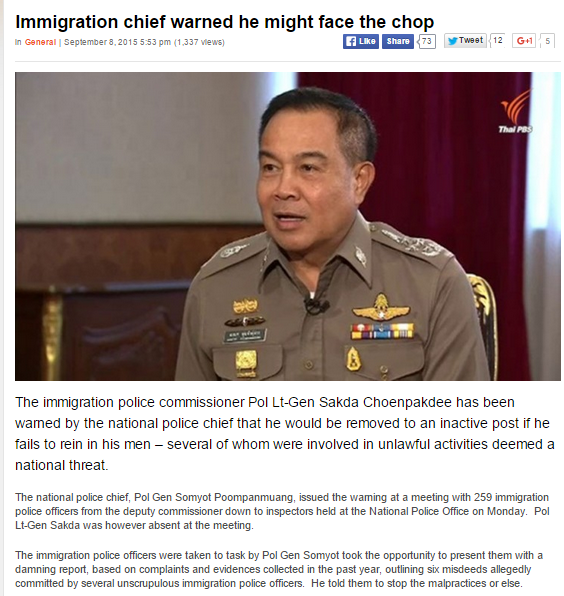 From Thai PBS English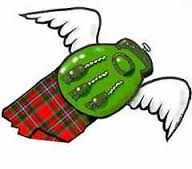 A Flying Sporran Report
Links
Cuties of University Challenge (Thor never made it)
Or you may prefer this version by fake lawyer Brian Goudie
Below – University Challenge – the Young Ones version