SIXTY DAY COUNT DOWN TO THAI JUSTICE FOR FAKE PATTAYA LAWYERS IN PATTAYA
An arrest warrant has been issued for Brian Goudie who set up home in Thailand posing as a barrister and former officer in the Royal Marines, to scam money out of tourists and expats.


The warrant was issued on the same day that Brian Goudie failed to turn up at Pattaya Court to answer 'revenge porn' and defamation cases issued by his former assistant and girlfriend Boonrod Baikratok.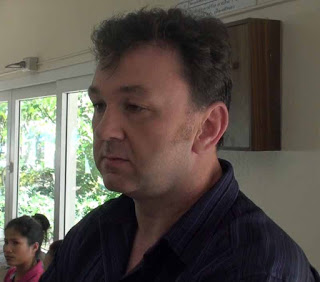 This latest warrant was in connection with a criminal fraud case. The case was brought against Goudie and his pseudo legal company Alba Laws by two Britons and a German national, who claim they were defrauded over a housing deal. Fake Pattaya lawyer Goudie, decided to pocket their court award for himself.
Later this month on September 22nd Goudie is due to face judgment on a case brought by American Barbara Fanelli Miller, on a charge of posing as a barrister and former Royal Marines officer to defraud her out of 7.8 million Thai baht – although a closer figure say lawyers is US$300,000.
The fake Pattaya lawyer, Goudie, accepted a case promising to get bail for her son who had a heart condition and had been arrested on child abuse charges. However her son died in custody of heart failure while awaiting trial.
Also facing fraud charges brought by the Brits, German and Barbara Miller is Sukanya Worakham. Sukanya is his former Thai assistant at Alba Laws. No warrant was issued for her arrest. She appointed a lawyer to ask for an adjournment saying she would turn up at the next hearing.
On a previous occasion she had paid Goudie's bail. It appears they have now parted company in a joint defence, a sensible move by Sukanya.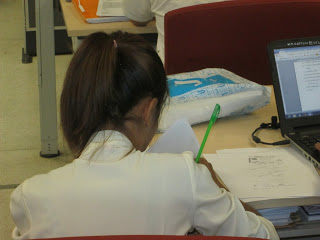 Ms Baikratok filing a complaint at the Technical Crime
Suppression Division.
If Goudie turns up for the verdict on the Miller case and has not surrendered beforehand he will be arrested on his fraud case with the Brits and German – which will resume on October 19th.
Meanwhile he will also have to turn up in court on November 9th to answer to the 'revenge porn' and defamation charges brought by Ms. Baikratok.
Goudie's colleague, Drew Walter Noyes, 60, former publisher of the Pattaya Times newspaper, who like Goudie has tried to have this website closed, faces judgment in his extortion case on October 22nd.
Currently Goudie claims to be running 'The Key' pub and guest house in the Jomtien Complex, Pattaya. The pub is advertised on Facebook as being open Friday to Sunday.
Drew Walter Noyes is still in the United States. He departed on August 4th and was granted an extension of leave until October 14 to 'settle his children in school'. A week before his departure his eldest daughter ran away to Bangkok where she is staying with friends.
Arrests warrants have been issued before for Goudie, but he has previously surrendered to them and paid bail. He did however spend a weekend in Nong Plalai prison.
COMMENT:
Reference is made in the headline to the torn net of Thai justice. The fact is that Goudie, and Noyes have been able to make a mockery out of the justice system – because the justice system appears to have been set up with that in store