Scottish fraudster Brian Goudie was released from Nong Plalai jail in Thailand over the weekend after a plea by his lawyer that he needed to look after his baby daughter….. and for a stash of cash.
After being released on bail, having spent two weeks of a three year jail sentence for defrauding an American woman out of some 7.8 million Thai baht he said: "It was easy. It was just money."


He added, perhaps gleefully, that his name was not on any of the money.
NOW IT'S MY TURN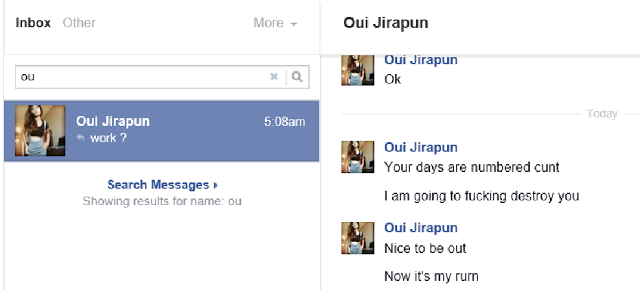 And then Goudie, who was reported to have had some 'facial scratches and bruising' announced that he was going to wage war against his enemies.
———————————
'I WILL LAUGH WHEN MY RUSSIAN PALS GANG RAPE YOUR WIFE AND CHILDREN IN FRONT OF YOU'

The threats included calling in Goudie's 'Russian friends' to rape and murder the wife of oil worker Alastair Cooper, who has taken civil and criminal suits out against him.



SCREAM FOR MUMMY WHEN HE RAPES YOUR WIFE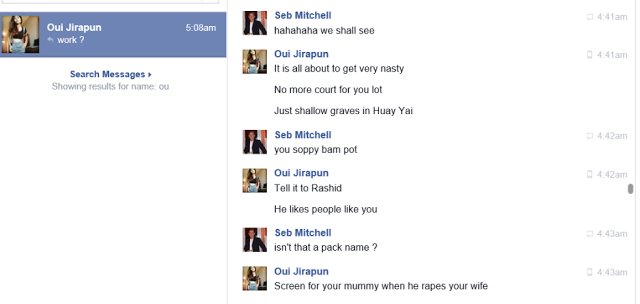 He also threatens a visit from Walter 'Wacky' Douglas, a Scottish underground figure widely connected with the international drugs trade, who was deported 'voluntarily' from Thailand after being exposed on this website, but it is not clear who 'Wacky' is going to visit.
Goudie was 'Wacky's; legal advisor for a while on Koh Samui where Douglas ran 'Dreamers' night club.
'IT'S EASY. IT'S CALLED MONEY'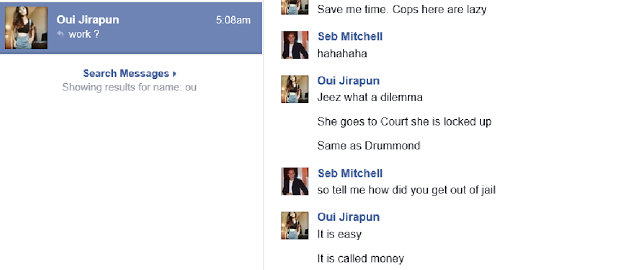 Goudie, 59, from Falkirk, who is appealing his jail sentence did not disclose how much he paid to get released. But in prison he boasted that as soon as he did he would leave the country.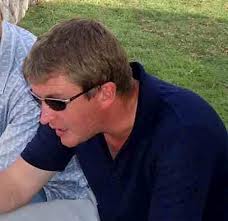 Alan McDonald
He had been working recently with Alan McDonald, the Scottish property fraudster from Hua Hin, who now has a girlfriend in Thailand's Immigration Office across the Gulf of Thailand from Pattaya.
McDonald is the subject of numerous court cases brought by cheated house-buyers and is being actively sought.
Goudie made his threats on the Facebook site of Oui Jirapun his latest Thai girlfriend, aged 19.
The recipient was a poster called Seb Mitchell, who from reading the posts Goudie believes is Mr. Cooper.
———————————–
'MY RUSSIAN MATE IS GOOD WITH A CHAINSAW'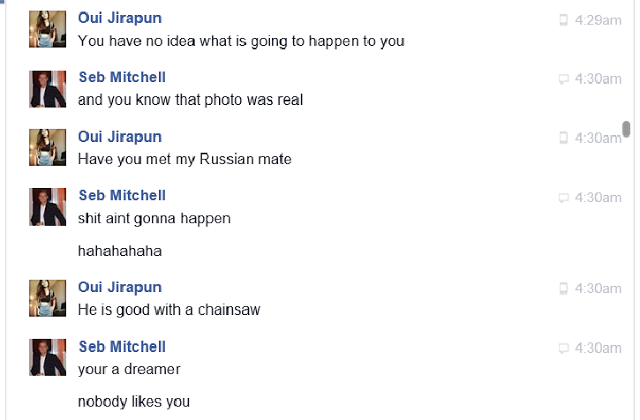 —————————————–
They came fast and furiously shortly after he claimed he had had a few post release beers with his friend David Hanks, 66, from Girvan, but also an Australian passport holder and former owner of Masquerades Brothel in Keysborough, Victoria.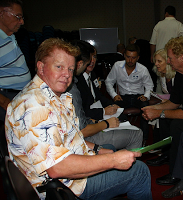 David Hanks
Goudie boasts that he will win all his cases. He is due in court again this month in Bangkok in a case brought by Ally Cooper,
Next month he faces a series of charges including the Thai equivalent of 'revenge porn' being brought by an ex-girlfriend and former assistant Boonrod Baikratok – and will have to pay bail again if he stays.
He is also charged with defrauding two Brits and a German in a property deal.
The cases of Goudie and his friend Drew Walter Noyes provide clear examples of the dysfunctional Thai justice system.
Goudie, who was born Brian Gerald James Goldie in Falkirk in October 1967, fled Scotland in the 90's after which a warrant was issued for his arrest (now withdrawn) for a fraud on the Royal Bank of Scotland.
————————————
'WACKY HAS STILL TO CATCH UP WITH YOU'

————————————-
In Australia he fought immigration authorities for years after marrying an Australian woman and using a loophole in the immigration law by taking out a case against her after their divorce saying he was a 'battered husband'.
———————————–
'I PAY OTHERS TO DO MY WET WORK'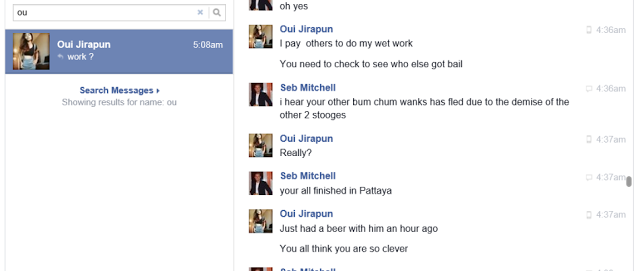 *Wetwork is a euphemism for murder or assassination, alluding to spilling blood. The expression "wet work", as well as the similar "wet job", "wetaffair", or "wet operation", are all calques of the euphemism used by the KGB for such activities, mokroye delo (wet dealings). (Wikipedia)
——————————-
He was described by Deputy Judge S.A. Forgie of the Australian Administrative Appeals Tribunal as a person 'not of good character'.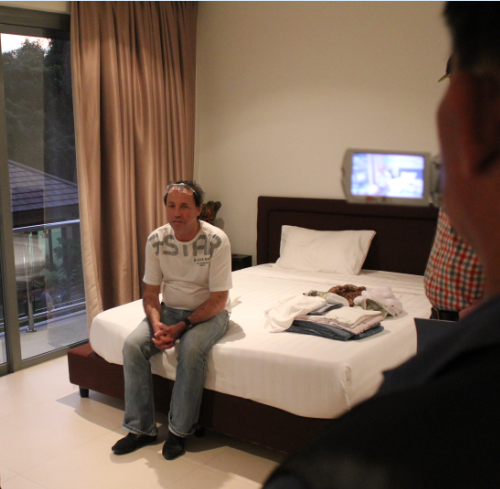 The dreaded Walter Douglas sits on his bed in Samui before voluntarily returning to UK on false passport charges
During this long battle to stay in Australia he was jailed for six years for stealing some AU$400,000 from a Perth Mining Company. He eventually had to leave – turning up in Thailand as a 'lawyer'.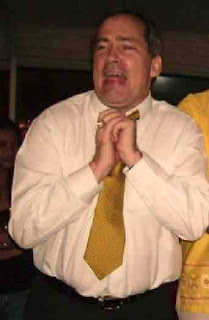 Noyes
Conman Drew Walter Noyes is due to surrender to bail on Thursday while he appeals his two year sentence for extortion.
Noyes too arrived in Thailand and claimed to be a lawyer. Then he started up first PAPPA and latterly One-Stop-Service-Center in Pattaya.
He was jailed for attempting to extort 7 million baht out of the Thonglor Clinic in Jomtien – and police pounced when he accepted the cash.
He had threatened the Thonglor Clinic with a raid by a rogue police 'consumer affairs' unit and bad publicity in his newspaper.
COMMENT: There go the Thai courts again – after years and years of defrauding foreigners in Thailand the collective Thai justice system still does not get it. This is actually getting quite funny and exciting. Thai justice just prefers the money. Do I think Goudie will hop it? Probably not. He has nowhere to go. He has made promises to people (which he will not keep ) but he sees himself as a legal expert. Its the game he has played already for ten years in Australia – until he finally lost – and Thailand has been a doddle, if not a costly one, for him. Seems he has spent most of his ill gotten gains and now is relying on others with a lot to lose. Of course his last spell in Nong Plalai will have opened his eyes to a few things he won't want to see again. The threats of course are meaningless unless the person threatened makes a complaint – and Seb identifies himself – which if I were in his position would not bother to do if I had to rely on Pattaya police for protection. All in all clowns and crooks in control of a justice and penal system in which so many people die.