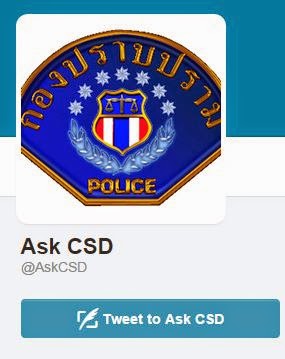 OH NO! – THAI POLICE RETHINK PLAN TO ASK PEOPLE TO REPORT CRIME ONLINE.


AMERICAN 'BLACKMAILER'
RAN CRIME SUPPRESSION AND CRIME REPORTING SITE FROM 'LAW OFFICE' IN SIN CITY!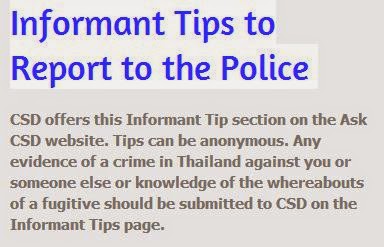 A joint venture between Thai Police and an American businessmen to catch foreign criminals has had to be abandoned after the American was found guilty of blackmail and extortion.


The website set up by Drew Walter Noyes, 59, with an advice column answered by an officer of Thailand's Crime Suppression Division encouraged the public to report crimes to the website.
Thai Police officers however did not know that Noyes, from Knoxville, Tennessee, had been exposed by the Morning Star in Wilmington, North Carolina, for dodgy share and property dealing and even sexual harassment.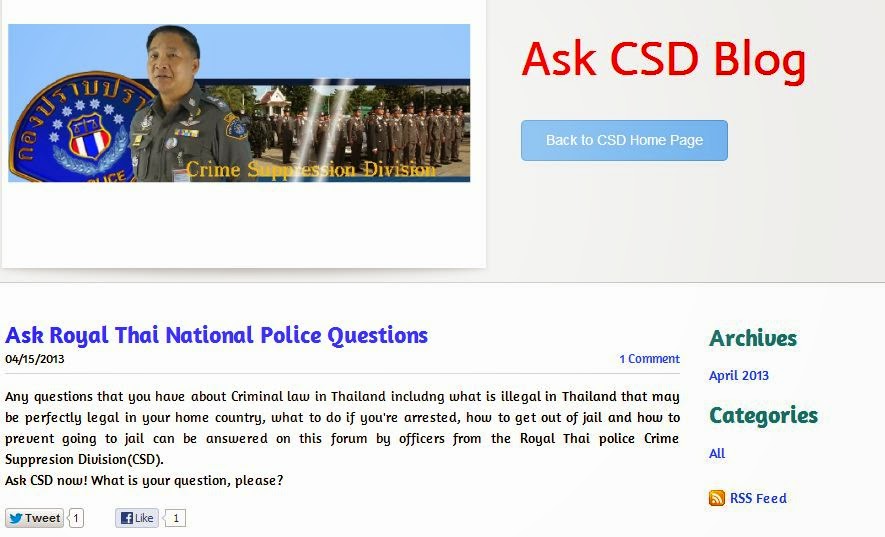 And nor did they know that he was on trial in the resort city of Pattaya where he ran a newspaper called 'The Pattaya Times'.
But last week Drew Noyes and his 'common law wife' Wanrapa Boonsu were jailed for two years for extortion.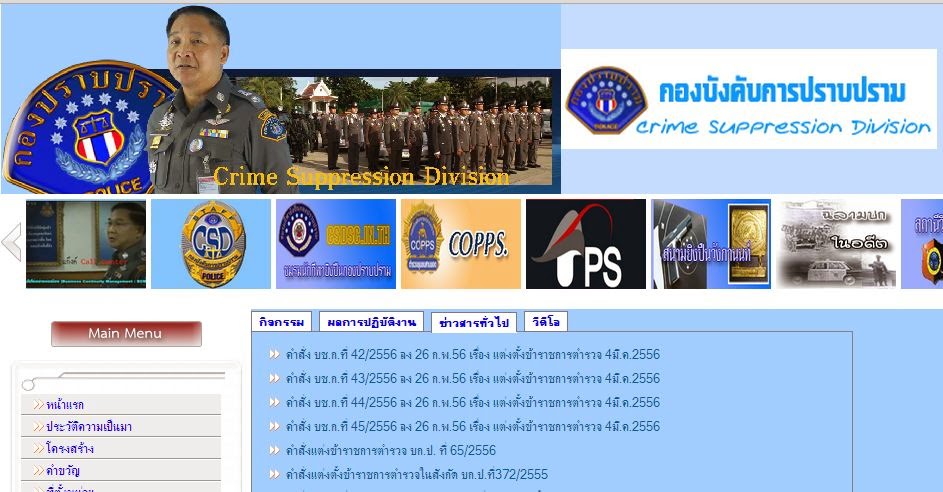 Design copied from real CSD website
It is alleged that they threatened Michael Goulet, the Australian joint owner of the clinic, that unless he handed over 7 million baht £134,000 (seven million Thai baht) the Thonglor Forever Young Clinic would be raided by CSD Police and the clinic would receive unfortunate publicity in the Pattaya Times after illegal substances were found.
Police set up a sting operation after Mike Goulet complained and filled a briefcase with 100 x 1000 baht notes. Noyes, Wanrapa and side-kick David Hanks were waiting in the restaurant when Goulet arrived with his downpayment – and then police pounced.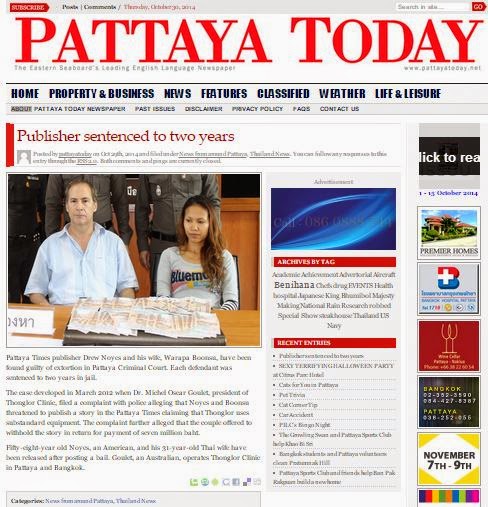 Noyes had claimed in his defence that it was an advance on advertising.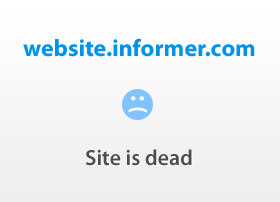 While on bail for extortion Noyes ran a number of stories in the Pattaya Times attacking the clinic.
The site has now been taken down. It is believed on the instructions of the CSD.
The owner of the website was the 'One Stop Service Center Co.Ltd' owned by Noyes and Boonsu and the site was published under 'askthailandpolice' and 'askcsd.weebly' as well as having Facebook and Twitter accounts.
It is not thought however that anyone actually reported any crime to the site which was an obvious plug for Noyes' and Boonsu's private business offering legal services to foreigners.
Noyes falsely claimed to be an a lawyer which he never was – in fact the Wilmington Star reported that he was pursued by lawyers with a list of unflattering accusations.

He arrived in Thailand claiming he had been invited by Royal Proclamation to help the country out of the economic crisis of the late 90's and offered his services free to the Bank of Thailand. In fact he opened beer bars, but soon discovered that offering legal services to foreigners in trouble was more lucrative.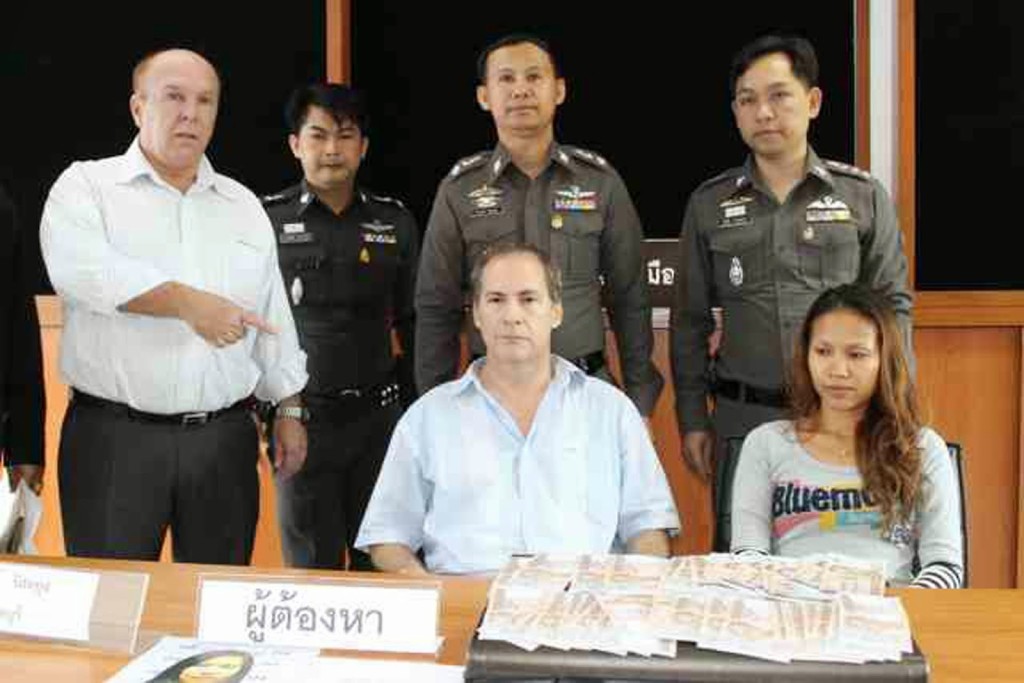 Noyes and Boonsu are under arrest – 'But wait till I call the CSD!'
Noyes and Wanrapa Boonsu are appealing the conviction and have been bailed in the sum of 300,000 and 250,000 baht.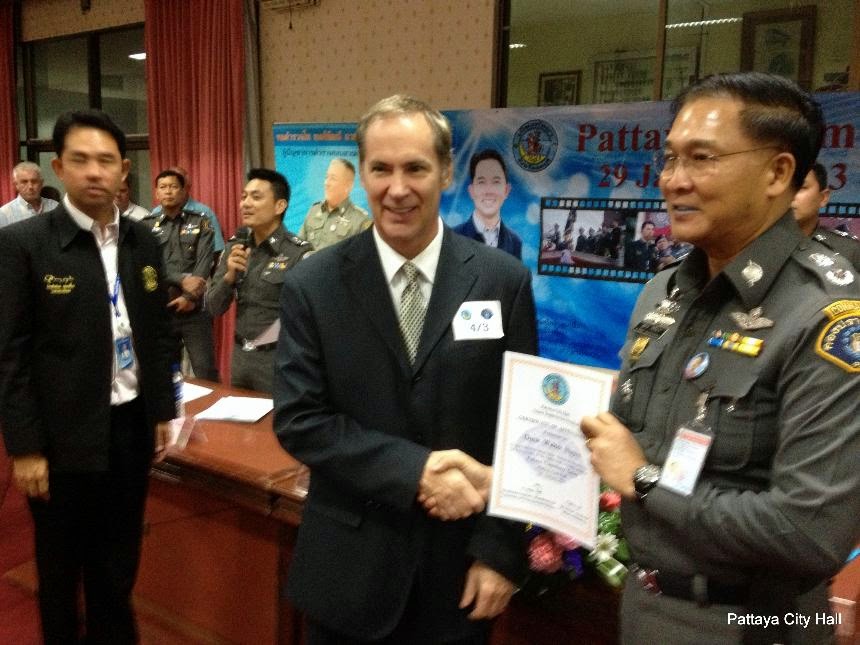 Drew Noyes receives certificate of honour from Police General Supisarn formerly of the CSD
#DrewNoyes #WanrapaBoonsu #blackmail #PattayaTimes